This article isn't about the price you can put on a human life - nor is it about trying to discuss how much money GM (NYSE:GM) should be doling out to the families of those affected by the company's recall. The purpose is to quickly review the compensation plan as described this morning by Mr. Ken Feinberg, and to make note that the monetary penalty for GM likely won't make a massive difference to the company.
Today, attorney Ken Feinberg was on live television talking about the claim program that GM has set up for victims of the ignition switch recall. He said that claims start on August 1st, and must be postmarked by the end of this year. He reiterated - over and over - that GM is going to have no cap on the amount of compensation they can consider. This was also the big headline from last week.

While it sounds good, and is likely being done to position GM in a good light, I can assure you that internally, there's a cap that GM has considered for this program. And, I assure you, the terms of the compensation plan have been worded accordingly.
Feinberg said the program was voluntary and then noted that claims would be processed even for those who have already reached settlements with GM. However, claimants that don't participate in this compensation class are likely to face GM's bankruptcy lawyers if they try and go about compensation on their own. GM is likely looking to include as many people as possible here, in order to try its best to put the issue behind it. The more participants GM gets under its compensation terms, the less the company has to worry about "rogues" coming out of the woodwork later down the road.
Feinberg also claimed that if they've already settled with GM, they would still be allowed to seek further compensation. Pundits on CNBC were quick to point out, however, that claims already settled may actually be more in value than the settlement under the new program. "The devil is in the details", one pundit said this morning.
Seeking Alpha reported on this yesterday:
As reported last week, GM will tomorrow delineate the terms and conditions applying to its compensation fund. The fund is being setup to pay victims or families connected to the faulty ignition switch problem that led to 13 reported deaths and hundreds of injuries.
GM CEO Mary Barra says there will be no cap on payments used to compensate the victims, and has appointed compensation expert Kenneth Feinberg to manage the fund. As a precondition to receiving payments, victims must agree not to sue GM.
This past Friday, GM issued an additional four recalls, bringing this year's total recall count up to 48. The biggest of Friday's recalls affects 467k pickup trucks, which can shift into neutral accidentally while the vehicle is in motion.
Again - aside from items like the recent Chevy Cruze recall, which I pointed out in a previous article could really stunt growth - GM continues to sell vehicles at a good clip. And, while dealers have now resumed selling the Cruze, it doesn't make me any less skeptical of coming future recalls and the effect that they may have on sales moving forward.
So, while I'm skeptical there, I don't think this compensation fund is going to make a big dent on GM. General Motors sports a market cap of $58 billion.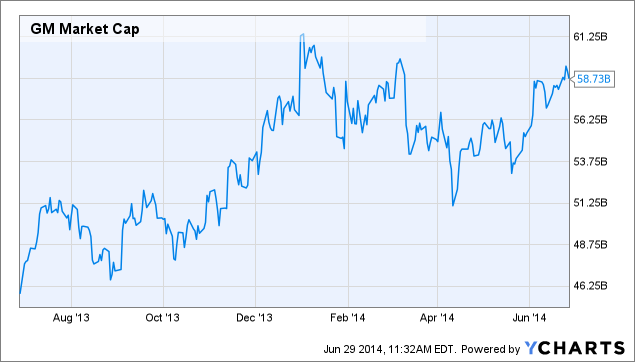 GM Market Cap data by YCharts
The facts are simply the facts: no amount of money doled out for this compensation fund is likely to have any type of effect on how GM conducts their business in the future. That is, of course, aside from being a stark reminder of what a massive disaster the wrong company culture can lead to in the long run.
With no apparent setback to sales here in the U.S. and overseas, it would appear that General Motors' compensation fund is not going to have any type of material impact on the company.
I do, however, remain skeptical on GM for the time being, and will consider waiting for this entire issue to blow over before again looking at GM for a potential long position.
Best of luck to all investors.
Disclosure: The author has no positions in any stocks mentioned, and no plans to initiate any positions within the next 72 hours. The author wrote this article themselves, and it expresses their own opinions. The author is not receiving compensation for it (other than from Seeking Alpha). The author has no business relationship with any company whose stock is mentioned in this article.