It appears that the quarter is going to come to a close on a weak note as we near the midway point of the year. This has been a quarter which saw some solid moves in the S&P 500 (NYSEARCA:SPY) and even though we are seeing the general market, outside of tech, lose steam here we think this is simply money managers positioning client portfolios to take advantage of moves in the second half of the year.
Our personal belief is that the rest of the summer should provide little in terms of fireworks, with the end of the year seeing another general market rally somewhere in the range of 5-7%. We are betting on continued M&A activity as well as the economy not weakening and turning in growth for the year around 2.7-2.8%. There will be plenty of opportunity within various sectors and industries until we start the year end rally, but in terms of general market movement we think the next few months are probably going to have a little volatility while ultimately ending up having traded sideways.
Chart of the Day:
Technology has come back and is now leading the market higher. If the market can get a few more decent IPOs, and there will be one with Alibaba before year end, then we could see technology companies resume their market leader positions over the next six months.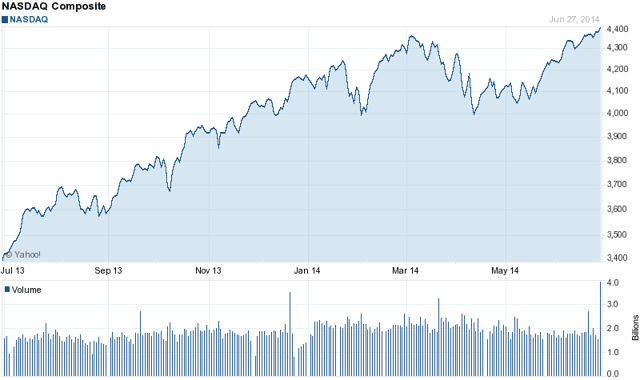 Source: Yahoo Finance
We have economic news today, and it is as follows:
Chicago PMI (9:45 a.m. EST): Est: 61.0 Act: 62.6
Pending Home Sales (10:00 a.m. EST): Est: 1.5% Act: 6.1%
The Asian markets are mixed today:
All Ordinaries -- down 0.91%
Shanghai Composite -- up 0.58%
Nikkei 225 -- up 0.44%
NZSE 50 -- down 0.05%
Seoul Composite -- up 0.69%
In Europe, the markets are mixed this morning:
CAC 40 -- down 0.16%
DAX -- up 0.26%
FTSE 100 -- down 0.12%
OSE -- up 0.07%
NSA Leaks Hurting US Companies
America's tech companies have been quick to point out that the revelation that the NSA was spying on the world is creating a difficult environment to operate in but last week we saw firsthand foreign governments finally moving to sever ties with US companies. We are discussing the fact that Germany decided to drop Verizon Communications (NYSE:VZ) as an internet provider to some of their government agencies.
None of those contracts were with security agencies, so this does highlight just how worried foreign countries are of having their data intercepted. If this is an issue for Verizon, we would not be surprised if it became a problem for AT&T (NYSE:T) as well.
AT&T Positioning For Takeover
AT&T is selling its stake in America Movil (NYSE:AMX) in order to kick off the process of obtaining approval for its takeover of DirecTV (DTV) in Latin America. The shares that AT&T is divesting itself of represent 8.27% of America Movil's shares outstanding and 23.81% of its voting shares. The buyer is Carlos Slim, who is using his holding company to purchase the shares so as not to add more debt to America Movil's balance sheet. The $5.6 billion transaction will also provide cash for AT&T to finance its proposed deal with DirecTV.
Disclosure: The author has no positions in any stocks mentioned, and no plans to initiate any positions within the next 72 hours. The author wrote this article themselves, and it expresses their own opinions. The author is not receiving compensation for it (other than from Seeking Alpha). The author has no business relationship with any company whose stock is mentioned in this article. SPY, T & VZ have previously been recommended.