Just like earlier remedies of HIV/AIDS involved lots of tablets and rigorous therapy procedures, pre-Sovaldi Hepatitis C remedies tended to have hard-to-follow regimens, including but not limited to painful injections. Even worse were that the flu-like symptoms of interferon injections and other severe side effects such as anemia made following such a torturous regimen for 12 long months incredibly difficult. Whatever effectiveness those drugs had were significantly hampered by lower patient compliance rate and high relapse rate.
Then came Gilead Sciences' (NASDAQ:GILD) Sovaldi, which had relatively fewer side effects and the ability to eradicate Hep C 4 times faster than leading medications. Boosting Sovaldi's realized efficacy was that fact that the regimen involved taking single pills, rather than injections, which improve patient compliance. Now, if you were Gilead Sciences, how would you have priced Sovaldi? Well, a three-month cure timeline as opposed to 12 makes it automatically four times the price of the leading drug. No injection adds another fraction of value. Not having to suffer what felt like flu for some 12 months is another value. Lesser chance of developing other serious diseases such as anemia and lower risk of having the Hep C rebound after treatment all add value.
On a societal level, all these benefits add to lowering the need for liver transplants, freeing those who do still need them to have greater access to this scarce resource and lowering the societal and ultimately global burden of the disease with never before witnessed effectiveness. All these culminate in Sovaldi's $1,000 per pill price tag. I do not rationalize the price; I rather seek to provide a quick peek at the thinking process that may have gone into the pricing strategy.
The public outrage and uncertainty over the impact of public image on Sovaldi's future at least in part contributed to a sharp decline in Gilead Sciences' share value from around $74 early April 2014 to $64 my the middle of the same month. As waves of public anger can emerge unpredictably, it is possible that another wave of outrage over the exorbitant price of Sovaldi might emerge again, possible in early 2015 when Gilead becomes another talking point as new markets open up. This sudden, but perhaps ephemeral, anger over self-serving pharma could trigger another episode of downward spiral of Gilead Sciences' share price. This is a potential downside and a concern to consider in deciding on investing with Gilead Science , but I believe that the effects would tend to be localized and relatively uneventful in the long run.
Despite the first episode of this public outrage, Q1 values showed a $2.3 billion in sales of Sovaldi, with only a fraction of the potential market tapped. According to the CDC, there are some 3.5 million sufferers of Hep C in the U.S. alone. Assume in the long run (three to five-years) a little over 50% or 1.8 million of this potential market would belong to Sovaldi. Recent data indicates that about 16% of Americans are uninsured; assuming that the same value applies to Hep C patients and assuming that of the 84% insured, only 70% are actually sufficiently insured or have other means of paying Sovaldi high prices.
Rounding down for those who could afford but choose not to get Sovaldi for other reasons such as specific doctor instructions, we get 1 million potential customers -- or, rather, patients. Now, taking into account the three-month, $84,000 regimen timeline and cost for Sovaldi, we see that in Q1, only 27,000 equivalents of Hep C regimen were sold. That is only 2.7% of the 1 million equivalents possible.
I hope that by now, you are convinced that the remaining untapped market for Sovaldi is enormous. By my estimations and lofty assumptions, Sovaldi would have to net over $80 billion in total sales to cover its market reach potential in the U.S. alone, not accounting for sales from new cases of Hep C by the time this potential is realized. Only $2.3 billion or 3% of that has been realized as of the first quarter of 2014. All these are based on the assumption that competitors such as Johnson & Johnson (NYSE:JNJ) and AbbVie (NYSE:ABBV) do not come up with rival products in the near future, a reasonable assumption to make given that these competitors' products are so far behind and/or Sovaldi is so far ahead of its time by any contemporary reckoning. Sovaldi, in that sense, was a miracle drug.
But it gets better. The Japanese market is set to open up to Sovaldi early 2015. That same year the European Union will open its market to Sovaldi sales as its marketing license is approved and reimbursement plans for the Hep C drug are solidified. In total this adds up to about 20 million potential patients in total market size (2%-3% of the regions' populations), a sizable portion of which Gilead Sciences will capture.
There are two major insights to be derived from the above analyses. First is that current sales for Sovaldi pales in comparison with its potential sales. Second is what I wish to address presently, which helps support my claim that Gilead share value will continue to rise over the next year. There has be a great deal of chatter about what public outrage and negative publicity might do to the success of Sovaldi. Some physicians in the position to prescribe Sovaldi even refuse to do so while others threaten similar boycotts because of the excessive price.
Given the great potential that Sovaldi has, public outrage and doctor boycotts would only have the effect of a proverbial drop on the ocean. As a business, which Gilead Sciences is first and foremost, Gilead would look at the numbers and manifest facts about Sovaldi and simply focus on these untapped resources, rather than on investing resources in winning over converts or appealing public opinion. Given the undeniable value of Sovaldi compared to other alternatives, many of those physicians, Gilead leadership would reason, will sooner or later resign to writing those scripts. After all, doctors care more about helping their patients get better, a promise on which Sovaldi undeniable delivers, than on exerting revenge on a profit-maximizing entity. This is to say that the high price tag of Sovaldi would have marginal and mostly localized negative impact at best on Gilead's growth and rise in stock prices.
Differential pricing likely to be used by Gilead Sciences makes estimating revenue from these markets challenging. We can, however, use per capita GDP of these countries to estimate, approximating how Gilead leadership would approach its differential pricing strategy. The following are per capita GDP, according to the World Bank:
Region

2012 Per Capita GDP

Sovaldi Regimen Price

Weighted Average

US

$52,000

$84,000

-

Japan

$47,000

$76,000 (est.)

$45,000

Europe

$25,000 (approx.)*

$40,000 (est.)
*Adjusted roughly by population of regions contributing to data
Thus, estimating Gilead's differential pricing based solely on per capita gross domestic product (GDP), with Japan contributing 15% of the market, and assuming that again Sovaldi could capture 50% of the accessible market (7 million out of the total 20 million), potential revenue from European and Japanese markets combined could be $315 billion at a rate of an average of $45,000 per regimen. It could take Gilead Sciences up to 15-30 years to capture its accessible market. Of course, in that time many things could happen in the market, including the approval of a rival product and the expiration of its patent. The point, however, is that Gilead is so well positioned in the market right now that it could take 15-30 years without launching any new products or making any more major acquisitions before we start talking about the dwindling of Gilead's growth, all thanks to Sovaldi.
The most significant factor to consider about Sovaldi's high revenue potential is its ability to enable Gilead Sciences to grow and become one of the larger pharmaceutical companies. Sovaldi's sales would significantly improve Gilead's cash flow. Glancing through Gilead's 2013 Annual Report, one sees that an excess in cash and cash equivalents in 2011 rendered a major and prudent acquisition feasible. Prudent was such investment as Gilead's acquisition of Pharmasset in 2011 for $11 billion, thus taking ownership of the then embryonic Sovaldi has now proven successful. Sovaldi has the potential to replicate such large excess cash for Gilead, allowing it to buy out other small pharmaceutical companies with drugs in the late development stages, thus growing Gilead at a greater rate each time an acquisition is made.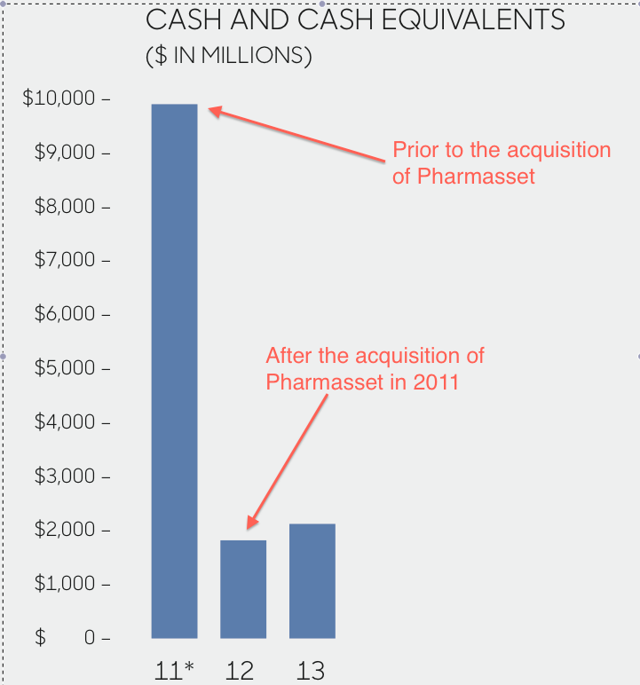 Source: Gilead's 2013 Annual Report (text in red added by author).
Assuming that such similarly priced ventures are feasible at this stage only when Gilead reaches the level of cash flow that is comparable to that in 2011, then I assume that with Sovaldi as well as its other drugs and future drugs, many of which are in late stages of development, that cash flow level could be attained again by the end of 2015. This means that we may expect Gilead to make another acquisition as early as 2016, most likely in antiviral again as it is Gilead's expertise, representing some 90% of Gilead's revenue.
Finally, some numbers have not yet added up. We have said that 2%-3% of the world suffers from Hepatitis C, which is about 160 million people worldwide. Yet, we have only discussed Gilead's share of only 23.5 million or 15% of them. Why did we not discuss the remaining 85%? Well, the remaining 85% are scattered in other parts of the world that simply cannot afford Sovaldi, not by any contemporary pricing. As a business, Gilead recognizes that it is best served focusing on the higher net worth regions which can more easily afford their drug. Other regions of the world such as Africa, particularly the Western and Northern regions may have to wait until Sovaldi's patents expire so that they buy the then cheaper generics.
I must mention that Sovaldi is currently not meant for all kinds of Hepatitis C, but with combined therapy in the horizon, it could capture as much of the entire Hep C market as is predicted. Based on Sovaldi's sales performance thus far including a $2.3 billion sales in the most recent quarter and its potential, I predict that its sales this Q2 will be $6 billion.
Conclusion
GILD is a good investment for the long term; the price at the time of the writing of this article is $82.94. Gilead Sciences' share price is expected to rise significantly over the next year due in large part to the large, yet-to-be-tapped Hep C market. The potential that Sovaldi presents to Gilead sciences is so large that it may be 15-30 years or at least up to the expiration of its initial patents, before Gilead can fully realize its potential. GILD is thus a good place to park your money for the long haul. This is what David Kim and Ken Greenberg knew in selecting the compositions of Ghost Tree Capital's long equity positions. Their 13F last year showed GILD as the greatest single component of their portfolio, totaling over $11 million.
While public opinion and rival law suits may seem to shake things up once in a while, Gilead understands that the numbers are on its side and that public image would only have a limited impact on their potential for growth because of the revolutionary nature of their product in such a large market. Finally, I predict that Q2's earnings from Sovaldi could top $6 billion.
Disclosure: The author has no positions in any stocks mentioned, and no plans to initiate any positions within the next 72 hours. The author wrote this article themselves, and it expresses their own opinions. The author is not receiving compensation for it (other than from Seeking Alpha). The author has no business relationship with any company whose stock is mentioned in this article.