The well known investor and asset manager James P. O'Shaughnessy suggests in his impressive book "What Works on Wall Street", a winning value parameter; Shareholder Yield.
According to Mr. O'Shaughnessy, shareholder yield unites a stock's dividend yield with its buyback yield to show what percentage of total cash the company is paying out to shareholders, either in the form of a cash dividend or as expended cash to repurchase its shares in the open market. The buyback yield is the percentage of one year reduction of the company's shares outstanding.
Shareholder Yield = Dividend Yield + Buyback Yield
In his book, Mr. O'Shaughnessy demonstrates that 83 years back-testing, from 1926 to 2009, have shown that companies with the highest shareholder yield have given superior return with a lower downside risk.
I used Portfolio123's powerful ranking system, which allows the user to create complex formulas according to many different criteria, to rank all S&P 500 stocks that pay a dividend with higher than 3% yield according to their shareholder yield. The tables below show the best 20 stocks according to this parameter, as for June 29, 2014.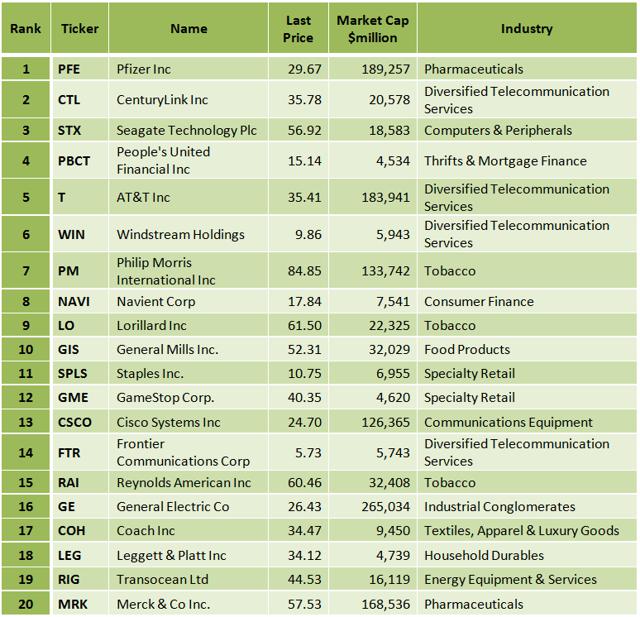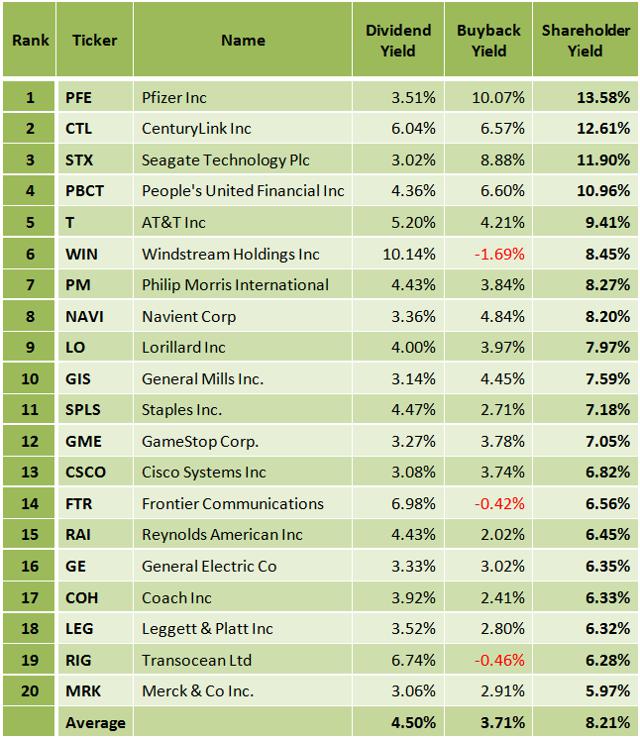 Source: Portfolio123
In this article, I will focus on the first ranked stock; Pfizer Inc. (NYSE:PFE).
The Company
Pfizer is a leading developer and manufacturer of pharmaceuticals worldwide. The company was founded in 1849 and is headquartered in New York, New York.
Valuation Metrics
The table below presents the valuation metrics of PFE; the data were taken from Yahoo Finance and finviz.com.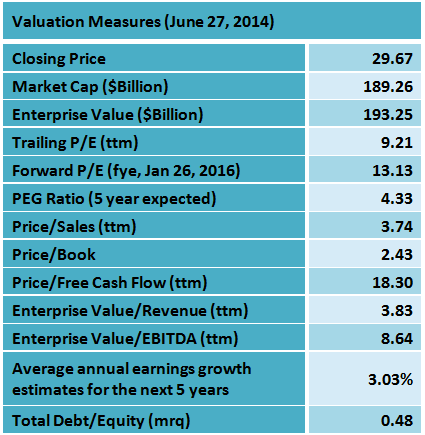 Pfizer's valuation metrics are good; the trailing P/E is very low at 9.21, and the Enterprise Value/EBITDA ratio is low at 8.64. According to James P. O'Shaughnessy, the Enterprise Value/EBITDA ratio is the best-performing single value factor. In his impressive book "What Works on Wall Street", Mr. O'Shaughnessy demonstrates that 46 years back-testing, from 1963 to 2009, have shown that companies with the lowest EV/ EBITDA ratio have given the best return. Mr. O'Shaughnessy explains that EV/ EBITDA is a better way to assess value-that is, how cheap or expensive it is-than looking at the PE ratio alone. The EV/ EBITDA is neutral to a company's capital structure and capital expenditures.
Latest Quarter Results
On May 05, Pfizer reported its first-quarter 2014 financial results, which beat EPS expectations by $0.02 (3.60%) and missed Street's estimates on revenues. The company reported 1Q14 adjusted diluted EPS of $0.57, up 12% from 1Q13. First-quarter revenues fell 9% to $11.4 billion. Along with the results, Pfizer reiterated guidance for 2014. The company projects 2014 EPS of $2.20-$2.30 and revenue of $49.2-$51.2 billion.
In the report, Ian Read, Chairman and Chief Executive Officer, stated:
Despite continuing revenue challenges due to ongoing product losses of exclusivity and co-promotion expirations, I look forward to the remainder of the year given the strength of our mid- and late-stage pipeline, the continued growth opportunities for our recently launched products as well as opportunities for upcoming product launches. Within both of our innovative pharmaceutical businesses and our established pharmaceutical segment, I continue to see attractive opportunities to pursue profitable revenue expansion, both organically and through prudent business development.
Dividend and Share Repurchase
Pfizer's forward annual dividend yield is fairly high at 3.51% and the payout ratio is only 31%. The annual rate of dividend growth over the past three years was high at 10.1%, over the past five years was negative at -5.6%, and over the past ten years was at 4.8%. I consider that besides dividend yield, the consistency and the rate of raising dividend payments are the most crucial factors for dividend-seeking investors, and PFE's performance has been good in the last three years.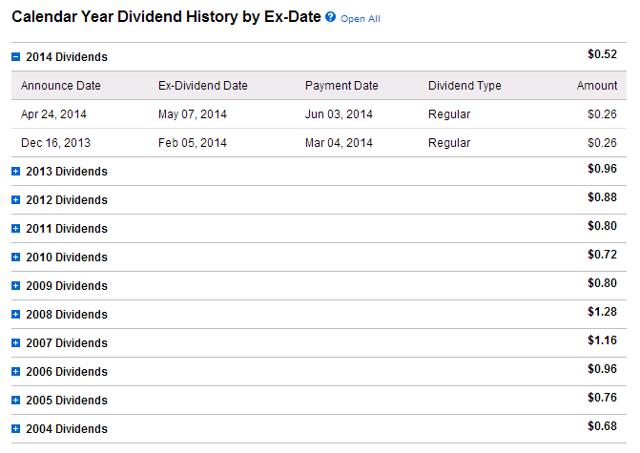 Source: Charles Schwab
Since PFE is generating strong cash flow and the payout ratio is very low, I believe that the company is well-positioned to achieve steady dividend growth going forward.
Pfizer has an aggressive share buy-back program. In the first quarter the company repurchased $1.7 Billion of its shares. In 2013, Pfizer repurchased $16.3 billion of its shares, reducing the share count by 13%.
Competitors
A comparison of key fundamental data between Pfizer and its main competitors is shown in the table below.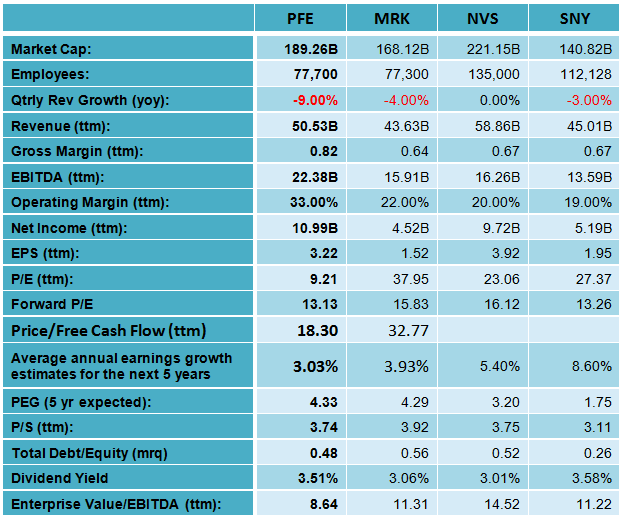 Pfizer has the lowest P/E ratio and the lowest Enterprise Value/EBITDA ratio among the stocks in the group, however, its PEG ratio is the highest.
Technical Analysis
The charts below give some technical analysis information.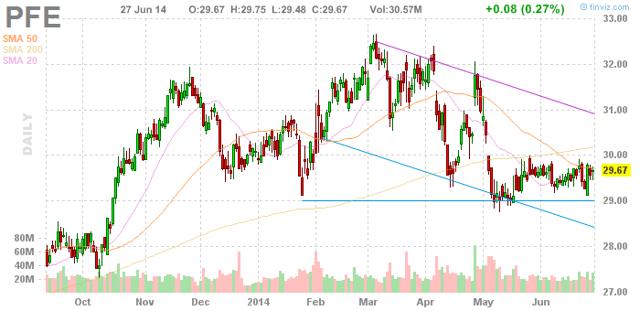 Chart: finviz.com
The PFE stock price is 0.35% above its 20-day simple moving average, 0.26% below its 50-day simple moving average and 1.70% below its 200-day simple moving average. That indicates a trading range.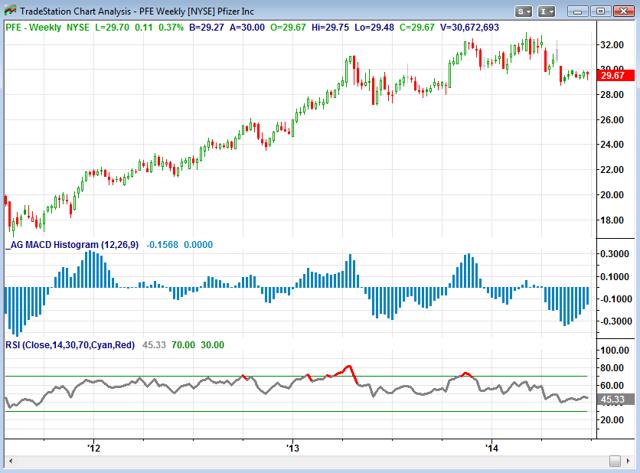 Chart: TradeStation Group, Inc.
The weekly MACD histogram, a particularly valuable indicator by technicians, is negative at -0.1568 and ascending, which is a bullish signal (a rising MACD histogram and crossing the zero line from below is considered an extremely bullish signal). The RSI oscillator is at 45.33 which do not indicate oversold or overbought conditions.
Analyst Opinion
Many analysts are covering the company but their opinion is extremely divided. Among the 19 analysts, 5 rate it as a strong buy, 8 rate it as a buy, 4 analysts rate it as a hold, one rates it as an underperform, and one analyst rates it as a sell.
TipRanks is a website that ranks experts (analysts and bloggers) according to their performance. According to TipRanks, among the analysts covering PFE stock there are only four analysts who have the four or five star rating, three of them recommend the stock, and one analyst has a hold rating on the stock.
On May 30, Jefferies' analyst Jeffrey Holford, PhD reiterated a Buy rating and $36 price target on Pfizer following meetings with management. Mr. Holford commented:
We remain highly convinced that palbo will get approved before year-end 2014 and dominate the ER+/ HER2- breast cancer category as well as generate significant new growth opportunities. We were also encouraged by Pfizer's increasing commitment toward developing an Immuno-Oncology platform both internally as well as in collaboration with other players. PFE remains our Top Pick in Global Large Cap Pharmaceuticals.

Source: TipRanks
Major Developments
Pfizer's stock has significantly underperformed the market in the last years. Since the beginning of the year, PFE's stock has declined 3.1%, while the S&P 500 index has increased 6.1%, and the Nasdaq Composite Index has risen 5.3%. Moreover, since the start of 2013, PFE's stock has gained only 18.3%, while the S&P 500 index has increased 37.5%, and the Nasdaq Composite Index has risen 45.7%.
At the beginning of fiscal year 2014, the company began managing its commercial operations through a new global commercial structure consisting of three operating segments: the Global Innovative Pharmaceutical segment; the Global Vaccines, Oncology and Consumer Healthcare segment; and the Global Established Pharmaceutical segment. I believe that it is possible that Pfizer will spin off at least one of the three groups in the future.
According to Bloomberg, on June 11, Pfizer's Chief Financial Officer Frank D'Amelio said that the company's $117 billion bid for AstraZeneca Plc (NYSE:AZN) broke down over price. According to Mr. D'Amelio, Pfizer set a ceiling for how much it would pay for London-based AstraZeneca and wasn't willing to go over that limit.
Although the potential deal could be positive for Pfizer, its stock is still very attractive, in my opinion, without AstraZeneca's acquisition. Pfizer was seeking to lower its tax rate through the deal by moving its official headquarters to London. The company also sought to gain from AstraZeneca's experimental immune therapy cancer drugs, a new class of treatments that would have filled a hole in Pfizer's product portfolio. AstraZeneca has predicted those products may help raise its annual sales by 75 percent to $45 billion by 2023.
Conclusion
Pfizer has compelling valuation metrics and solid earnings growth prospects. Pfizer is generating strong cash flows, and it returns value to its shareholders by aggressive stock buyback program and by increasing dividend payments. In fact, it is ranked first among all S&P 500 stocks yielding more than 3%, based on shareholder yield. In my opinion, Pfizer's stock is a promising long-term investment.
Disclosure: The author is long PFE. The author wrote this article themselves, and it expresses their own opinions. The author is not receiving compensation for it (other than from Seeking Alpha). The author has no business relationship with any company whose stock is mentioned in this article.