Almost exactly one year ago today Apple (NASDAQ:AAPL) was one day away from its nadir that saw its stock go from over $700 a share in mid-September 2012 to under $400 a share - split adjusted. Over that nine month slide the stock had gone from having no position in my portfolio to almost 10% of my overall holdings.
At its low Apple was selling at just six times forward earnings subtracting the over $160 billion in net cash & marketable securities on its balance sheet. I must admit, even though it was dirt cheap it was hard to keep the faith and add more shares on every major dip.
However, value eventually won out and sentiment changed on the stock. As a result, the shares are up some 60%, including dividends, since then. My long time readers know that there have been few if any more frequent advocates for Apple over that time span on Seeking Alpha. I don't write much about Apple anymore as with the latest rise the stock has gone from a pound the table "Strong Buy" to a slight "Market Outperform." As a result, the allocation I have to Apple in my portfolio has slowly slipped from roughly 10% to just under 2%.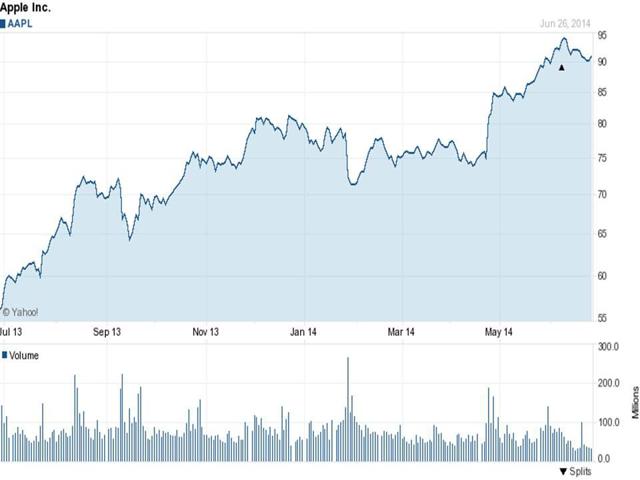 Click to enlarge
The stock's monster rise since last June has played an outsized role in my portfolio performance over the past 12 months. My frequent advocacy for the undervaluation of the stock has also been beneficial to my rankings on TipRanks where I currently rank in the top 1% of the over 6,600 financial analysts and bloggers they track based on performance of my investment picks.
However, this means little to my performance within my portfolio or on TipRanks going forward. Just like an actor is only as good as their last movie, a financial analyst is only is as good as his last big call. The current biggest position in my portfolio is Gilead Sciences (NASDAQ:GILD), which represents 6% to 8% of my overall holdings right now. I started to add heavily to my core stake starting in late March when the entire biotech sector had a deep but brief sell-off. I would have an even heavier allocation but the slide was not as lengthy as Apple's decline last year and my bent is to increase allocation incrementally.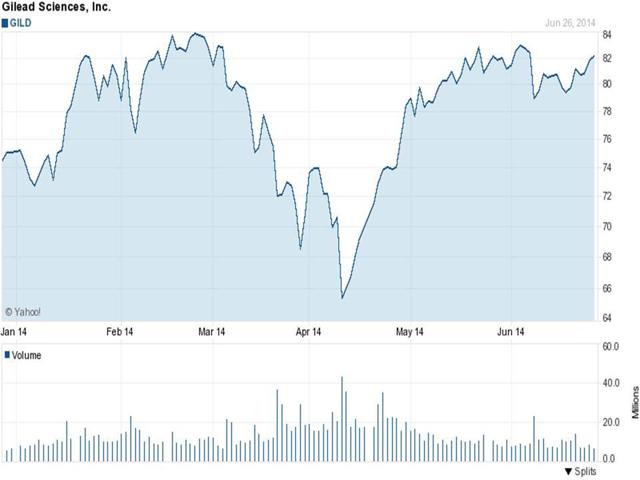 Click to enlarge
However, it is still a substantial allocation in what I consider to be one of the best or the best large cap growth plays in the market. Gilead is tracking to more than triple its earnings this year on the back of a better than 90% year-over-year increase in revenues driven by the company's blockbuster new hepatitis C drug Sovaldi. This blockbuster should do $8 billion to $10 billion in sales in its first year on the market, which would be all-time record for a new drug. In addition, Gilead continues to be the market leader in the HIV space.
Despite this explosion of sales and earnings, the shares go for just over 13 times forward earnings estimates and the stock has a five year projected PEG much under 1 (.46). How many over $100 billion market capitalization companies have these sort of metrics?
Note: If any readers know of even one large cap growth stocks with the sort of combination of valuation and growth, please forward it to the author as it has to be an actionable investment.
In addition, Gilead has a lot less legitimate concerns than Apple did a year ago even when it was selling at rock bottom valuations. At that point in Apple's product cycle, worries about whether the company could stop some margin erosion were warranted. In addition, everyone has a product flop from time to time and the new iPhone 5C/5S versions might not have sold as well as they ultimately did when they were launched in September. In addition, Apple did not have to accelerate dividend payouts and stock buybacks as activists were agitating for and the company eventually did.
Gilead's only real worry right now is whether Congress will get traction in pushing back on Sovaldi's price tag which is approximately $84,000 for a twelve week regimen. Although this might result in some erosion on the margin I simply do not see this happening. There are at least a dozen drugs that currently cost more than Sovaldi's levels, and almost none actually cure the underlying disease basically 100% of the time. In addition, $84,000 is a lot cheaper than a liver transplant which can cost almost a $1 million in certain circumstances. It is also cheaper than $15,000 a year in perpetuity than some patients require on other drugs for different diseases.
As these concerns fade and the company continues to deliver against its earnings estimates, it is hard to see the multiple on Gilead not moving higher over the next year. My own price target range is 16 to 20 times the consensus ~$7.75 a share the company is projected to earn in FY2015. This gives me a price target range of $114 to $165 on Gilead over the next 12 months. This range is significantly above the current ~$83 stock price on GILD. STRONG BUY
Disclosure: The author is long AAPL, GILD. The author wrote this article themselves, and it expresses their own opinions. The author is not receiving compensation for it (other than from Seeking Alpha). The author has no business relationship with any company whose stock is mentioned in this article.