Mallinckrodt - Are You Paying Attention?
If you work for Mallinckrodt (NYSE:MNK) or are a major shareholder, you already likely know that there are many arguments that skeptics can make about Questcor (QCOR).
The single most important, in QTR's opinion, is the continued doubt of whether or not Acthar is offering deamidated ACTH versus pure ACTH as they claim on their label. The independent lab findings of glutemic acid in position 30 on the amino acid sequence, versus the glutamine that is on the product's label, calls in massive questions as to whether or not Acthar is selling what's on the label.
But, for a moment, let's just say that Acthar somehow proves to the FDA that they are, in fact, offering the drug that's on the label to a tee. The question then turns to amount of possible indications that show efficacy for the company's sole drug. Another of the bearish/skeptical arguments on Questcor's Acthar was that the drug - after achieving orphan drug status - has failed to undergo robust clinical trials for the barrage of indications that Questcor has added to its previous sole indication, infantile spasms.
Which brings us to Friday's UnitedHealth drug policy on Acthar, which basically claimed the drug was "unproven and not medically necessary" for 4 of the drug's 5 major indications.
You can view the entire UnitedHealth drug policy on Acthar here.
As a reminder, UnitedHealth is one of the biggest medical insurance companies on the face of the planet. They are the company that a lot of other insurers take their leads from. They have 165,000 employees, did $122 billion in revenue in 2013, and were #14 on Fortune's top 500 companies in the United States. They are the parent of the single largest health carrier in the United States, they have received positive reviews from the American Medical Association and are one of the best known names in healthcare.
UnitedHealth is a massive player in the medical coverage field, and their drug policy on Acthar is nothing short of a huge deal.
As you can see from copies of UnitedHealth's report retrieved on Friday, the policy that goes into effect for Acthar on 8/1/14 "updated unproven and not medically necessary criteria" about the drug. Perhaps serendipitous timing that it goes into effect just weeks from when the MNK/QCOR merger is finalized?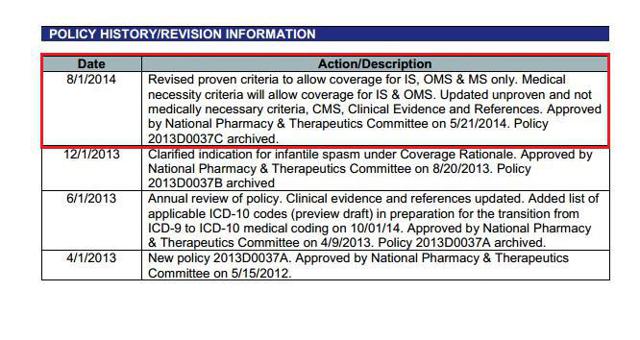 The policy then goes on to tell us that H.P. Acthar Gel - which again, may or may not contain pure ACTH - is proven for infantile spasms only, under the criteria listed in bullets A, B, and C below.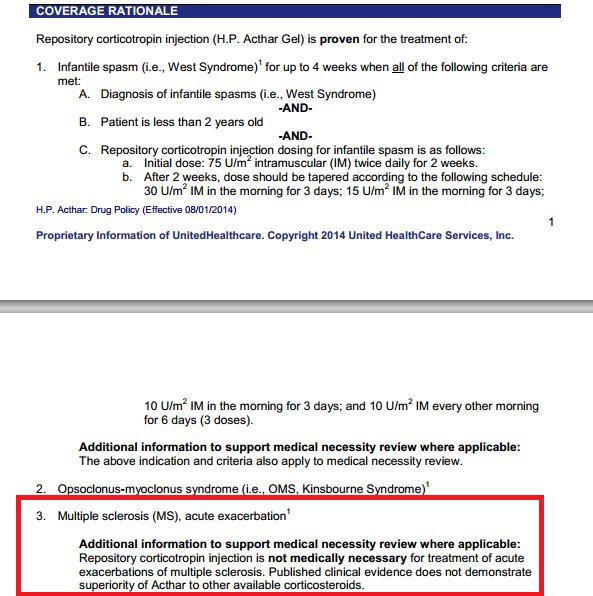 What the report then notes is massive.
Acthar is "not medically necessary" for treatment of acute exacerbations of MS. This was one of the drug's major breadwinning indications over the past few years. MS has contributed in a massive way to the growth in Questcor's bottom line and here's UnitedHealth saying that "published clinical evidence does not demonstrate superiority of Acthar to other available corticosteroids."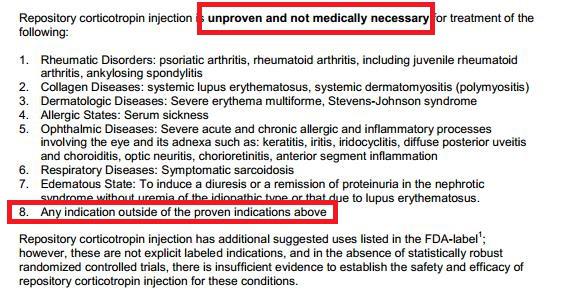 Then, the policy goes to note the same exact thing about treatment of 4 of the 5 biggest indications in which Acthar is being used: rheumatic disorders, nephrotic syndrome, respiratory diseases, etc.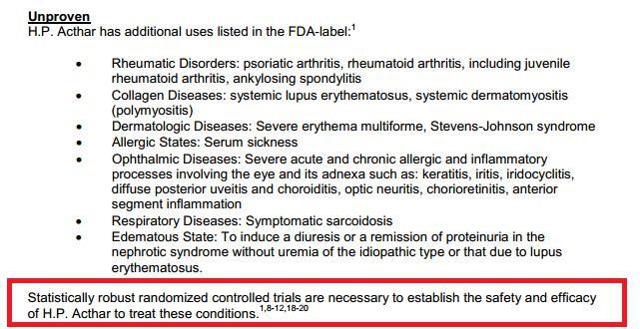 UnitedHealth seems to agree, wholeheartedly, with Citron research and other Acthar skeptics.
Controlled trials are necessary to establish the safety and efficacy of H.P. Acthar to treat these conditions.
Now, if you will - let's play a little bit of Family Feud. Acthar has 19 indications, according to Questcor's website - and they put the top 5 indications on the board.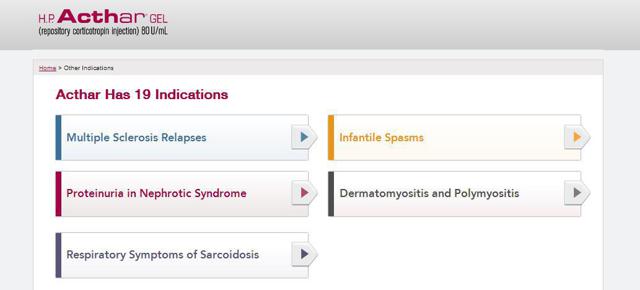 And now, let's see what this board looks like after taking out the "unproven and not medically necessary" indications, according to UnitedHealth's drug policy.
Survey says!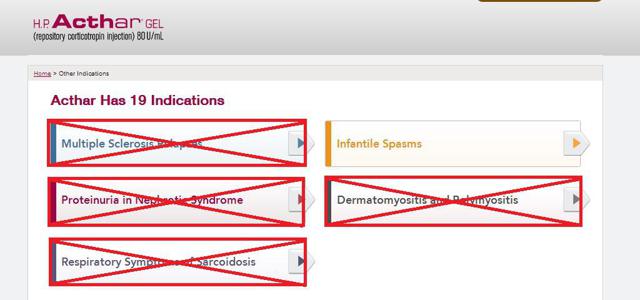 That accounts for 80% of the company's top 5 indications. Not only that, but nephrotic syndrome and MS are two of the company's highest revenue producers.
Here's what Questcor's growth looks like without the indications that UnitedHealth are claiming are "not medically necessary". From Questcor's early 2014 presentation, available here, with red emphasis by QTR: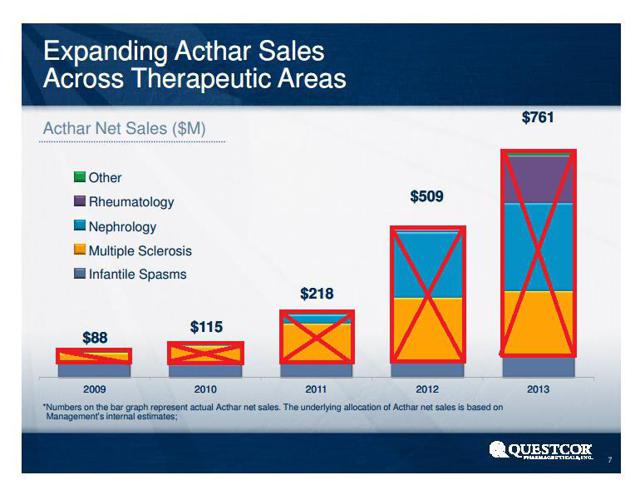 You may have remembered that earlier this month, Cigna came out and made similar statements in their drug policy for Acthar.
In this Cigna Medical Coverage Policy for Acthar Gel, the insurer notes that Acthar Gel is "significantly more expensive than conventional corticosteroid and immunosuppressive therapies, but is not clinically superior for such indications."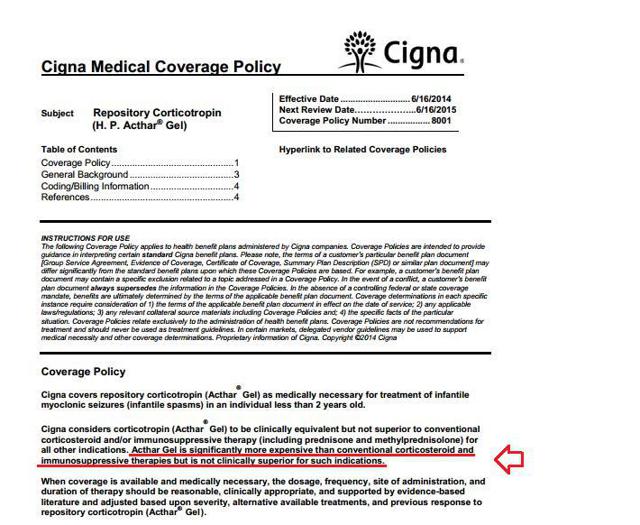 How long is it going to be before insurers band together and force serious clinical trials on Questcor's Acthar? Surely, with every $28k that is doled out for an Acthar dosage, these questions have to echo in the heads of those cutting the checks.
How long will it be before the FDA exonerates Questcor or confirms suspicions about the company's sole drug?
As I stated in my last piece, contact with the FDA and the latest NY Times piece seems to confirm that there is an "ongoing issue" with Acthar. Have they contacted the company? How far along is this "ongoing issue"?
QTR spent most of the afternoon speaking to doctors on Friday. I spoke with general practitioners, pathologists, oncologists, hepatologists, you name it.
Two things were unanimous in the conversations that I had:
1. If Citron's lab results are correct, all doctors asked thought there could be potential effects on the drug's efficacy (even though we already know that deamidated ACTH is less potent).
2. All doctors I spoke to said they expect the FDA would weigh in here, and get to the bottom of this.
Which leads me to again ask the $8 billion question:
Who will catch on first? The insurers? The FDA? Mallinckrodt?
If I were Mallinckrodt, the bulletin put out by UnitedHealth on Friday would give me a massive pause about the deal I'm involved in with Questcor. The entire company is based on Acthar and the potential for Acthar's use in future indications. Even if Acthar was just to be an infantile spasm drug, Questcor wouldn't sport anywhere near the massive market cap that it does.
I hope that Mallinckrodt executives are paying attention - there are still a lot of unanswered questions here that need to be dealt with, and it's not too late for this deal to fall through.
Disclosure: The author is short QCOR. The author wrote this article themselves, and it expresses their own opinions. The author is not receiving compensation for it (other than from Seeking Alpha). The author has no business relationship with any company whose stock is mentioned in this article.