The following is a list of undervalued stocks, as defined by the discount of the current price to the average analyst target price. All of these stocks are scheduled to report earnings over the next 5 days.

We started with a universe of stocks releasing earnings this week, and then narrowed it down by only focusing on stocks that are trading at deep discounts to the average analyst target price (used as a proxy for fair value).

Yes, this is a very crude way to identify undervalued stocks, and there are many limitations to this approach. But the goal here is to give you a starting point for your own analysis.

Target price data sourced from Finviz.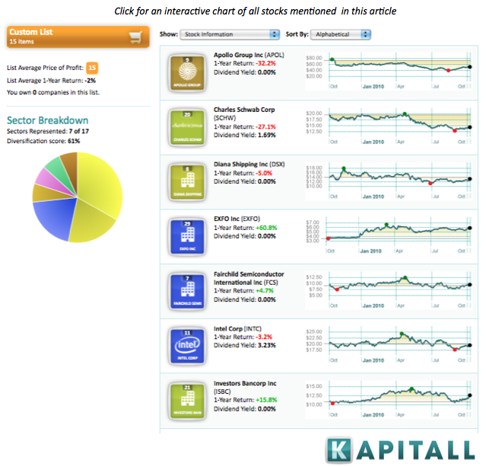 The list has been sorted by discount to average analyst target price.

1. National Bank of Greece SA (NBG): Banking Industry. Market cap of $7.49B. Current price at $2.47 vs. target price at $3.46 (discount of -28.61%). Earnings release scheduled for October 13. The stock has lost -66.58% over the last year.

2. JPMorgan Chase & Co. (NYSE:JPM): Banking Industry. Market cap of $155.87B. Current price at $39.31 vs. target price at $53.09 (discount of -25.96%). Earnings release scheduled for October 13. The stock has lost -12.8% over the last year.

3. Universal Forest Products Inc. (NASDAQ:UFPI): Lumber, Wood Production Industry. Market cap of $584.93M. Current price at $30.26 vs. target price at $40.25 (discount of -24.82%). Earnings release scheduled for October 13. The stock has lost -24.63% over the last year.

4. Fairchild Semiconductor International Inc. (FCS): Semiconductor Industry. Market cap of $1.19B. Current price at $9.57 vs. target price at $12.44 (discount of -23.07%). Earnings release scheduled for October 14. The stock has gained 9.12% over the last year.

5. Charles Schwab Corp. (NYSE:SCHW): Investment Brokerage Industry. Market cap of $16.95B. Current price at $14.20 vs. target price at $18.43 (discount of -22.95%). Earnings release scheduled for October 13. The stock has lost -24.51% over the last year.

6. Diana Shipping Inc. (NYSE:DSX): Shipping Industry. Market cap of $1.09B. Current price at $13.28 vs. target price at $17.22 (discount of -22.88%). Earnings release scheduled for October 12. The stock has lost -7.2% over the last year.

7. Landstar System Inc. (NASDAQ:LSTR): Trucking Industry. Market cap of $1.88B. Current price at $37.81 vs. target price at $48.63 (discount of -22.25%). Earnings release scheduled for October 14. The stock has lost -.21% over the last year.

8. Zep, Inc. (NYSE:ZEP): Cleaning Products Industry. Market cap of $380.75M. Current price at $17.53 vs. target price at $22.25 (discount of -21.21%). Earnings release scheduled for October 11. The stock has gained 6.83% over the last year.

9. EXFO Inc (NASDAQ:EXFO): Communication Equipment Industry. Market cap of $344.5M. Current price at $5.79 vs. target price at $7.32 (discount of -20.9%). Earnings release scheduled for October 12. The stock has gained 60.83% over the last year.

10. Investors Bancorp Inc. (NASDAQ:ISBC): Savings & Loans Industry. Market cap of $1.44B. Current price at $12.54 vs. target price at $15.33 (discount of -18.2%). Earnings release scheduled for October 11. The stock has gained 17.09% over the last year.

11. MGIC Investment Corp. (NYSE:MTG): Surety & Title Insurance Industry. Market cap of $2.03B. Current price at $10.12 vs. target price at $12.33 (discount of -17.92%). Earnings release scheduled for October 11. The stock has gained 45.4% over the last year.

12. Intel Corporation (NASDAQ:INTC): Semiconductor Industry. Market cap of $108.69B. Current price at $19.52 vs. target price at $23.48 (discount of -16.87%). Earnings release scheduled for October 12. The stock has gained 1.19% over the last year.

13. JB Hunt Transport Services Inc. (NASDAQ:JBHT): Trucking Industry. Market cap of $4.38B. Current price at $35.49 vs. target price at $42.63 (discount of -16.75%). Earnings release scheduled for October 14. The stock has gained 7.38% over the last year.

14. Apollo Group Inc. (NASDAQ:APOL): Education & Training Services Industry. Market cap of $7.39B. Current price at $50.12 vs. target price at $59.93 (discount of -16.37%). Earnings release scheduled for October 13. The stock has lost -32.48% over the last year.

15. Spartan Stores Inc. (NASDAQ:SPTN): Food Wholesale Industry. Market cap of $336.06M. Current price at $14.85 vs. target price at $17.50 (discount of -15.14%). Earnings release scheduled for October 13. The stock has gained 8.24% over the last year.

Disclosure: No positions