Visa (NYSE:V) has been an extremely profitable investment over the last five years as the stock has shown a consistent upward trend and gained about 232% during the period. In the last twelve months, the stock has gained over 14%. However, more recently, the stock has been performing poorly and it has lost about 6% year-to-date. The recent decline in the stock is caused by the sanctions on Russia, which is hurting the transaction volumes of Visa to a great extent. These sanctions have hit the sector and Visa and other American counterparts are also being affected by these measures. However, Russia is just one region that Visa serves; its business prospects in other regions remain strong. We have tried to analyze Visa's growth prospects in this article.
Russian Sanctions: Implications on PCI industry
Sanctions in Russia are deeply affecting the company's revenues. Visa has a hundred million cards in Russia and is trying to find a way to do business there. Until it does, it will continue to suffer in terms of transaction volumes and its revenues will get affected. For this reason, the company expects its revenue growth to be in mid-single digits for the coming quarter.
Russians are not much of credit card users - it is one of the reasons for lower business despite a large target market. As reported by Euromonitor International, there are 30 million credit cards in the country, which has a population of 143 million. Compared to the U.S. market, an average consumer has 3 open credit accounts as reported by Experian, a credit monitoring group. Russians are however, huge users of debit cards. It currently has 192 million cards in circulation out of which 100 million are of Visa. That explains why Visa is the most affected payment card company now that Russia is out of the picture.
Although Russia did not have massive number of credit cards, its growth rates in non-cash transactions was the highest after emerging economies in Asia as shown in the chart below. This is because it is a developing nation, which has huge growth rates as compared to European, U.S. and Asia-pacific markets which are already mature. In this chart, Russia is listed under CEMEA grid which shows 21.9% growth as compared to Emerging Asia's growth of 22.1%. On the other hand, Europe's growth was 4.2% and U.S. Growth was 6.4%. One more thing to consider here is that Russia accounts for only a part of CEMEA's total growth.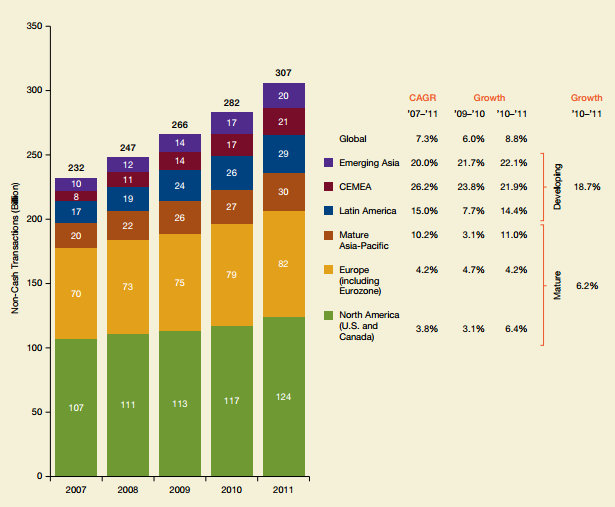 Source: World Payments Report 2013
U.S. market accounts for a huge part of Visa's revenues, which are bigger than the international revenues combined. The revolving credit of U.S. market is lagging this year and payment card industry may have to face slow growth. Following is a break up of revenues which gives an idea about the weightage of each market.

Click to enlarge
Source: SEC Filings
Furthermore, most of the growth is coming from developing nations in the International market. As we can see in the above table that International segment has shown 9% year-over-year growth. We believe that Visa's presence in key growth regions will continue to drive its future growth.
Another positive point for Visa is that its presence in Consumer Debit market is much greater than its presence in the consumer credit market in the U.S. This will shield the company from the lagging revolving credit transactions, since most of its revenues are based on Consumer debit. Following table shows a breakup of revenues in terms of consumer debit and consumer credit.

Click to enlarge
Source: SEC Filings
However, the situation is the opposite in the international market. Most of the revenues are coming from consumer credit in the international market. In addition, although consumer debit is far less in number as compared to credit, its growth rate is 3 times as much as consumer credit.
CyberSource is also showing substantial growth prospects. Its billable transactions have increased by 18% year-over-year. It is doing very well compared to the growth rate of 10% in Visa processed transactions. We believe that CyberSource would continue to grow as more transactions are done through mobile devices.
Conclusion
Although Visa's stock is lagging this year, we believe that the company's setbacks are temporary and it will start to show an upward trend soon. Key areas of the company continue to show growth. Mobile payments are going to be a popular mode of payment in the future and this segment will drive future growth for the company. We believe that the recent fall in the stock price has offered an opportunity to the long-term investors to add to their positions as the long-term trend in the stock price will be upwards.
Additional Disclosure: This article is for educational purposes only and it should not be taken as an investment recommendation. Investing in stock markets involves a number of risks and readers/investors are encouraged to do their own due diligence and familiarize themselves with the risks involved.
Disclosure: The author has no positions in any stocks mentioned, and no plans to initiate any positions within the next 72 hours. The author wrote this article themselves, and it expresses their own opinions. The author is not receiving compensation for it (other than from Seeking Alpha). The author has no business relationship with any company whose stock is mentioned in this article.