Once again, Amazon (NASDAQ:AMZN) seems prepared to gamble an enormous amount of shareholder cash in its compulsive urge to diversify. Amazon is gearing up for the release of the Fire Phone, a product specifically designed to compete with Apple's (NASDAQ:AAPL) iPhone.
Pre-orders for the Fire Phone started June 18, and the phone will see retail release on July 25. Though Amazon's tablet hasn't seriously challenged the ascendancy of the iPad, the Kindle Fire has slowly captured 10% of the tablet market -- a fairly respectable showing.
Seeing a superficial equivalency between the Kindle Fire and the Fire Phone, a casual observer might assume that Amazon can achieve similar success with its new device. So far, there isn't much indication that the Fire Phone can compete against the iPhone.
Fire Phone's Problem Areas
Technically, the Fire Phone has some impressive features, including a larger, higher-quality display and access to a plethora of media options. However, none of these features do enough to differentiate the product from many similar devices. The Samsung (OTC:SSNLF) Galaxy, for example, also has an impressive display and camera features.

Click to enlarge

(In order: iPhone, Fire Phone. Image source: cnet.com)
Kindle Fire tablets are so affordable that most analysts assume Amazon prices the devices nearly at cost. This works because it steers people towards products like Amazon Instant Video and Kindle books. However, the realities of the U.S. smartphone market make it almost impossible for the Fire Phone to undercut the iPhone in pricing. Fire Phone buyers will sign contracts that are indistinguishable from iPhone contracts.
Furthermore, iPhone users can access a vast, growing marketplace of apps. Even with all of its organizational brawn, it is difficult to imagine that Amazon can catch up with Apple in the apps department. While Amazon might have an edge on the "mom market," according to Wired Magazine, the iPhone's longevity has allowed it become a more ubiquitous brand.
The Fire Phone product seems like an effort to cash in on the goodwill of those who are already sold on the Amazon brand. Perks already include 20% off diaper subscriptions for Amazon Prime users.
AMZN's Concerning Pattern Of Sacrificing Shareholder Cash
Famously, Amazon has sacrificed profit for years in its effort to build ties with consumers. Perhaps Amazon is hoping that with the Fire Phone, it has a means of making back some of that lost profit in one fell swoop. If this is the financial rationale behind the lukewarm Fire Phone project, Amazon might face a rude awakening. Just because people love shopping or accessing media through Amazon, this doesn't mean they are eager for an Amazon smartphone.
The Road Ahead for AMZN
Amazon has long dominated online retail, and it has made inroads in other areas. Particularly in the fast-growing cloud computing sector, Amazon has shown gains, while rivals, such as Google (NASDAQ:GOOG) (NASDAQ:GOOGL) have fallen behind.
The company can turn respectable profits, but to do so, it needs to focus on its core businesses. Instead of investing in what looks a lot like a vanity project, Amazon should develop Prime through improved marketing. The company could smartly exploit mobile users by aggressively pushing a cross-platform Amazon app.
Taking on the iPhone directly without a disruptive new product, Amazon risks confusing brashness with innovation.
Path Looks A Bit Gnarly For AMZN Investors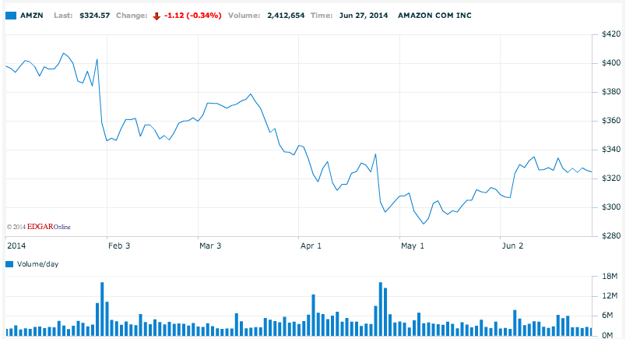 Click to enlarge
(Nasdaq.com)
AMZN has missed revenue estimates the past two quarters, suggesting growth is stalling, despite rolling out new products.
With a new rival on the horizon as well, Alibaba, it could be increasingly important for AMZN to spend less on diversified products and more on core business. While Alibaba is still a mystery to many Americans, its size speaks volumes to others in the e-commerce space.
While Amazon processed an impressive $100 billion in online transactions in 2013, Alibaba more than doubled this figure, with a staggering $248 billion reported for online transactions in the same year.
AMZN has chosen to focus on growth instead of income, stating on its website:
"We intend to retain all future earnings to finance future growth and, therefore, do not anticipate paying any cash dividends in the foreseeable future."
What Should Investors Do?
For investors, it may be wise to short Amazon and buy Alibaba in its upcoming IPO.
We invite readers wishing to join the discussion on AMZN to click the +FOLLOW button above the title of this article, and those looking for the latest updates to click the +Get real-time alerts button.
Disclosure: The author has no positions in any stocks mentioned, and no plans to initiate any positions within the next 72 hours. The author wrote this article themselves, and it expresses their own opinions. The author is not receiving compensation for it (other than from Seeking Alpha). The author has no business relationship with any company whose stock is mentioned in this article.