The MLP market continues to show signs of life after today's M&A action. We have previously gone into detail about this sector and why we thought that deal flow would tick higher and right now it does appear that we are picking up steam as far as M&A is concerned. We are looking for more deals to emerge with consolidation among the MLP names already out there as well as the new MLPs buying assets to grow their cash flow producing properties.
Also grabbing our attention today are the metals markets. The industrial metals, specifically copper, are looking good and for those who took our advice and were buyers of copper at the $3 level we think booking some profits now would be responsible.
Chart of the Day:
The chart below shows the recovery in copper prices since the big sell-off which attracted our attention. It has not been a steady move higher, but up is up. Copper miner Freeport-McMoRan (NYSE:FCX) has done extremely well over the same period of time and the gains are larger, however we want to remain long the entire position there and continue to collect dividend payments as we wait for this economic recovery to get stronger.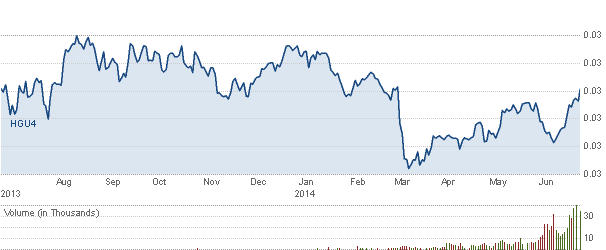 Source: CNBC
Commodity prices are as follows (at time of submission):
Gold: $1,320.30/ounce, up by $0.30/ounce
Silver: $20.935/ounce, down by $0.142/ounce
Oil: $105.23/barrel, down by $0.51/barrel
RBOB Gas: $3.064/gallon, down by $0.0348/gallon
Natural Gas: $4.478/MMbtu, up by $0.069/MMbtu
Copper: $3.207/pound, up by $0.039/pound
Platinum: $1,485.00/ounce, up by $5.90/ounce
Linn Energy Makes Deal
Linn Energy (LINE) is a buyer again, this time buying natural gas assets from Devon Energy (NYSE:DVN) in a deal valued at $2.3 billion. As we have discussed in previous articles, we think that the MLP companies, including names such as Linn Energy and Linn Co (LNCO), are going to ramp up their buying moving ahead. Interest rates are cheap and there is a lot of investor demand for yield in the market so the financing aspect is not an issue right now. Combine that with the excess of assets available for sale as many E&P companies are looking to offload natural gas assets in order to fund their current exploration programs and the environment for deals is quite ripe.
After the big blow-up over its acquisition of Berry and the negative press the company got, it appears that Linn Energy is getting back on track to being the serial acquirer that it was. We are bullish of this name.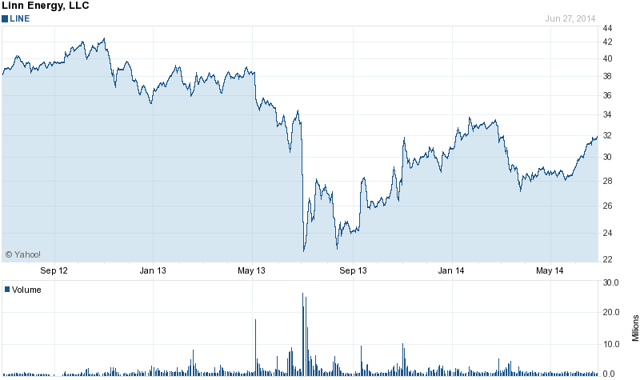 Source: Yahoo Finance
While we are not fans of natural gas assets at this time we do recognize that long-term any buyer at these levels should be able to make money. We prefer to see deals for oily assets which is why EV Energy Partners, LP (NASDAQ:EVEP) might be worth a look as they seem to have gotten back on track and Enervest (which is the general partner and has historically dropped down assets) has shifted towards purchasing acreage with oil.
Disclosure: The author is long EVEP. The author wrote this article themselves, and it expresses their own opinions. The author is not receiving compensation for it (other than from Seeking Alpha). The author has no business relationship with any company whose stock is mentioned in this article. Both LINE & FCX have previously been recommended.