Even though Yahoo (NASDAQ:YHOO) Chief Executive Officer Marissa Mayer slipped up and "overslept," making her late to a meeting with advertisers last week, YHOO as an investment is still currently a buy. This is driven by the company's proactive approach to revitalize itself as well as the upcoming Alibaba.com (NYSE:BABA) IPO, which currently outweighs the risks associated with the stock. Our advanced algorithmic prediction system also has a bullish forecast for YHOO shares in the 1-month and 3-month time horizons.
Over the past year the stock returned approximately 32%, outperforming the broader market over the same time frame. While this rise during the last year has made the stock more expensive compared to its peers, the company is able to justify this evaluation and has potential to expand value. The company has a strong gross profit margin of 83.44%, an increase from the same quarter a year ago and an above the industry average net profit margin at 27.5%. The debt-to-equity ratio is very low at 0.09. In addition the company supports a quick ratio of 3.20 exhibiting Yahoo's propensity to cover short-term cash needs. However, it is also important to recognize financials where Yahoo needs to improve performance. For instance, earnings per share have decreased 17.1% in the most recent quarter and the company has suffered a declining trend of earnings per share this past year. On the other hand, the market expects Yahoo to be able to reverse this trend, with an improvement of earnings of $1.64 versus $1.26. As a side note, the company is very popular and considered one of the most loved companies in 2013. Coming in at number two behind Walt Disney Company (NYSE:DIS), scoring 74.3 on the Emotional Linking Index scale. Granted investors strictly interested in financials will not find this useful, however this information by APCO Worldwide does give us some additional perspective of the public's overall outlook on Yahoo beyond our own singular viewpoint.
At the annual shareholder meeting, Marissa Mayer focused on the company's progress in developing native advertising and video products, in particular Yahoo seeks to enhance advertising utilizing Tumblr, a social media tool, which was purchased for $1.1 billion. One of these initiatives on the blogging website include marketing products such as sponsored posts. So far some advertisers seem to be pleased with the progress Yahoo has made. According to The Washington Post, Kellogg Co. (NYSE:K) has increased spending with Yahoo in 2014 compared with 2013. Vice president of global media and digital strategy at Kellogg, Jon Suarez-Davis even gave a personal endorsement to the paper stating, "I think Marissa has done a good job of listening… She's put in a great team. We will continue to invest in Yahoo."
Alibaba.com's recently announced IPO has the potential to become the world's largest IPO of $26 billion and a total valuation that stands at $220 billion. On August 8th, shares of Alibaba, under the ticker symbol "BABA", will go on sale to the public. This development for the gargantuan Chinese e-commerce website holds a lot of prospective value for Yahoo and YHOO shareholders stand to benefit. Yahoo, the most-visited U.S. Web portal, acquired a 40% stake in Alibaba in 2005 for $1 billion. The company will be expected to sell approximately a third of its current 26.5% ownership stake in the IPO. Yahoo's holdings are worth around $49.7 billion, at this current valuation for the IPO.
While compared to its peers in the Internet Information Providers sector, YHOO has underperformed in terms of quarterly revenue growth year over year but the company is expected to be able to stop negative momentum and will be able to drive share value upwards. The consensus opinion on Yahoo Finance is 2.3, where 1.0 is a strong buy and 5.0 indicates a sell. YHOO has a mean price target of $41.19 out of 27 brokers, indicating that shares can potentially rise a fair amount from the market open of $34.25 on June 30th 2014. There are undoubtedly reasons to be skeptical about investing in Yahoo, however share value is algorithmically projected to rise in accordance with the consensus opinion on Yahoo Finance and many positive reasons, including the upcoming IPO for Alibaba, which should be a catalyst for Yahoo.
A Look At Yahoo's Progress
Since taking the helm of Sunnyvale, California-based Web portal in July 2012, Mayer has been under strict scrutiny, facing pressure to turn the company around. Revenue showed some progress in the first quarter with traffic, page views and users are growing. Figure 1 shows a positive trend for the number of unique visitors to Yahoo.com between April 2011 and April 2014 (in millions).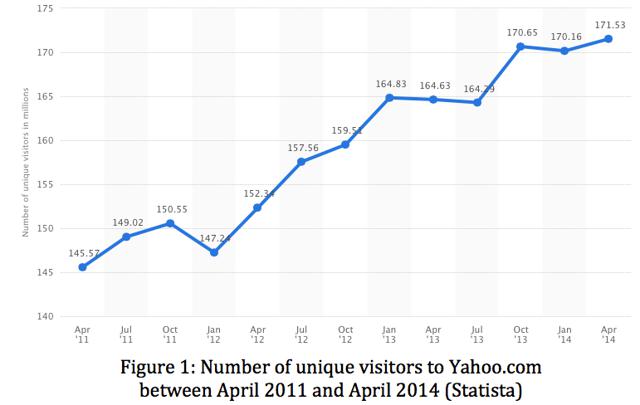 Yahoo! Aviate
As a result from collaboration between Yahoo and advertisers to develop new products and content for brands in order to develop mobile, social, native advertising and video products. All of which are where Mayer says Yahoo's investments are being focused. In order to revitalize the Internet firm as a premier digital content company at the heart of people's daily routines in the contemporary age, Yahoo realized it needed to seize as much control as possible of smartphone screens and promote its content along with advertising at the center of experiences on mobile devices. As trends continue to move in the mobile direction, Yahoo launched an intelligent home screen application called Yahoo Aviate, which simplifies phones powered by Google's (NASDAQ:GOOG) (NASDAQ:GOOGL) Android operating system. Based on the Yahoo search engine, the home screen application is expected to strengthen the position of Yahoos mobile contextual search.
Aviate has been integrated with Donna, a calendar application purchased by the company earlier this year. The application provides a new way for users to text and call close friends and family by making the process even easier. Aviate presents icons of whom the user frequently communicates but simplifies it by allowing swiping on the home screen. Aviate co-founder, Paul Montoy-Wilson stated, "We learned in our beta period that 40% of app opens were related to communicating with people." While what the application can actually do is certainly not groundbreaking, it does make using your smartphone much easier and more convenient for the end user. Click here for a short video by Yahoo about Aviate. This tactic is similar to how Amazon.com (NASDAQ:AMZN) has recently unveiled the Fire Phone, where software is tightly infused to its online offerings. Instead of adding an intelligent home screen application, Amazon built an entire smartphone as part of its larger business strategy.
Enhancing Yahoo's Online Video Content
Yahoo is also working on improving all video content on the website. Rumors have it that the company has offered $250 million to acquire Fullscreen Inc., one of the largest independent content producers for YouTube. Fullscreen is not a YouTube channel, but actually helps supply smaller video-makers with quality technology, services and advice. While Yahoo has declined to comment, this is a part of the company's objective to get a foothold in web video programming and enhance video advertising returns. In particular, Yahoo will be targeting the younger generation. If an agreement can be made, it will help Yahoo expand its online content library as well as connect with youth. However, don't become overty excited as Yahoo is not the only company interested in Fullscreen. The Chernin Group, an investment management company and one of Fullscreen's investors is also interested plus some others. There is also a good possibility that Fullscreen will not want to sell because they do not feel comfortable leaving Google for an untested competitor.
Can Tumblr Help Tip the Odds in Yahoo's Favor?
Another tactic by Mayer to reverse the company's decline in advertising revenue is to make Yahoo a daily destination and encourage users to read featured articles that exposes readers to "native ads." These native ads resemble featured articles but are actually sponsored articles. The benefit from this is that people will be enticed to linger longer with this different kind of advertising. This is where Tumblr comes in, as the micro blogging website uses native ads to generate ad revenue and Yahoo plans to expand upon this. Research has shown that visitors are less likely to ignore these ads. Yahoo will begin utilizing Tumblr's sponsored post ads on its owned and operated websites such as Yahoo News in native formats. Mayer stated in an interview a few months ago at the company's headquarters in Sunnyvale, California, "we think that digital magazines can be a great advance, creating a different category of content consumption… You can layer in video. You can change the content. You can bring in the social aspect. You can tell someone, 'Oh, by the way, your friend also read this article and thought it was interesting.' "
The first advertisers to sign on include Proctor & Gamble (NYSE:PG), Toyota (NYSE:TM) and Lions Gate Entertainment (LGF) according to AdAge. While Tumblr already serves as the editorial publishing tool for these sites and has been used to create the sites' advertisements, this will be the most substantive integration since Yahoo acquired Tumblr according to Yahoo senior VP-home page and verticals Mike Kerns. After six straight quarters of advertising revenue declines, it was flat at $453 million in first quarter of 2014. Yahoo's management anticipates that utilizing Tumblr's ads will help stimulate the struggling display advertising business. Running Tumblr ads on Yahoo will also help advertisers by opening up targeting options. For instance, on Tumblr, ads can only be targeted by a person's geographic location and gender. On Yahoo, ads can also be targeted by interest categories, making Yahoo's advertising more optimal.
Alibaba
However, Yahoo's problems are bigger than the initiatives mentioned above but they do put the company back on track in the right direction. These initiatives alone will not be enough to bring Yahoo back to the forefront, at least immediately. Shareholders will be rewarded more promptly through an investment the company made in 2005. A significant amount of Yahoo's $34.3 billion market value comes from its stake in Alibaba, and this is where shareholders stand to benefit.
For those who are unaware, Alibaba is the largest e-commerce company on the planet. The company processed more than $248 billion of online transactions to 231 million customers in 2013, and has handled over 70% of all packages delivered in China during that time. This far-east market is huge with an estimated middle class of about 600 million, which is approximately double the size of current U.S. population. Amazon , the second largest e-commerce company in the world processed $100 billion and eBay.com (NASDAQ:EBAY) processed $76 billion in online transactions. On the Chinese holiday "Singles Day," Alibaba processed $5.75 billion in online purchases, in one day, which is more than Black Friday and Cyber Monday sales combined in the United States that same year.
T-Mall and Tao Bao are Alibaba's two largest and best-known platforms. Tao Bao is Alibaba's consumer-to-consumer platform. It allows Chinese sellers and buyers to connect, in a similar way to eBay. The second platform, T-Mall is the platform for brands and to sell products directly to Chinese consumers. Currently about 70,000 brands and retailers sell on T-Mall today including everyone from Coach (NYSE:COH) to Nike (NYSE:NKE) and the list goes on.
This is all very interesting, but does the company have growth potential? Indeed it does. It is forecasted that in 2014, just under 360 million Chinese consumers will participate in e-commerce purchasing and that number will increase to 600 million by 2018/2020. However, Alibaba's potential does not stop there as the company has global ambitions as well. For instance, Alibaba is coming to America. Well not literally but they are launching an e-commerce site called 11main.com. If you visit this address currently, the options are limited to requesting an invitation to be a hand-selected shop or get on a sign up list to be the first ones to shop on 11 Main.
With all this good news, you may become skeptical. Well there are less appealing features that must be considered. For instance, there has been some concern over margins in the IPO filing, which disclosed that rising expenses from promoting mobile e-commerce business has caused margins to fall from 51.3% a year earlier to 45.3% for the quarter ended March 2014. Alibaba is expected to offer a 12% of ownership in the IPO and Yahoo as well as Softbank (OTCPK:OTCPK:OTCPK:SFTBF) will be the biggest gainers, although they will not have much control over Alibaba moving forward.
Algorithm
I Know First utilizes an advanced self-learning algorithm based on Artificial Intelligence (NYSE:AI), Machine Learning (ML), and incorporates elements of Artificial Neural Networks and Genetic Algorithms in order to model and predict the flow of money in almost 2,000 markets from 3-days to a year. The market prediction system is entirely empirical and not based on human derived assumptions. The human factor is limited to building the mathematical framework and initially presenting the system with the "starting set" of inputs and outputs, which is also utilized for recognizing almost 2,000 other market opportunities. The algorithm then repetitively proposes "theories" and recurrently tests them automatically on years of daily market data. It then validates them on the most recent data, which prevents over-fitting. By separating the predictable part from stochastic (random) noise, the algorithm is able to create a model that projects the future trajectory of the given market in the multi-dimensional space of other markets. The output of the predicted trend is a number, known as the signal, which is used by traders to identify entry and exit points in the market. While the algorithm can be used for intra-day trading, the predictability tends to become stronger over longer time-horizons such as the 1-month, 3-month and 1-year forecasts, making this market prediction system ideal for longer-term trading.
Figure 2 displays a recent forecast including YHOO as one of the Top Aggressive Stock Picks by the algorithm utilized by algorithmic traders using the I Know First market prediction system. Algorithmic traders utilizing the I Know First Risk Conscious Forecast received this prediction. We determine our aggressive stock picks by screening our database daily for higher volatility stocks that recently moved often strongly up or down. These aggressive stocks present more opportunities, but are also more risky.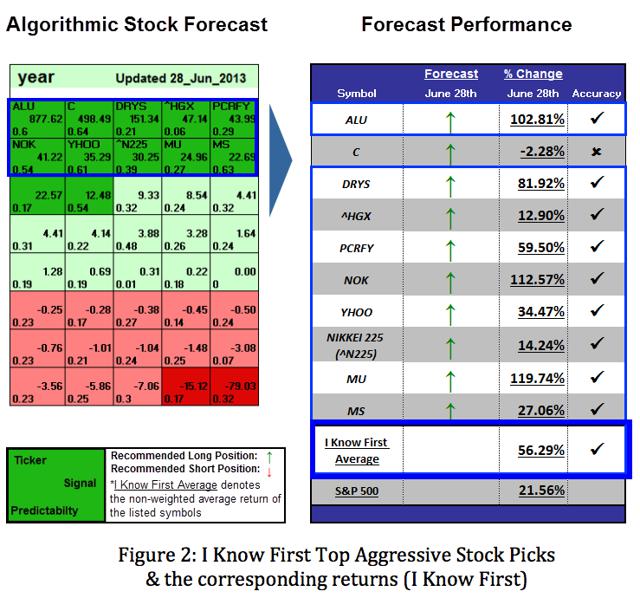 The color-coded forecast is very easy to read where green indicates a bullish signal and red indicates a bearish signal. Deeper greens signify that the algorithm is very bullish and vice-versa for deeper reds. The signal is the number flush right in the middle of the box and the predicted direction (not a specific number or target price) for that asset, while the predictability is the historical correlation between the prediction and the actual market movements. In other words, the signal represents the forecasted strength of the prediction, while the predictability represents the level of confidence. These are two independent indicators but consider both as you make your own analysis.
Comparing the algorithmic performance of Yahoo's 1-year stock prediction (June 28th 2013 - June 28th 2014) to the most contemporary forecast is an excellent strategy for rationalizing your expectations utilizing algorithmic trading as one tool in your analysis toolbox. Figure 3 displays the most contemporary algorithmic forecasts for Yahoo in the 1-month and 3-month time horizons.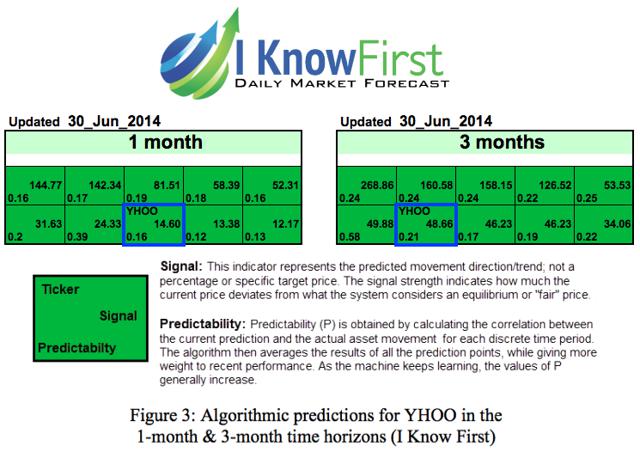 In this forecast for YHOO, the stock remains within the deeper green forecast, demonstrating the bullishness of the market prediction system. The signal increases from 14.60 in the 1-month time horizon to 48.66 in the 3-month time horizon. The predictability indicator also increases significantly from 0.16 to 0.21, which signifies increased confidence over the stated time horizons. This bullish forecast coincides with Alibaba shares going public in August for the first time. These bullish signals should give investors some assurance that YHOO shares will rise further over the stated time-horizons. Algorithmic traders utilize these daily forecasts as a tool to enhance portfolio performance, verify their own analysis and act on market opportunities faster. We never recommend blindly purchasing assets that are endorsed by the algorithm without your own additional analysis.
Conclusion
There certainly has been a relationship between the movements of Yahoo shares and Alibaba IPO since rumors started to appear in 2013. Yahoo shares performed very well in 2013 but have floundered so far this year. Note that investor's attitudes were based mainly on rumors last year and this year it will be based on news. There are also those of us who are skeptical of Mayer's future decision making after Yahoo monetizes a portion of its stake and she will likely be under strict scrutiny when this time comes. The self-learning algorithm currently has a bullish prediction for YHOO making the company a buy.
Aside from Alibaba, Yahoo wants to be a media conglomerate and it certainly has the potential to do so but it will all come down to execution and persuading valuable companies such as Fullscreen to join the cause. Yahoo is heading in the right direction by developing mobile, social, native advertising and video products. Even so, these products will not provide increased share value until they have proven that these are viable solutions to the business model. While Yahoo struggles to find itself again, a smart investment in Alibaba will provide interim value for shareholders.
Business disclosure: I Know First Research is the analytic branch of I Know First, a financial services company that specializes in quantitatively predicting the stock market. Joshua Martin, an I Know First Research analyst wrote this article. We did not receive compensation for this article (other than from Seeking Alpha), and we have no business relationship with any company whose stock is mentioned in this article.
Disclosure: The author has no positions in any stocks mentioned, and no plans to initiate any positions within the next 72 hours. The author wrote this article themselves, and it expresses their own opinions. The author is not receiving compensation for it (other than from Seeking Alpha). The author has no business relationship with any company whose stock is mentioned in this article.