by Angus Robertson
Chinese search company Baidu (NASDAQ:BIDU) continues to draw widely diverging opinions among sell-side analysts.
Pacific Crest's Steve Weinstein last week boosted his 12-month price target from $80 to $140, while earlier in September Credit Suisse's Wallace Chung reiterated his Sell rating and $60.50 target.
The median price based on the thirteen most recent 12-month targets tracked by Alacra Pulse is $90, up from $86 in late August, but still below Thursday's closing price of $98.49. The mean target price of analysts who have changed or reiterated their targets since the beginning of August is $91.97.
Click image to enlarge.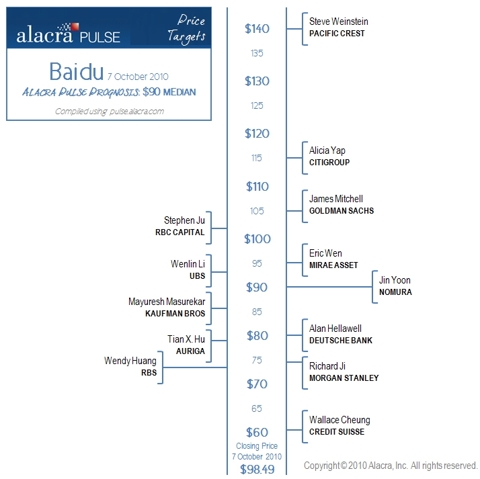 Explaining his major upward revision, Pacific Crest's Weinstein wrote:
"We believe the current business momentum reflects the benefits of Phoenix Nest [the company's ad keyword bidding system] and a renewed sales effort. . . The benefits from these drivers are still at an early stage and should continue well through 2011. Additionally, we believe that 2011 or 2012 will be the year e-commerce reaches critical mass in China and merchants begin to embrace search marketing, providing another leg of growth. Based on these drivers, we expect growth to exceed 50% in 2012."
At the other end of the scale the bearish Chung of Credit Suisse noted that "Trading at 57x 2010E P/E, Baidu remains expensive."
Citi's Alicia Yip this week raised her target to $115 from $93 and made it a top pick among China internet stocks. Likewise, Paul Wuh at Samsung Securities boosted his target to $107 from $86 and gave the company a "Three Star Buy" rating and top pick. James Mitchell of Goldman Sachs increased his target to $105 from $90 on improved growth and RBC Capital's Stephen Ju nudged his target up a dollar to $102 based on increased advertiser and ARPU assumptions.
But Eric Wen at Mirae downgraded Baidu to Hold from Buy as he considers the stock too expensive despite the company's strong performance. He has a $95 target on the company.
Disclosure: No positions