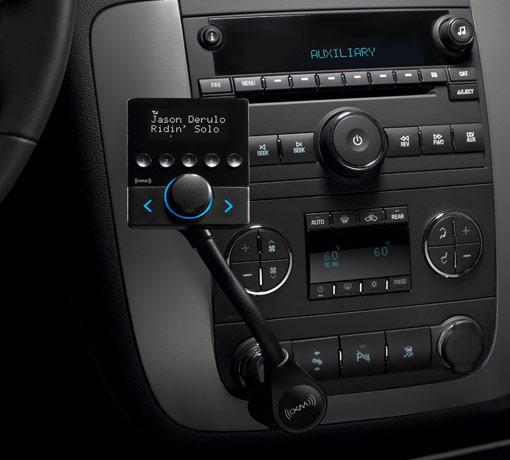 I have written a few articles about the uproar over Internet radio and music streaming as the future of the music industry. There has also been some back and forth over streaming services' ability to encroach on the Sirius XM Holdings' (NASDAQ:SIRI) turf, so I decided to do my own diligence.
Background
Sirius broadcasts music, sports, entertainment, talk, news, traffic and weather channels in the U.S. on a subscription fee basis through proprietary radio systems. The company has agreements with major automakers ("OEMs") to offer satellite radios in their vehicles. The majority of Sirius' subscribers come from arrangements with OEMs. Sirius has nearly 26 million subscribers.
The main source of revenue is from subscription fees; it also derives revenue from activation fees, advertising fees and the sale of radios and accessories. Sirius distributes satellite radio through the sale of new vehicles, used vehicles, and via retail channels. It also streams music over the Internet for a fee. That said, Sirius maintains programming royalty arrangements with and pay license fees to BMI, ASCAP, and SESAC; these organizations negotiate with copyright users, collect royalties and distribute to songwriters and music publishers.
Profit Margins Contracting From Higher Royalty Fees
Below are the historical financial results of the company: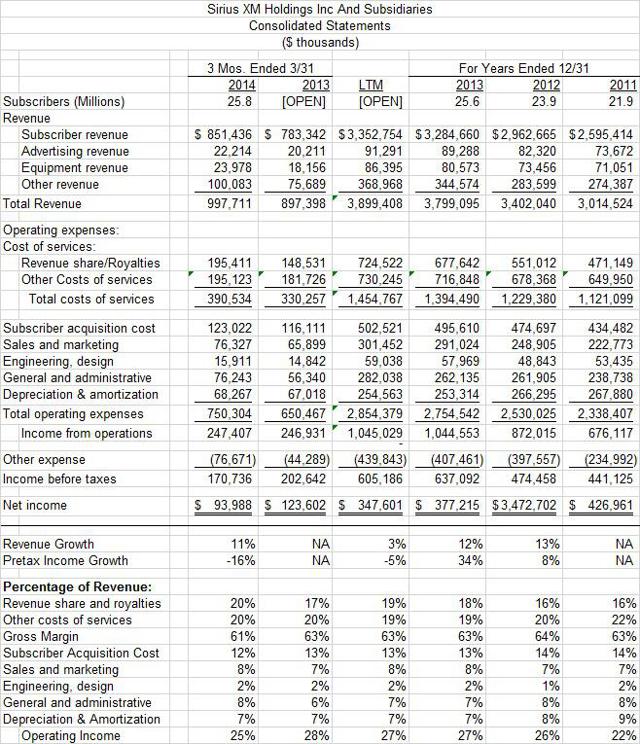 Click to enlarge
For

Q1 2014 Sirius had 25.6 million subscribers, up from 2.9 million in 2011.

Revenue was nearly $1.0 billion for

Q1 2014, up 11% over the previous period. Revenue has increased over the years due to increases in the number of subscribers and increases in subscriber fees.

However operating income of $247 million was flat, in comparison to the $247 million earned through

Q1 2013.

Operating income margin declined to 25% for

Q1 2014 from 28% during the previous period.

Revenue share and royalty fees was 20% of revenue for Q1 2014, versus 17% for

Q1 2013, causing gross margin to decline to 61% from 63%. Increase in such fees was primarily attributable to greater revenue subject to royalty and/or revenue share arrangements, and an increase in the statutory royalty rate for the performance of sound recordings.

Also of note is that general and administrative expenses - executive management, rent, occupancy, finance, legal, etc. - increased from 6% of revenue in Q1 2013 to 8% of revenue for

Q1 2014.
New Entrants - Google, Apple, Amazon - May Tamp Subscriber Growth
Spotify and Pandora, Inc. (NYSE:P) have been involved in music streaming for years. However, Google, Inc. (NASDAQ:GOOG) (NASDAQ:GOOGL), Amazon, Inc. (NASDAQ:AMZN), and Apple Inc. (NASDAQ:AAPL) are just entering music streaming or have stepped up their investment in the space.
Apple/Beats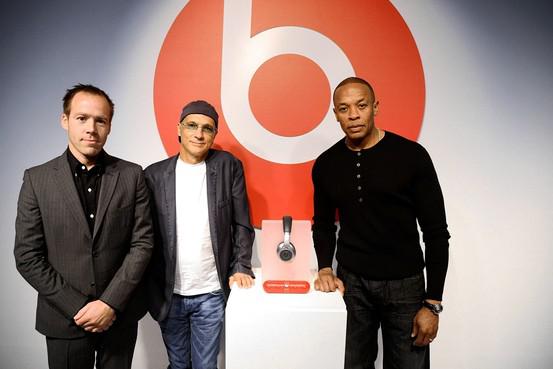 With its $3 billion acquisition of Beats, Apple bought a premium headphone maker and a hedge against a continued decline in music downloads:
A Beats acquisition would improve Apple's competitive position immensely by providing a hedge against declining sales for music downloads. Though revenue from Beats Music is miniscule for now, if Beats can convince headphone buyers to make Beats Music their music streaming service of choice, Beats Music could capture market share quickly.
Audi recently announced that it would install Apple's Carplay infotainment system in its cars beginning in 2015. Carplay lets people make calls, listen to messages, connect to the Internet or listen to music via the company's smartphone operating system. It is another play on the "Internet of Things," where numerous kinds of connected devices allow people to stay connected to the Internet at all times. It is almost a given that Apple will promote Beats as the one music streaming service that could amplify customers listening experience while driving. At the Geneva Auto Show earlier this year, Apple confirmed that Ferrari, BMW (OTCPK:BAMXY), Volvo (OTCPK:OTCPK:GELYY) Ford Motor (NYSE:F), General Motors (NYSE:GM), and Honda Motor (NYSE:HMC), amongst others, were also interested in installing Carplay.
Google
Google was a late entrant to music streaming when it launched a subscriber-only service in 2013. However, the company has been rumored to be in talks to acquire Songza, giving it an immediate presence in curated music:
An acquisition of Songza would make Google an immediate player in curated music, and put it in competition with Apple/Beats. The $15 million rumored deal would costs billions less than an acquisition of Spotify or Pandora, and save Google the decade or so it would take to replicate Songza's streaming platform.
A Songza acquisition would advance Google's streaming music efforts, but its Android Auto would give it an important distribution system through auto manufacturers:
"Our customers want to be 'always on' and use the services they know from their smartphones in cars as well," says Prof. Ulrich Hackenberg, Board Member for Technical Development at AUDI AG. "In this regard, we are working closely with leading companies like Google and Apple. In the future, customers will be able to use the functions available to them on their smartphones via the operating systems in their cars as well.
Through its Open Automotive Alliance, Google is making inroads with OEMs to bring the Android automotive platform to cars starting in 2014. It is the Internet giant's play on the Internet Of Things. The likely scenario is that auto companies will integrate both Android and IOS operated smartphone systems.
Amazon
Amazon recently launched its own music streaming service. Amazon is one of the industry leaders in music download sales, so the foray into music streaming makes sense strategically. However, the Apple/Beats announcement and the Google/Songza rumors may have forced Amazon's hand. On my previous article I explained the company's strategy:
Amazon has apparently gotten the memo that downloading is slowing being replaced by streaming. The company is planning to offer music streaming to customers of its video streaming service - Amazon Prime - with a limit on how much a customer can listen to a particular song. The hope is that by offering customers a music sample, they will then download the song from Amazon's MP3 store... According to the Wall Street Journal, Amazon has offered major record labels a fixed payout for content instead of payments based on how often subscribers listen to their songs.
Whether Amazon plans to make more inroads into music streaming or expand its distribution via acquisitions remains to be seen. However, I do not think we have heard the last from Amazon on the matter.
The Case For Sirius
When the Apple/Beats deal was announced or the Google/Songza rumors surfaced, I did not think they would be a threat to Sirius for the following reasons:
Sirius Has Content Distinct From Streaming
The majority of Sirius' content is talk radio, news, sports, etc., and it hasextensive relationships with these content providers. Sirius has relationships with the major sports franchises and its lineup of talk radio stars - Oprah Winfrey, Howard Stern, Spike Lee - is enviable. The curated music provided by Apple/Beats or Songza is much talked about; whether listeners value curated music above other streaming services remains to be seen. However, Sirius has proven that Oprah, Howard and Spike are differentiators who can attract subscribers.
Streaming Music Via Smartphones Can Be Costly
When streaming music on one's smartphone, in addition to the monthly fee for the streaming service, listeners also have to pay data fees to the phone companies. The costs may outweigh the benefits of the Internet Of Things via a smartphone device or operating system.
Most People Listen To Radio In The Car
In New York City the majority of the population takes the subway. Outside of New York, people own cars, drive cars and spend countless hours in the car listening to the radio. The majority of radio listening actually happens in the car - the one place that Google, Apple/Beats, and Amazon do not have a major presence. Nonetheless, Google and Apple's attempt to bring the Internet Of Things to the auto market by 2015 gives me pause.
Valuation
With a market capitalization of about $21 billion, Sirius trades at approximately 60x last 12 months earnings of $348 million. With $3 billion in long-term debt at Q1 2014, the company has an enterprise value of about $24 billion, and trades at approximately 18x its last 12 months earnings before interest, taxes, depreciation and amortization ("EBITDA"). Given the company's flat earnings, I do not think the stock deserves such a high trading multiple.
Conclusion
Despite its continued revenue growth, Sirius' gross margins and operating income are declining due to rising royalty payments and general and administrative expenses. Meanwhile, industry giants Apple, Google and Amazon have entered music streaming in direct competition with Sirius. By 2015 Apple and Google expect to offer infotainment systems in automobiles - a key distribution channel for the company. While costs are rising, I expect more competition to dampen its subscriber growth and revenue growth. Sirius is a sell.
Disclosure: The author is short P. The author wrote this article themselves, and it expresses their own opinions. The author is not receiving compensation for it (other than from Seeking Alpha). The author has no business relationship with any company whose stock is mentioned in this article.