There is no shock that layoffs continue, is there? In the past few months, several drug makers disclosed plans to reduce staff or continued with previously announced cuts. Among them has been Abbott Laboratories (NYSE:ABT), Bristol-Myers Squibb (NYSE:BMY), Endo Pharmaceuticals (NASDAQ:ENDP), Lundbeck (OTC:HLUKY), Lonza (OTCPK:LZAGF) , and Johnson & Johnson (NYSE:JNJ), among many others.
And so, the latest monthly tally of pharma layoffs amounts to 6.069 industry jobs lost in September, compared with just 200 in August, according to Challenger, Gray & Christmas, the outplacement consulting. Nonetheless, the industry has shed 43,334 jobs this year, which appears on track to nearly match the 58,583 that were eliminated last year (you can read the latest report here and the last monthly survey here). The only sectors to throw more people overboard so far this year are governments and non-profit groups.
However, there are two caveats. First, not all job cuts are disclosed, since some companies cut staff in dribs and drabs and, therefore, are not required to file notices with their state governments. The implication is that job losses are greater than the survey implies. At the same time, this tally does not necessarily present a complete employment picture, given that selective hiring continues for various positions at numerous companies.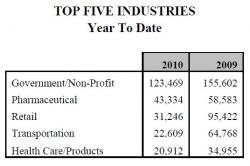 The trick, of course, is having the right creds, among other things. Although sales reps and chemists may find the going more difficult than, say, reimbursement specialists or biologists, but as Michael Steiner, RegentAtlantic Capital's pharma services group leader, notes, there are opportunities lurking in the shadows. He points, for instance, to specialty functions that are being outsourced to smaller companies as an example.
"In the last few months, I've seen several clients make transitions to academic institutions, start-ups and some have set up shop as consultants with no shortage of work to be had," says Steiner, who counsels pharma execs who are on their way out the door. "While this is anecdotal, and far from a relevant statistical sample, it is evidence that while jobs are being shed in big pharma, they are not all disappearing. One just needs to know how and where to look." Some, however, may need binoculars.
Disclosure: None