by Mike McDermott
Earnings season is underway with the traditional first salvo fired by Alcoa Inc. (NYSE:AA). A positive report along with continued rally cries from the Quantitative Easing II crowd gave the market a bullish tone to finish out last week.
It appears that the majority of investors are willing to give companies the benefit of the doubt when it comes to their most recent financial performance. Price multiples have been increasing and for many momentum stocks the analyst estimates have also been ratcheting higher – creating an environment of optimism.
Unfortunately, the cheer may very well be coming to an end as several high-profile "cult stocks" have begun showing signs of fatigue. Eventually, the top-down Macro headwinds are likely to catch up with the enthusiastic bulls, and with stocks priced for perfection heading into the reporting period, even small hiccups could cause major reversals.
Our trade book is fairly balanced at this point with long positions in a few precious metal stocks (our silver candidates look particularly interesting); and short positions focusing on a global bearish outlook, a weak US consumer, and a loss of energy in extended momentum names. There are a number of attractive setups that are on deck (depending on the early price action) and we should have plenty of action this week as the volatility picks up in response to third quarter earnings reports.
Speaking of action… Jack and I enjoyed our poker weekend in Reno. Both of us went fairly deep in the tourney standings and while Jack finished several positions ahead of me, my night was especially memorable because of the royal straight flush… Unfortunately, I was holding the nut full house and lost to only the second royal straight flush I have ever seen.
In poker – as in trading – sometimes the best setups brush you back and the key is to adjust and simply move on to the next opportunity. So let's take a look at our setups for this week…
Precious Metals and QE-II
Traders and investors are becoming increasingly aware of the risk of simply holding cash. In the past, holding a higher cash balance was considered a conservative move – but today, that assumption is being challenged by the prospect of another round of US quantitative easing. In addition, Japan's recent actions may very well touch off a global currency war as countries race to devalue their currency.
Weak currencies naturally support higher asset prices, and precious metals have been in a well-defined bull market for some time now. The producers of these precious metals look particularly attractive right now as investors adjust to the increased value of the underground assets. If this move in the price of precious metals is a sustained shift and not just a spike, many of these mining companies will turn out to be significantly undervalued at current prices.
Silver Standard Resources (NASDAQ:SSRI) broke out of a consolidation the day it was featured in our Mercenary Dispatch (click to enlarge). The company believes there could be as much as 27 ounces of silver underground for every share of stock outstanding. Even using very conservative cost and production assumptions, it is easy to make an argument for a stock price several multiples above its current level. The breakout from a base gives traders a chance to hold this name with a relatively tight stop and significant upside potential.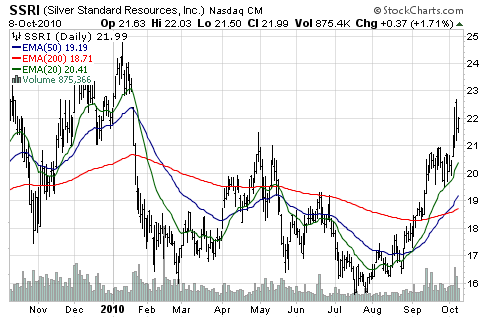 Last week we also took a position in Market Vectors Junior Gold Miners (NYSEARCA:GDXJ) as a more speculative position. Many of the companies in the ETF are much more aggressively leveraged to the price of gold which means that there is more risk for the corporations, but also more upside when the stars align.
Unfortunately, GDXJ gave us the "whipsaw treatment" with the stock initially trading high enough to trigger our discipline of moving our stop to breakeven. The volatility subsequently stopped us out of the trade for a wash, but we continue to have the vehicle on our radar (click to enlarge). Getting in a major trend, cutting the risk out of the equation, and then riding the trend for significant gains (as we have done with Allied Nevada Gold (NYSEMKT:ANV) and Market Vectors' Gold Miners ETF (GDX)) is the goal in this situation.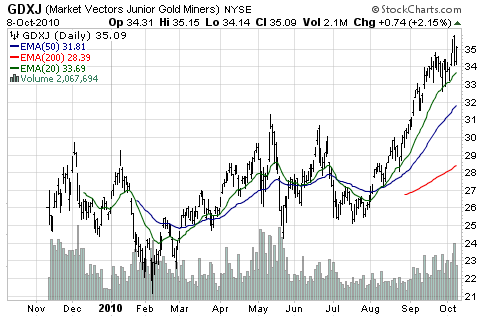 Waning Momentum Stocks
The last few weeks have featured some interesting shifts in the dynamics for momentum stocks. The cloud computing area has been Teflon coated for a number of quarters now as giddy analysts continue to predict growth to the sky for all of the major players in the category.
Jack mentioned our short trades in CRM and VMW – both of which we have been stalking for some time. We took a wash (breakeven) on Salesforce.com (NYSE:CRM) but are sitting on decent profits in VMWare (NYSE:VMW). The bulls aren't quite ready to give up the fight yet and have mounted a bit of a stand after two days of selling.
If the stocks in this industry firm up for a few more trading sessions, they could offer tremendous entry points for continuation moves lower. Traders who are not in the action yet can establish short positions as the stocks break below short-term support areas, and traders who already have short positions may have an excellent opportunity to pyramid their exposure while adjusting stop levels to keep risk minimal.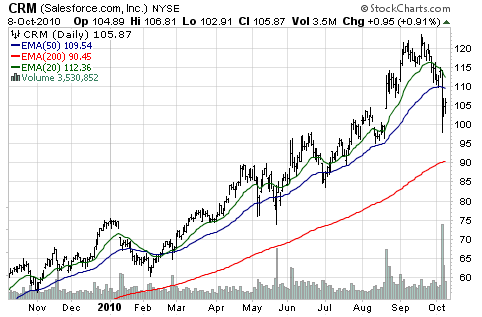 click to enlarge
Amazon.com, Inc. (NASDAQ:AMZN) is another heavily owned and relatively expensive momentum name. The stock is vulnerable to a slowdown in global consumer spending. Heck, global spending could continue to grow – but if the rate of growth comes in below expectations the stock could still get whacked!
We're watching the stock very closely and have a pending order to take a short position if the stock breaks below it's current flag pattern (click to enlarge).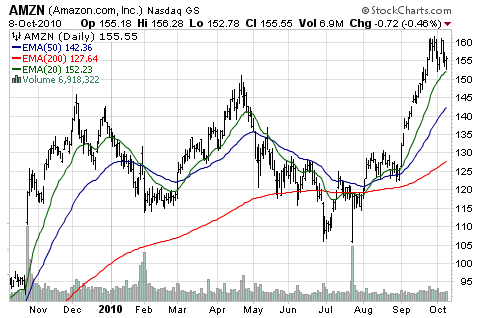 Retail Rally – And Potential Reversal
The hippest teen apparel retailers Abercrombie & Fitch (NYSE:ANF) and American Eagle Outfitters (NYSE:AEO) rallied sharply this week after announcing positive back-to-school sales. Analysts are guiding for robust growth for both companies for 2010 as well as 2011. The expectations certainly appear out of whack considering the stubborn pressure on the US (and global) consumer.
Considering the amount of conviction we have in the area, the rally is actually quite exciting as it opens opportunity on a number of levels.
First, the rally in these particular names gives us the opportunity to short at higher prices once the hype begins to wear off and investors start worrying about holiday sales.
Second, we can see which stocks in the sector rallied along with the bullish news, and which are simply not attracting attention of retail investors.
Third, the positive movement may very well have shaken out weak short sellers – leading to more vulnerability once the stocks do in fact begin to trade lower.
American Eagle Outfitters looks particularly vulnerable because the company has not seen any meaningful growth in profit despite a sharp rise in sales in the January and April quarters. The July quarter saw revenue once again show year-over-year declines and even with a strong back to school period AEO should still be vulnerable to any weak spending reports in the next several months (click to enlarge).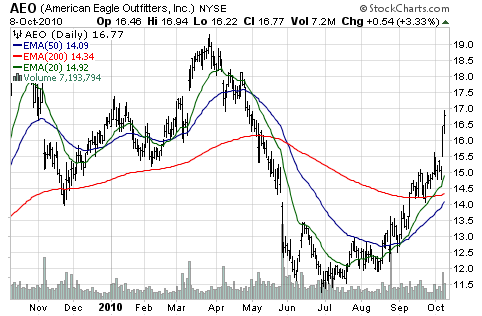 Zumiez Inc. (NASDAQ:ZUMZ) gapped higher and made a new recovery high as investors reveled in the back-to-school excitement on top of a stronger outlook from management in September (click to enlarge). At this point it appears that the best-case scenario is already priced into the stock and while we need to wait for price action confirmation before stepping into a short position, the stock is getting to a place where we could see a 3-1 reward to risk (or better) trade setup.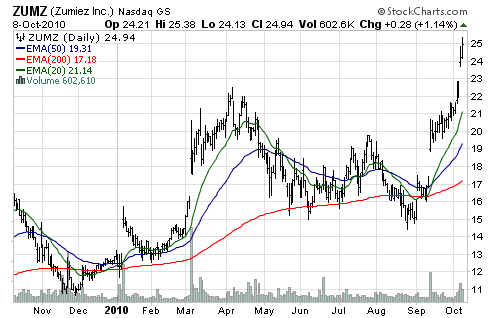 The short-term trend for the broad market is certainly higher – and as traders we must respect this bullish action. But with fundamental headwinds abounding and some very large chinks in the market's armor, we are holding on to our strong existing bullish positions in precious metals and a few special situations while gearing up for what appears to be the inevitable move lower.
We have no shortage of attractive short opportunities – and the key is carefully managing the risk so that our capital is intact and ready to participate in sustained swings. We've got a tidal wave of earnings information heading our way, so stay nimble and alert!
Disclosure: As active traders, authors may have positions long or short in any securities mentioned. Full disclaimer can be found here.