The 25 day quiet period on underwriter research on NAO, initiated by the firm's June 11 IPO, will come to an end on July 7. NAO had a less than impressive IPO but has seen steady gains since; underwriters will likely try to boost the stock further with positive reports on July 8. We see this event as a short-term buying opportunity.
North American Offshore Ltd (NAO) - Buy Recommendation - Price Target $21.00
The 25 day quiet period on underwriter research on North American Offshore Ltd , initiated by the firm's June 11 IPO, will come to an end on July 7, allowing the firm's IPO underwriters to release research reports on the owner and operator of platform supply vessels.
The release of the underwriters' reports will likely lead to at least a temporary rise in NAO share prices.
Upward Trend Post-IPO
NAO's IPO priced at the low end of its expected range at $16 per share and suffered a first day loss of 4.7%-an unusually weak showing for an energy-sector firm, as energy IPOs have performed well in general in 2014. However, the stock has since trended upwards, closing at $19.13 per share on June 27.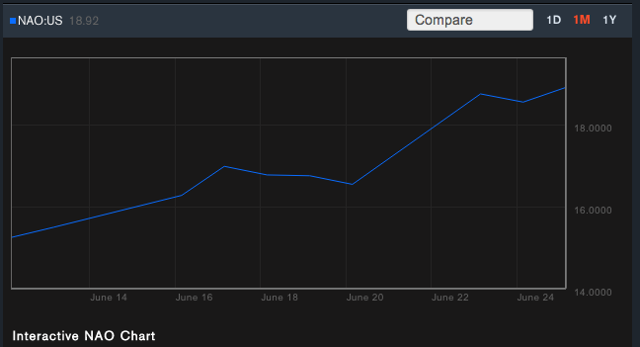 (www.bloomberg.com/quote/NAO:US)
Underwriting
NAO's IPO underwriters, including Credit Suisse Securities LLC; DNB Markets, Inc; J.P. Morgan Securities LLC; and Morgan Stanley & Co. LLC; and Global Hunter Securities, LLC, will try to push NAO share prices higher with a release of positive research reports with the conclusion of the quiet period on the sixth.
Evidence That Quiet Period Expirations Can Open Buying Opportunities
The Journal of Finance (VOL. LVIII, NO. 1; 2003) explains that share prices typically begin to increase several days before the quiet period has expired as experienced investors anticipate positive analyst reports and begin to purchase shares.
Lead author Dan Bradley, PhD, CFA, of the University of South Florida and his colleagues note that analyst coverage is initiated for 76% of firms at the time of the quiet period expiration, almost always with a 'Buy' or 'Strong Buy' rating. The researchers find that firms with coverage initiated benefit from abnormal positive returns of 4.1% in the two days prior to and the two days after the date of initiation.
Carter, Piwowar, and Strader (2001) also find that the mean analyst rating at the conclusion of the quiet period expiration is a "Buy," with higher returns correlated to higher ratings.
The early purchases create the perception of increased demand, causing share prices to rise before the quiet period has expired and creating a short-term buying opportunity.
Bradley et al also find a significant correlation between the quantity and reputation of IPO underwriters and a rise in the price of shares at the expiration of the quiet period. Our past three years of research have generated data that align with the academic publications.
Returns have been found to increase even further when initiated by multiple analysts-to 6.4%.
Business Overview
NAO is a recently incorporated firm, engaged in the acquisition and operation of platform supply vessels (PSVs), used to haul supplies to offshore installations, primarily including drilling rigs.
The firm purchased an initial fleet of six secondhand PSVs in November 2013 and has entered into memoranda of agreement for two newbuilding PSVs expected to be delivered in 2015. Three of the firm's vessels are currently under time charter, and the rest work in the spot market. NAO plans to focus its initial operations the North Sea.
NAO has entered into a management agreement with Scandic American Shipping Ltd., a wholly owned subsidiary of Nordic American Tankers Limited, to provide for commercial management services and to supervise functions related to PSV operation.
As Nordic American Tankers is a 26% shareholder of NAO, NAO hopes that it will be able leverage Nordic's relationships with charterers and oil companies to its own advantage.
Large Competitors
NAO must compete with other owners and operators of platform supply vessels, especially those operating in the North Sea. The largest operator of PSVs in the North Sea is GulfMark Offshore, Inc. (NYSE:GLF); other competitors include SEACOR SMIT Inc. (NYSE:CKH), Sealion Shipping, and Deep Sea Supply PLC. Some of these competitors have access to significantly greater financial resources than NAO and have established relationships with charterers.
Management Highlights
CEO Tor-Øyvind Bjørkli spent the past eight years as a Partner with the offshore sale and purchase and newbuilding division of RS Platous ASA.
He previously worked as a surveyor with the Det Norske Veritas classification society at their Miami office. Mr. Bjorkli holds a B.S. in Marine Engineering from Vestfold University College and a Master of Science from Norwegian University of Science and Technology.
He also completed the Royal Norwegian Naval Officer Training School in 1993.
Conclusion
Though NAO's early performance on the market has been relatively quiet, increasing demands for support services for oil rigs in the North Sea should provide the firm with every opportunity to succeed going forward.
The firm's relationship with Nordic American Tankers will help NAO to take advantage of those opportunities, as will the experienced leadership team.
The upcoming quiet period expiration will provide potential investors with a strong opportunity to get a piece of NAO.
We invite readers interested in IPOs to click the +FOLLOW button above the title of this article--and those wishing to receive the latest developments on IPOs to click the +Get real time alerts.
Disclosure: The author is long NAO. The author wrote this article themselves, and it expresses their own opinions. The author is not receiving compensation for it (other than from Seeking Alpha). The author has no business relationship with any company whose stock is mentioned in this article.