How do you price a mining start-up two years away from profitability that may well become the cornerstone for a new U.S. industrial policy?
As Molycorp (MCP) bounced between $19 and $30 this past month, one could see in the stock's volatile gyrations a market's indecision. The company –and the rare earths industry in general—has been thrust in the limelight recently as a Senate hearing and a fishing boat collision in Asian waters has forced the West to look more closely at trade dependence on China.
Just three months since its tepid, broken IPO as a green-tech play, Molycorp suddenly finds itself in an enviable position. It has a rich, in-demand stock and has become the assumed supplier for the American defense industry, entrusted to re-harness U.S. production and help establish a national stockpile. "Assumed" may be the best word for it. At present the Denver-based company has no mines fully operational. According to statements, the company will be spending at least $553 million over the next 18 months to refurbish equipment and facilities at Mountain Pass, CA, the one mine it owns.
Under prior ownership, the famed Mountain Pass mine once provided half of all world production of rare earth oxides, but costly processing and waste removal requirements shut down the California mine eight years ago. This headwind did not go away. Environmental constraints are even more relevant today: Molycorp estimates it will spend another $186MM on environmental issues by early 2012. With a production process that notoriously pollutes water and requires radioactive disposal, REO mining remains a dirty, toxic business.
So how do you approach a company with a lofty valuation, no material revenue, and a tricky path to making itself fully operational? In the near term, you might short it. Nathan Barton has made a convincing case for shorting MCP at this juncture.[1]
In the long term, however, the company might become highly profitable. It really depends on your assessment of world trade patterns. The Mountain Pass mine has proven reserves -- 2.2 billion lbs of proven REOs with an average 8.24% ore grade.[2] It once provided cerium and europium for a generation of American color TVs and all the neodymium in those guided missiles that lit up CNN during Gulf War One. As the following wikipedia graph makes clear, the mine's productivity ebbed as America's manufacturing muscle gave way to filigree of dispersed global supply chains.
Click to enlarge: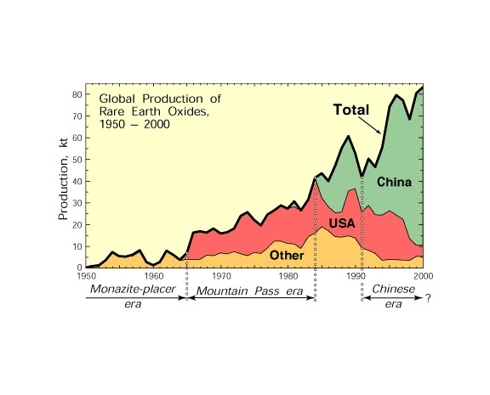 Perhaps the mine's return suggests we are entering a new era of de-globalization, a bumpy period when the developed world copes with a more inwardly-focused, economically combative China.
The world certainly got a bit less "Friedman flat" last month, when Beijing swung to a heated, coercive diplomacy following the September 7th arrest of one of its fishing boat captains near the Senkaku Islands.
Accepting that nationalist sensitivities would flare over the incident, it is still astonishing just how quickly the crisis cascaded into every aspect of Sino-Japanese relations. Following the arrest by the Japanese coast guard, China canceled cultural exchanges, dropped tourism and tabled all energy plans. It arrested four Japanese nationals on trumped-up spying charges. It spoke ominously of economic consequences, and within a week all exports of rare earth elements to Japan mysteriously ceased. Ordered by Chinese customs officials, this "informal" covert embargo of neodymium and other metals aimed to wobble the Nikkei's high tech manufacturers.
Though shipments resumed within days, the damage was done. But not to Japan, which I believe played the incident quite artfully despite charges of "caving" by the media. In fact this crisis may be Beijing's worst foreign policy blunder since Mischief Reef in the mid 90s. As Japanese Foreign Minister Seji Maehara said on September 17: "countries the world over watched how China reacted" to the incident.
More specific to the topic, China's use of its rare earth card was absurdly premature. It has triggered virtually every major customer in the developed world to assess new providers and review new strategies for rare earth independence. In a way, the crisis was a godsend to the West as it clarified a growing trend.
The developed countries had already been squirming under recent Chinese development strategies. The West had enjoyed a steady distribution of cheap rare earths from the mainland's Baotou mines starting in the early 90s. Lax environmental regulation there allowed for pell-mell increases in mining and processing. It ultimately drove out high-cost competitors (like Mountain Pass in 2002) and gave the Chinese a world market share now generally assessed at 95%.
But over the past few years, Beijing has started to reduce export quotas. Based on numbers by Roskill / Global Trade Atlas, it appears that though actual Chinese rare earth production has climbed 60% from 2003 to 2008, its exports to other countries during that period have dropped 50%.
Why reduce exports, especially when they fetch higher prices for the miners? Though never explicitly stated, it was apparently done to help China climb the manufacturing added-value chain. By pressuring foreign companies to relocate factories to China with attractive in-China sourcing costs, Beijing hoped to absorb innovation and expand into those attractive industries. It also strengthens their own high-tech "national champions" which can produce at even lower input costs than their Asian neighbors and mop up domestic demand.
Click to enlarge: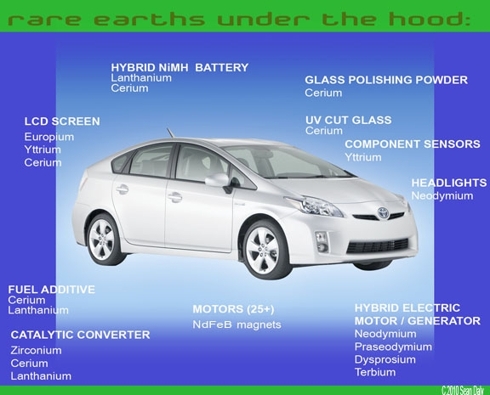 Beijing's "guided market" approach has been more obvious this year in two recent policy decisions. Though underreported in the Western media, they are profound in their consequences:
1. China declared a particularly ambitious national plan to reach a production rate of one million electric or hybrid cars per year. That's a lot of rare earths, as the adjoining diagram can attest. Metals expert Jack Lifton has suggested that this would soak up a massive amount of REO local production, at least 10 tons of terbium, 50 tons of dysprosium and a staggering one thousand metric tons of lanthanum. [3]
This follows a Beijing plan for 330 Gig watts of wind turbine energy by 2020. As each 1.5 megawatt of wind turbine generator requires 1 metric ton of rare earth permanent magnet alloy, Lifton suggests this ten year project –if completed as spec-ed-- will absorb 59,000 metric tons of neodymium, 1,000 tons of terbium and 3,000 tons of dysprosium.[4]
2. More ominously, on July 10, 2010, China's Ministry of Commerce declared a full state intervention into the industry:
All rare earth oxide and metal prices would be controlled by the central government. This unified national price would be set each month.
All REO mining companies would be consolidated by the state into 3 to 5 conglomerates.
Exports for 2010 would be reduced, dropping to 40% of 2009 levels
As China currently produces 95% of world production, these new controls on the industry and the stipulated local demand will have an enormous impact. It will pull down existing stockpiles in the rest of the world and then push up pricing.

According to Dudley Kingsnorth, the Executive Director of IMCOA:
First, the quotas are less than ROW demand this year, which I did not believe would occur until 2011. . . .Second, if this trend continues, ROW supply will not be able to meet the shortfall for several years. In the near future, the shortfall will be met by a drawdown of stocks.
As I suggested in my March 20th piece "Will China Dance the Plaza Accord Pas de Deux?" there has been a wakening recognition in policy circles this year that emerging China might not simply need a dignified "place at the table" and then always be a progressive player on global agendas. In fact, it might be more like the U.S. –a hungry solipsistic nation, driven by unilateralist tendencies and obsessed with its own big domestic needs.
Thursday, at the Asia-Europe Summit in Brussels, Wen Jiabao made a statement on rare earths that is telling in its language:
What we are pursuing is the sustainable development of rare earths, which is necessary to meet our national needs -- and also the needs of the world. [5]

Wen, a trained geologist, went on to say that it was "necessary" to "manage and control" the rare earths market.
Yes, Beijing will be willing to break a few eggs to make Chinese omelets.
So where does this leave Molycorp? The company has stated a goal to become "largest, most advanced and efficient fully integrated REO processing facility in the world". It hopes to go "top shelf" --developing unique higher margin products-- and become more value-added. By acquiring a few other companies, Molycorp seeks to become the first fully integrated supplier of NdFeB magnets in the world, and the only producer of NdFeB magnets in the U.S.

Its stated target is to produce 19,050 tons of REO per year, then ramp up to 40,000 tons per year if the demand is there.
So, will such demand be there?
It really depends on U.S. federal commitment. Since the fishing boat incident, Korea and Japan have been aggressively mapping out new sourcing strategies. They are cutting deals in low-cost /environmentally lax Vietnam and Kazakhstan. As these less geopolitically contested supplies come on line, and at a cheaper price point, the question remains whether American support will wane for a national stockpile and local mines.
On Wednesday, October 6th, U.S. Commerce Secretary Gary Locke suggested that the G20 should move to ensure the rare earth trade is open. How the G20 would enforce that precisely, is unclear. It may get a few verbal assurances by China but nothing binding. It may lull the West back to sleep.
As the new mines like Mountain Pass come online, China undoubtedly will flood the market with very low-cost rare earths to weaken their competitive viability. Whether Molycorp or Lynas (OTCPK:LYSCF) or Rare Element Resources (NYSEMKT:REE) or Avalon (AVARF.PK) can succeed and weather such tactical "dumping" efforts in the future, depends on pending federal legislation and on just how serious the issue of resource independence becomes for the developed world.

On Friday, October 8, Assist Secretary of State Kurt Campbell said, "The truth is we are living through a period of very consequential developments, not just in Northeast Asia, but Asia as a whole."


For Molycorp: the more consequential, the better.
---
[1]
Nathan Barton, Molycorp: Overpriced on Rare Earth Excitement, October 6, 2010
[2]
Paul Goodwin, Molycorp: Rare and In Demand, September 27, 2010

Disclosure: No positions