It is mind boggling that more companies aren't initiating a dividend policy. If you are a company that is generating good cash flows but aren't getting respect in the markets, initiate a dividend policy. How many China stocks can you find that are growing EPS 100% yr/yr?
And I'm not talking about small EPS companies; I'm talking about the ones growing EPS from $0.50 – 1.00 – 2.00 over a three year period. There are more than a few. These companies wonder why their stocks trade at 3-5-7 PE multiples with this type of growth rate. The answer is simple, investors don't believe your numbers. Most companies respond by doing a wasteful share repurchase program which rarely does anything for the stock price. Why buy back shares, which pushes EPS even higher, when investors don't believe your numbers to be real in the first place? The only way to get around this is to pay a meaningful dividend. Companies can manipulate earnings, but you can't manipulate paying real cash back to shareholders.
I'm going to give one example of how a dividend strategy would increase the current price per share tremendously. This can be hard with China companies because most go public via a SPAC (Special Purpose Acquisition Company). SPAC's are nothing more than a reverse merger with the difference being they raise money first and then find the company to merge into it. Once a company is put in the SPAC, there are usually shares issued out to the acquired company's owners if certain operational milestones are hit. This can be cumbersome for new investors because you never really know how many shares are going to be outstanding. It's best just to add up all the possible dilution (use the biggest number possible) and base your valuation on that. I must say I'm pretty good at digging through filings and even I find it very difficult to figure out what the fully diluted shares really are on some of these companies.
Let's look at China MediaExpress Holdings (OTCPK:CCME). The company has 33 million shares outstanding, and will payout 14 million shares over the next two years if the company hits certain net income thresholds. In this case I'm going to use 33 million shares outstanding as my baseline, 40 million shares YE 2010, and 47 million for YE 2011. CCME at of the end of Q2 had $139 million in cash or $3.50/share in cash (based on 40m shares). The company expects to earn $82 – 85 million (~$2.00 EPS based on 40m Shares) which is exactly double what the company earned in FY 2009. CCME is also expecting $131 million in net income in 2011 or 2.78 EPS (47m shares). So CCME is currently trading at $10 a share with over $3 a share in cash and looking to double net income in 2010. The price of the stock and the short position tells you no one really trusts the numbers are real.
First off let me say I don't know if CCME is real or not. Maybe it is a scam, but if it's not I would advise CCME to pay a meaningful dividend. Let's look at the potential PPS [price per share] if CCME paid out 30% of their OCF [operating cash flow] as a dividend. The company generated $38 million in OCF through the first 6 months of 2010. I'm estimating that OCF will be just over $100 million for FY 2010, and $175 million for FY 2011. If CCME paid 30% of OCF out as a dividend, this would equate to a $0.78 dividend in 2010, and $1.11 dividend in 2011 even while taking into account 14m shares of dilution.
Click to enlarge: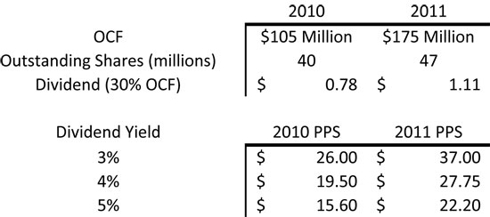 Click to enlarge
In the chart above you can see the effect on price per share given different dividend yield thresholds. My conclusion for CCME and other Chinese stocks that aren't getting any respect: Pay a dividend or at least form a dividend policy. Dividends can't be manipulated like earnings, and it's one of the only things that investors worldwide respect. If you pay a dividend, it will at the very least create an ascending floor for the stock while most likely waking up the world to the fact that you are a real company.
Disclosure: No positions