Last month, I wrote an article discussing the huge potential for growth of solar energy companies and that First Solar (NASDAQ:FSLR) and Canadian Solar (NASDAQ:CSIQ) were the two strongest in North America. I still strongly believe in the possibilities that solar brings and that if you buy in at a good price, you will see a huge upside. That being said, there are many different solar companies, and not all of them will be successful - many will fail. This is the nature of relatively new industries, start-ups rise and fall. There are solar companies with long track records, billions in sales and years of profits. Then, there are companies with short track records, lower sales and absolutely no profits. SolarCity (NASDAQ:SCTY) is the latter, and while I do believe in the company's long-term prospects, its current stock price is hugely inflated and due for a correction. This presents a good short opportunity for investors.
SolarCity Overvalued
At Friday's close of $70.87/share, SolarCity's market capitalization reached $6.53 billion. SolarCity is a company which has never earned a real profit (in 2011, a small profit was due to not controlling interests), and has struggled to reach even $200 million in yearly sales. At the end of Q1 2014, SolarCity had just $519 million of cash and current assets of only $727 million. Total assets reached $2.9 billion, and working capital is $398 million. In the latest quarter, operations became a use of cash again, along with investing activities; it raised some cash through financing, but overall cash went down. Finally, consider the following ratios:
SolarCity has a price-to-sales ratio of 33.4, far higher than both Canadian Solar and First Solar, whose price-to-sales ratios are both below 2 (as is the industry average).
SolarCity has a price-to-book ratio of 10.44. Again, this is far higher than Canadian Solar and First Solar, whose price-to-book ratios are both below 3.
Revenue growth was 111% y-o-y, which is strong considering that the more established companies' revenue increased between 26-77%. However, the industry average is an even more impressive 270%.
Given these numbers, SolarCity seems greatly overvalued; its strong price may be attributed to strong sales growth, over-hype in the market, or even Elon Musk. But this company is simply not worth the $6.53 billion that the market claims it is.
2012 - Q1 2014 Results and Prospects
Below is a chart I created showing all the key operating results for SolarCity of the last couple of years and quarters. It's pretty clear that results have been improving greatly with respect to annual results. Sales increased over 28%, gross profit increased 43%, and operating cash flow increased by an amazing 338%. At the same time, losses were decreased, which is good, but operating incomes are still hugely negative, and financing through debt and equity is being used to acquire most of its cash, which is not at all ideal. This quarter is also a huge improvement on last year's first quarter, with sales increasing 111%, gross profit increasing 97%, and net loss decreasing by 42%. These are also positive trends, but again, operating losses are stubbornly high and net cash from operations actually decreased greatly q-o-q.
SolarCity

FY 2012

FY 2013

Q1 2013

Q1 2014

Sales

$126.9 M

$163.8 M

$30 M

$63.5 M

Gross Profit

$27.5 M

$39.4 M

$7.5 M

$14.8 M

Operating Profit (loss)

$(91) M

$(149.3) M

$(26.7) M

$(67) M

Net Income (loss)

$(99.3) M

$(55.8) M

$(40.9) M

$(24.1) M

Net Cash (use) From Operations

$39.8 M

$174.5 M

$1.5 M

$(23.3) M

Net Cash Increase (decrease)

$109.6 M

$417 M

$(32.8) M

$(57.5) M
So, it's a somewhat mixed bag of results for SolarCity. I am a great optimist, and I do believe they are on a positive track which will see strong sales and profits in the coming years, and the purchase of Silevo earlier this month will only help the company. However, I am also a realist, and even if the company doubled its sales in 2014 to $320 million and earned a decent profit, it would still not be worth $6.53 billion. The reason I limit the market cap is because SolarCity's focus is on producing solar panels for residential and commercial use; while this is important, it does not offer it the multi-billion dollar contracts that other companies (like First Solar and Canadian Solar) get. Without this as a source of revenue, I am highly skeptical that SolarCity could reach sales of $2-4 billion even a couple of years down the road. Considering that, there is no way that $6.53 billion is a fair valuation. Canadian Solar has sales of nearly $2 billion, is profitable, and yet has a market cap of just $1.6 billion. First Solar has sales of $3.5 billion, is also profitable, and its market cap is only slightly larger, at $7.1 billion. With these facts in consideration, I think it's clear that SolarCity is overvalued.
Stock Performance
In my last article about solar companies, I mentioned that SolarCity, at $49/share, seemed overvalued. Now, the stock has topped $70/share, and there is no way this will last for much longer. The overall market may be very bullish, ignoring important developments around the world. While SolarCity continues to rise, it becomes more and more unstable, and I see it returning to the $40-$50 range. This represents a potential 40%-30% downside for the stock.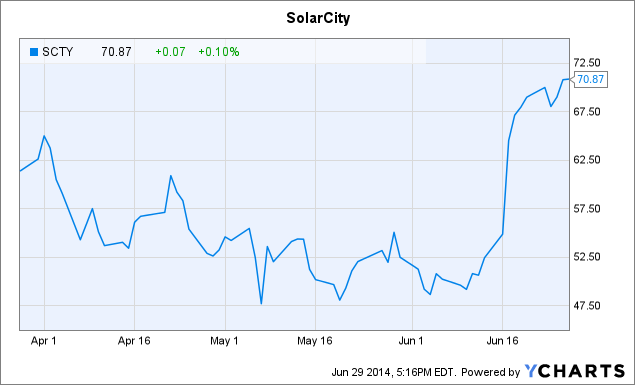 SCTY data by YCharts
Conclusion
While I am a huge advocate of solar energy and the companies that produce it, SolarCity is hugely overvalued in the market by just about every measure. I don't believe that its current business model can generate the sales, profits and cash flow necessary (at least for the next couple of years) for SolarCity to be worth $6.53 billion. It is possible that SolarCity shifts its focus to large-scale power production or that its panels become more affordable (and efficient) so that more households and businesses find it economically viable to purchase SolarCity's panels. But, for the near term, this is not likely. That being said, its stock price has increased 70% over the last month, and is due for a correction. This gives an opportunity for investors short this stock, as the price will fall.
Disclosure: The author has no positions in any stocks mentioned, and no plans to initiate any positions within the next 72 hours. The author wrote this article themselves, and it expresses their own opinions. The author is not receiving compensation for it (other than from Seeking Alpha). The author has no business relationship with any company whose stock is mentioned in this article.