Netflix (NASDAQ:NFLX) started on a strong note during the first few months of 2014, and the share value touched an all-time high of $458 due to the after effects of strong Q4 results. But the last few months have been nothing short of a roller-coaster ride for NFLX. After the initial high, the stock endured a rapid fall and touched as low as $300. While there are many reasons that can be blamed for the crash, the fears of competition from a giant like Amazon.com (NASDAQ:AMZN) certainly added fuel to the fire.
Amazon.com announced in April about the acquisition of streaming rights from HBO's back catalog. The purchase included hot titles like The Wire and The Sopranos. But Netflix could overcome all the hurdles, and the fears have been dispersed. Netflix is back to the highs and is fast approaching the $450 mark.
The return of growth can be primarily attributed to a booming subscriber growth rate within the United States, while the margins are expanding steadily. A host of other factors also played a role in the quick revival. The most recent price hike should further drive the margins.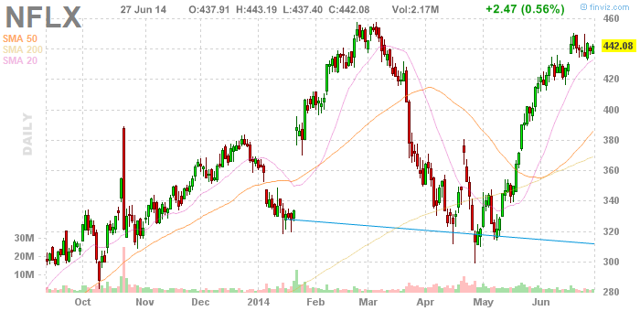 Currently the price hike is applicable to new customers, but this will be extended to all the subscribers by 2016. The international growth plan of the firm is an encouraging factor for markets to expect huge profits in the future. Currently, Netflix has already reached a break-even point outside U.S., and the potential for the future is enormous.
VALUATION RATIOS
Company
Industry
Sector
P/E Ratio [TTM]
166.19
30.57
14.51
P/E High - Last 5 Yrs.
317.97
43.58
28.73
P/E Low - Last 5 Yrs.
16.66
18.06
11.06
Beta
0.90
0.70
1.04
Price to Sales
5.74
68.87
18.01
Price to Book [MRQ]
17.92
5.99
2.54
Price to Tangible Book [MRQ]
--
6.36
3.56
Price to Cash Flow
10.53
28.22
11.88
Price to Free Cash Flow
843.12
34.38
19.73
SALES (in millions)
Quarter Ending Jun-14
35
1,335.68
1,342.00
1,322.00
1,264.20
Quarter Ending Sep-14
35
1,380.32
1,406.00
1,353.00
1,293.43
Year Ending Dec-14
37
5,444.92
5,518.00
5,364.60
5,065.88
Year Ending Dec-15
36
6,647.82
7,277.00
6,100.56
5,725.67
EARNINGS (per share)
Quarter Ending Jun-14
34
1.14
1.26
0.93
0.72
Quarter Ending Sep-14
34
1.07
1.47
0.47
0.79
Year Ending Dec-14
36
4.11
5.63
2.76
3.06
Year Ending Dec-15
35
6.78
10.70
3.77
5.25
LT Growth Rate (%)
6
35.62
51.40
15.00
19.50
Source: Reuters.com
The company expects to touch 108.6 million global streaming subscribers by 2020, and it is a sure enough catalyst for investors to hold this stock. This is a double increase when compared to 48.35 million in the last quarter. On the domestic front, however, things are expected to be slow. Netflix is expected to reach a subscriber base of 55 million by 2020, implying a compound annual growth of 7% when compared the 35.7 million it had at the end of March.
On the flip side, content cost growth is a concern which analysts are underestimating. Adding new content and getting new markets are all associated with huge costs. Netflix has to sustain a 15%-20% subscriber growth rate till 2020 to balance the increasing content cost.
Disclosure: The author has no positions in any stocks mentioned, and no plans to initiate any positions within the next 72 hours. The author wrote this article themselves, and it expresses their own opinions. The author is not receiving compensation for it (other than from Seeking Alpha). The author has no business relationship with any company whose stock is mentioned in this article.