In several of the latest articles on Value Expectations we have been providing several different lists of stocks as potential plays against a weaker dollar, sluggish economy and a weak economic recovery for the bears out there (stocks that pay solid dividends, attractive stocks from the major Asian indices) looking to be defensive against the economic malaise we have been experiencing in the U.S.
One of the more overlooked ways to gain exposure to foreign markets outside of international Mutual Funds, ETF's and ADR's are domestically traded companies that do a significant amount of their business in foreign markets. These companies give you the ability to diversify across several economies and avoid any major problems due to a struggling US economy. In fact, many multinational companies are tapping into their international operations to bolster weakening sales in the domestic U.S. market.
So how do investors deal with a sluggish economy and declining dollar? We recommend high quality, well managed, attractively-priced businesses with high foreign exposure. Companies with a significant overseas exposure will likely benefit from currency appreciation against the dollar making sales in those currencies especially valuable.
Investing in companies that are traded here in the states but derive much of their sales abroad allows an investor to capitalize on the higher growth rates available in developing economies without the added risks of trading in a foreign exchange that may not have the transparency, consistency or legal protection that is offered in U.S. exchanges. Additionally, a broadly invested portfolio will not be as adversely affected by negative movements in any one of its component companies or countries.
Using The Applied Finance Group's (AFG's) proprietary research we have provided you a solid list of well managed businesses, in the S&P 500 that also have over 50% in foreign sales.
Using AFG's proprietary research we thought we would provide you a solid list of well managed businesses, in the S&P 500 that also have over 50% in foreign sales.
click to enlarge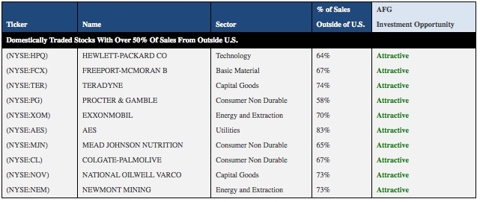 source: www.economicmargin.com
Disclosure: No positions