An area of financial services, which operates as an oligopoly, are custodian banks also known as trust banks. There companies provide back office services to other banks, mutual funds, corporations, pension funds etc. by holding their assets in trust. A custodian bank is a specialized financial institution responsible for safeguarding a client firm's or individual's financial assets. The role of a custodian bank would be to:
hold in safekeeping assets/securities such as stocks, bonds, commodities such as precious metals and currency (CASH), domestic and foreign
arrange settlement of any purchases and sales and deliveries in/out of such securities and currency
collect information on and income from such assets (dividends in the case of stocks/equities and coupons (interest payments) in the case of bonds) and administer related tax withholding documents and foreign tax reclamation
Administer voluntary and involuntary corporate actions on securities held such as stock dividends, stock splits, business combinations (mergers), tender offers, bond calls, etc.
provide information on the securities and their issuers such as annual general meetings and related proxies
Three of the biggest custodians are:
JPMorgan Chase (NYSE:JPM) also has a large custodian business (second only to BK) but given its size and diversity of its other operations custody is a small part of its overall business and will not be discussed further in this article. As an aside, I think JPM, remains significantly undervalued and must be considered on its own merit.
The custodian banks operate like an oligopoly because of the inherent stickiness of their business - when a financial institution (i.e., a company or a mutual fund) entrusts its assets to a custodian its operations tend to get intertwined with that of the custodian's. This makes it very tough for the clients to move from one custodian to another. Custodians also maintain high fixed costs in technology, which makes it difficult for new competitors to come into the market. Further incremental cost or marginal cost of serving one more customer is very low therefore they have a scale advantage. All these factors tend to make them a wide moat business. Custodians further embed themselves with their clients by up-selling them a whole lot of other related services like:
maintain currency/cash bank accounts, effect deposits and withdrawals and manage other cash transactions
perform foreign exchange transactions
additional services for particular clients such as mutual funds; examples include fund accounting, administration, legal, compliance and tax support services
Custodians operate boring and dull businesses. But therein lies their appeal. The custodians are in the business of reliability and reassurance - not excitement. If you are looking for excitement move on to the Go-Pros and Twitters of this world.
Key Statistics
| | | | |
| --- | --- | --- | --- |
| Symbol | BK | NTRS | STT |
| Company | Bank of New York Mellon Corp. | Northern Trust Corp. | State Street Corp. |
| Market Cap (in millions) | 41315.711 | 15241.205 | 28760.769 |
| Share Price | 36.23 | 64.45 | 66.82 |
| Yield | 1.71 | 1.96 | 1.62 |
| Payout Ratio | 0.27 | 0.41 | 0.31 |
| Share Buyback Rate | 1.7 | 0.3 | 2.9 |
| ROE | 5.63 | 9.6 | 10.48 |
| ROI | 2.96 | 4.05 | 5.85 |
| ROA | 0.56 | 0.8 | 0.88 |
| P/E | 14.3 | 20.6 | 15 |
| P/B | 1.13 | 1.92 | 1.44 |
| P/S | 2.71 | 3.89 | 3.02 |
| Price/Tangible Book Value | 2.95 | 2.06 | 2.46 |
| Earnings Per Share | 2.54 | 3.125 | 4.443 |
| Return of Tangible Equity | 20.68% | 9.99% | 16.36% |
While all three of the trust banks are somewhat similar, they operate diverse business models. BK derives a big chunk of its revenues from investment management apart from its custody business. NTRS has a large private banking business catering to wealthy families and trusts while STT is in large part a pure play custody bank. BK's growth has been fueled by mergers and acquisitions. Its last merger between Bank of New York and Mellon bank in 2007 was very ill timed and resulted in significant dilution of shareholders and large amount of "good will" on its balance sheet.
(see: BNY Mellon Isn't the Underdog It Seems )
The following chart shows Price to Tangible Book ratio (P/TB) for the three custodians for the last 10 years: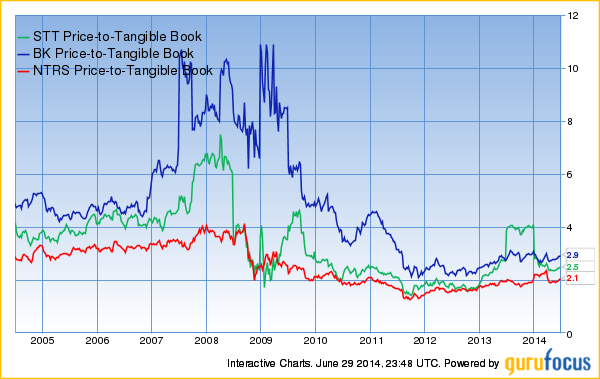 As you can see the custodians traded at much higher P/TB ratios prior to the financial crisis. If we were to assume that in the next five years they would eventually achieve comparable level of P/TB expansion, we are looking at 100% or more price appreciation from this expansion alone not even counting organic growth, which is around 5% per annum for the industry.
So which custodian is the most undervalued of all. Frankly I would buy all three of this profitable oligopoly but looking at the above chart BK and STT appear to have more potential than NTRS. They are all paying decent dividend and are buying back shares.
Disclosure: The author is long BK, NTRS. The author wrote this article themselves, and it expresses their own opinions. The author is not receiving compensation for it (other than from Seeking Alpha). The author has no business relationship with any company whose stock is mentioned in this article.