It is normally taken as bad news when a big pharma partner hands back rights to a drug – unless you are Aveo Pharmaceuticals (NASDAQ:AVEO). Shares in the Massachusetts company have surged 43% since Merck & Co (NYSE:MRK) terminated a deal over lung cancer drug AV-299 last week, reaching a record high of $15 on Thursday.

Aveo listed on Nasdaq in March and these gains mean the stock is the only US biotech IPO of 2010 to be trading above its offer price; a notable achievement. Investors appear convinced that Merck's decision does not reflect badly on AV-299 and are only looking at the potential for lucrative new deals to be struck. This certainly looks possible; the company now owns broad rights to two promising anti-cancer products, on which important phase II and III data are due next year, and has enough cash to last until then. With oncology remaining a hot area for deals and Aveo unencumbered by partners, the company is emerging as one to watch.
It's not you, it's me
AV-299 is a monoclonal antibody targeting hepatocyte growth factor (HGF), involved in the growth of many tumours. Schering-Plough (SGP) paid $7.5m for rights to the drug in 2007, plus a $10m equity investment, when it was still in pre-clinical development. Up to $460m in milestone payments were available.
Merck made an $8.5m payment as a parting gift, citing "portfolio prioritisation". Such statements are typical PR fare for returning candidates yet for once it seems investors genuinely share the sentiment, and it is true that the pharma giant has not been as active in oncology as some of its peers.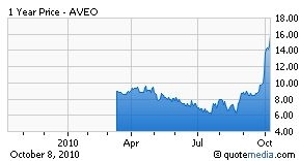 Click to enlargeAnalysts report that Merck will fund AV-299 at least until the end of 2010. In June a phase II study was started in non-small-cell lung cancer (NSCLC), combined with AstraZeneca's (NYSE:AZN) kinase inhibitor, Iressa, with results due later in 2011.
As such, if interested parties want to see proof-of-concept data before signing on the dotted line a new partnership could take some time to deliver. In the meantime progress of similar drugs in development will be closely watched, most notably Amgen's (NASDAQ:AMGN) rilotumumab (AMG 102), in phase II for several cancers. Clinical data is set to emerge over the coming months and Aveo will be watching Amgen's progress closely to determine any read-through.

Justifying its value

Signing another deal quickly is important because Aveo did not raise as much money as it wanted when it went public. The IPO was initially priced at $13-$15 per share, but this had to be cut to $9 to get investors on board; although the company was not alone in having to do this. Interestingly, the stock has now reached the valuation the company initially wanted (Anthera listing confirms weak IPO market, March 5, 2010).
The lower IPO price meant Aveo was going to need another cash injection next year and the share price rise reflects recognition that because Aveo can now more easily partner again, the need for dilutive fundraising, a share sale, might be avoided.

There is another deal possibility, in the shape of lead candidate tivozanib, a VEGF kinase inhibitor in phase III trials for kidney cancer. Aveo has said it wants to build a commercial infrastructure and partner tivozanib, probably in ex-US territories, after pivotal data is released. This is due in the middle of next year.
The Tivo-1 trial pitts tivozanib against Bayer's (OTCPK:BAYRY) Nexavar in advanced renal cell carcinoma (RCC), and analysts believe tivozanib could emerge the better drug, on efficacy and tolerability.
Tivozanib is not the only candidate going after Nexavar, which itself is going after Pfizer's (NYSE:PFE) blockbuster Sutent. Data on Pfizer's own follow-on axitinib, versus Nexavar in RCC, is due later this year. EvaluatePharma consensus predicts comparable 2016 worldwide sales for both axitinib and tivozanib of $494m and $413m, respectively.

How axitinib performs will impact the value of tivozanib, although analysts following Aveo believe the compound has best-in-class potential for tolerability, a big issue for this class of drug.
Deal or takeover?
With these two candidates available for licensing, Aveo certainly has the potential to avoid having to return to shareholders for funds. However with AV-299 now back in house, the demands on cash will rise.
The company ended June with $107m and said it expects to end 2010 with at least $50m in the bank, meaning a cash injection next year is essential, or a major curtailment of R&D activities.
It seems unlikely that a deal on AV-299 will happen quick enough, therefore realistically tivozanib holds the key to non-dilutive fundraising in the immediate future. With Merck off the scene investors may be hoping that licensing talks evolve into takeover discussions.
A lot hinges on strong clinical data next year and in the meantime the performance of rivals. A strong performance from Amgen's AMG 102 will provide encouragement whilst a disappointing read out from axitinib will be seen as handing Aveo an even bigger opportunity.