Shares of sporting goods retailer Dick's Sporting Goods Inc. (NYSE:DKS) are down over the past year despite an improving economy and strong stock market. DKS shares have moved lower primarily due to earnings short falls. The move lower in DKS shares has created an attractive situation for a leveraged buyout.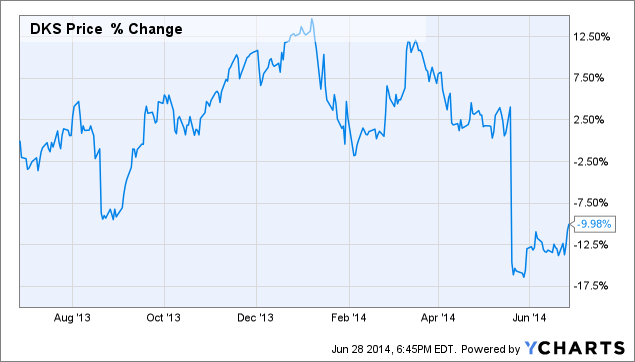 DKS data by YCharts
Valuation
As shown by the chart below, DKS is trading at a reasonable valuation based on multiple metrics. Perhaps the most interesting metric to look at is DKS' EV (enterprise value) to EBITDA. Right now, DKS has an EV of just 7.74 times EBITDA. This is a function of a cheap valuation and a very strong balance sheet. Currently, DKS has just $6.8 million of debt and $139 million of cash. The lack of debt on DKS' balance sheet means that debt could be raised in order to pursue a LBO.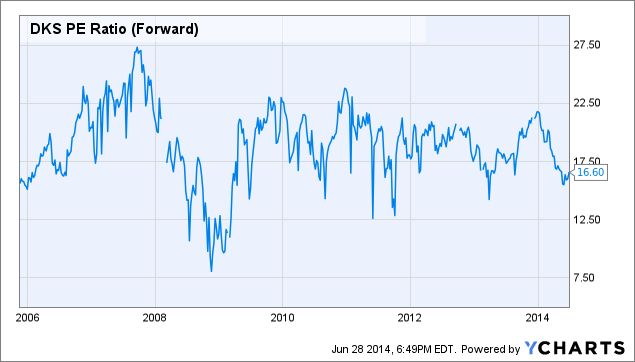 DKS PE Ratio (Forward) data by YCharts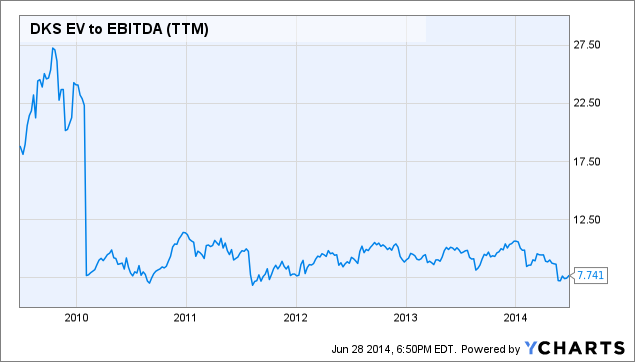 DKS EV to EBITDA ((NYSE:TTM)) data by YCharts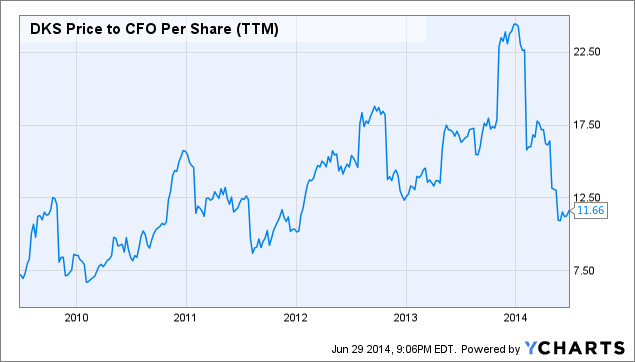 DKS Price to CFO Per Share ((TTM)) data by YCharts
Management Led Buyout Possibility
Ed Stack is the Chairman & CEO of DKS. Stack took over the business from his father Richard Stack in 1984. Currently, Stack owns 11,324,088 DKS shares worth more than $500 million, or just under 11% of DKS shares outstanding. Clearly, Stack has proved to be an excellent CEO of DKS and would be, in my opinion, the best person to run the company if it were taken private. In addition to being the best candidate to run DKS if it were taken private, a deal would be nearly impossible to achieve without support from Stack given his large stake in the company. The most notable management-led buyout of late was Michael Dell's move to take Dell private. Like Stack, Michael Dell had been the CEO of Dell since its founding. Michael Dell owned a 16% stake in Dell prior to making an offer to take the company private with the help of Silver Lake Partners. I believe there would be a number of private equity partners willing to work with Ed Stack to complete a management-led buyout of DKS.
Conclusion
The amount of money that has been raised by private equity firms but has not been invested is currently sitting at record levels. However, with the equity market currently trading at all-time highs, there are relatively few companies trading at a valuation that would make an LBO attractive. Due to its cheap valuation and strong balance sheet, I believe DKS is an attractive buyout target. In particular, given Ed Stack's stake in the company, I think DKS is a strong candidate for a management-led buyout. While a significant premium to the current price would likely need to be paid, I believe a deal at a reasonable valuation is possible. If a deal does not materialize, I believe that investors who have a long-term horizon should consider buying DKS. DKS' strong management and cheap valuation are reasons why I am confident DKS is a good investment at current levels.
Disclosure: The author has no positions in any stocks mentioned, and no plans to initiate any positions within the next 72 hours. The author wrote this article themselves, and it expresses their own opinions. The author is not receiving compensation for it (other than from Seeking Alpha). The author has no business relationship with any company whose stock is mentioned in this article.