On March 4th, I introduced my share price calculation model based on expected earnings and forward PE. In that article, Ford (NYSE:F) was projected to be at $17.60 per share by end of Q2 2014. Currently, Ford is sitting near 2% of that target.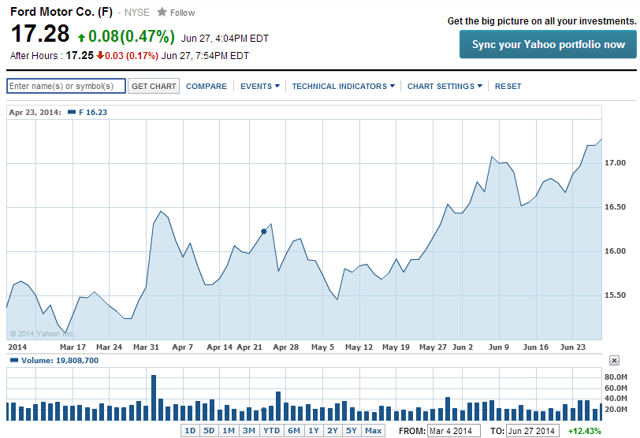 Source: Yahoo Finance
On April 30th, I ran the model again in the face of Ford's earnings whiff and changed my 2nd quarter target to $17.64 (a 4 cent increase). With June U.S. auto sales around the corner, I wanted to review my calculations.
Ford earnings are expected to remain low for 2014 due to the introduction of new models. The automaker is expected to recover in 2015 and grow in 2016, however.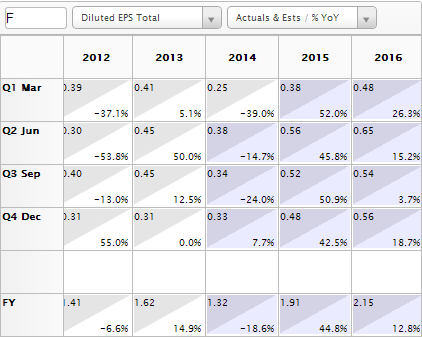 Source: Sentieo
Keep in mind that in order to project prices off of future earnings, the company must perform at or better than earnings projections. Ford has met or beat earnings expectations in eight out of the last nine quarters.
In the past year, Ford's forward P/E ratio has traded at or over 12 for 57% of the time.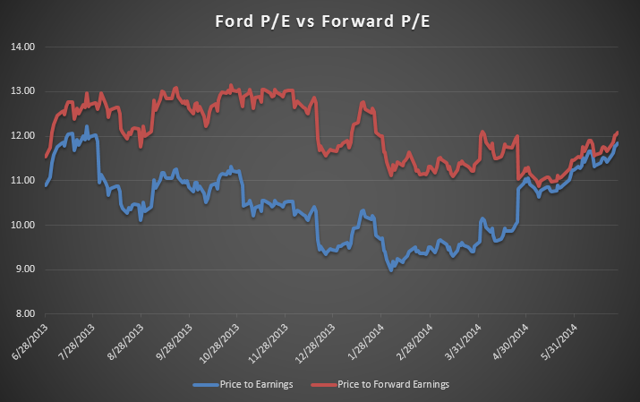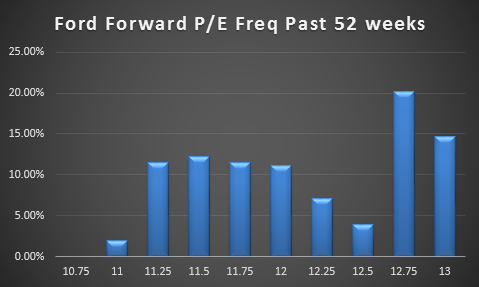 Based on the slight decrease of the company's earnings outlook, Ford's current share price seems to be inline with our current quarter target.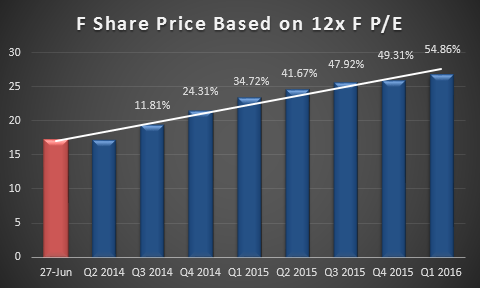 In an effort to provide transparency and to track the performance of previous articles, I put together a compilation of price targets from past projections. The black lines in the chart represent the share price the day that the company's earnings for that quarter were announced (for Q1 it was April 25th).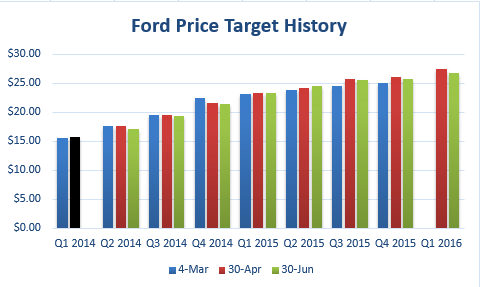 Threats to the appreciation of Ford's stock include production delays in new models, customer rejection of new models, product recalls, and negative macro economic conditions.
Overall, I believe Ford will remain on track with its earnings predictions and see modest upside in 2014 with a further increase in 2015.
Disclosure: The author is long F. The author wrote this article themselves, and it expresses their own opinions. The author is not receiving compensation for it (other than from Seeking Alpha). The author has no business relationship with any company whose stock is mentioned in this article.