By Bryan McCormick
US stock index futures are fractionally higher this morning after a strong session in Asian markets, with mainland China finishing higher by more than 1.5 percent.
Japan's markets were closed for holiday. European markets started strong out of the gate but have since flattened considerably, though they remain slightly higher.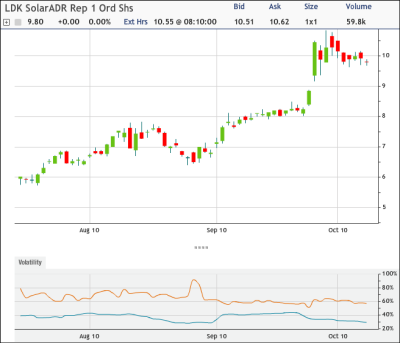 The US dollar is essentially flat against its basket of currencies. The failure of the G-7 to come to any firm resolution on currency trading has left the forex markets adrift. The annual International Monetary Fund meeting this weekend came to no effective resolution on the race for developed countries to debase their own currencies while trying to pressure China on appreciating the yuan.
As several analysts noted, emerging and developing countries were able to largely deflect any attempt by the European Union or the United States to influence the yuan valuation debate. With the dollar unchanged, commodity prices have drifted higher. China moved to raise reserve requirements on six of its largest lenders, but the action had little negative market impact.
In stock-specific news, China's CNOOC agreed to buy a stake in a shale gas and oil field owned by Chesapeake Energy (NYSE:CHK) for an estimated $2.16 billion. This marks the first time a Chinese company has attempted a buy-in of a U.S. domestic oil field since CNOOC's failed bid for Unocal in 2005. Separately, Harbin Electric (NASDAQ:HRBN) received a $24 per share buyout offer from its CEO and a private equity fund.
Ahead of what is likely to be light holiday-like trading conditions on this Columbus Day, solar companies may get some attention today. LDK Solar (NYSE:LDK) raised its revenue and shipment guidance above previous consensus. That stock is up 6 percent in the pre-market. Canadian Solar (NASDAQ:CSIQ) was also trading slightly higher on very light volume after announcing a new chief financial officer and and reaffirming its outlook.
ImmunoGen (NASDAQ:IMGN) updated guidance and noted that it had agreed to a licensing arrangement with Novartis (NYSE:NVS) on targeted anticancer therapeutics. The stock was trading up 6 percent on that news.

Disclosure: No positions