There is a transformation in the entertainment field, with a shift from "secondary entertainment" to a home entertainment system with channels and options to suit every need. This shift not only refers to a shift from family outings to family movie nights, but also a shift to different channels and formats.
The Diffusion Group predicts that a shift from television to personalized online video will occur within the decade (as seen below), showing the pressure that is being put on entertainment companies to restructure themselves to the changing consumer.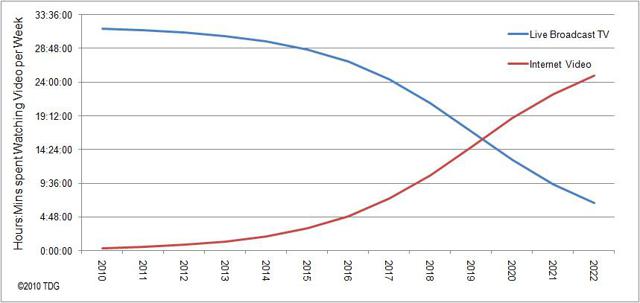 Twenty-First Century Fox (NASDAQ:FOX) is the quintessential consumer play, reaching consumers at home with entertainment that cannot be found anywhere else. Fox is a $77B business, with a reach into nearly all of the segments in the entertainment industry. At a time when the television industry is struggling to gain the attention of viewers, Fox has been able to secure its growth for years to come.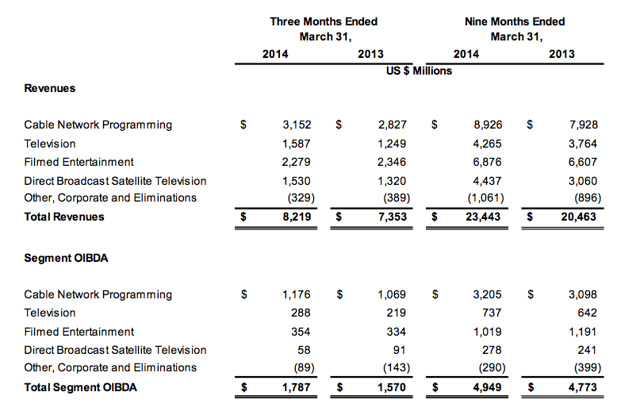 Fox has been able to steadily grow its top line, while maintaining strong margins and operating profits. The key to their success is perhaps not the feature films we have come to love, but instead their ability to monetize the great obsession of America: sports.
America's obsession has not only entered the homes of hundreds of millions, but continues to grow. And Fox's cable programming is at the center of this phenomena.
Fox's ability to maneuver into different segments is a key reason for their success. From Fox News and National Geographic to 20th Century Fox and FX, their programming has been able to penetrate houses and boundaries. 20th Century Fox does not seem to be going anywhere with their continued strong lineup of movies, and Fox News continues to dominate every ratings category.
While Twenty-First Century Fox is certainly cemented into a strong position through its feature film and news segments, those segments do not justify a P/E multiple (ttm) of 25 and a P/S multiple of 2.5. However, Fox has been able to feed America's obsession and transform itself into one of the largest sport networks.
Sports in America is changing (and Fox is at the center)
At this time of year, it seems everyone has become the "biggest fan" of the US soccer team in the World Cup. This phenomena happens every few years, but a trend has been emerging that points to a growing interest in soccer from American viewers.
Fox must be hitting themselves on the head after recently being outbid by NBC (NASDAQ:CMCSA) for the English Premier League soccer rights, the most popular soccer league. The deal, which lasts three years, might actually fit perfectly into Fox's plan to focus on the USA. Their recent deal with MLS (Major League Soccer) and US Soccer through 2022 guarantees them exclusive rights to at least 34 regular season games a year, as well as an alternation with ESPN (NYSE:DIS) for the MLS Cup and other playoff matches.
The MLS deal, in which Fox and ESPN will pay $70M annually for rights, marks the long anticipated breakthrough of soccer into the American home. The rights package costs nearly three times as much as the previous one, and comes with major support through advertisements and promotions from the networks. If MLS and US soccer do break through, Fox's soccer plan might prove to be genius.
The World Cup is a sign of America's growing interest in soccer, and the amazing ratings that have been generated so far this cup has caused some to predict the World Cup could help propel soccer to the forefront of America's obsessions.
While many still argue the MLS has lackluster ratings (around 200,000 viewers a game on NBC), Fox and ESPN have shown that they want to bring soccer to everyone's livingroom. If the World Cup is any indication, it seems to be working. The World Cup ratings have been stellar, which bodes very well for Fox, which won the FIFA rights through 2022 for the next two men's and women's World Cups. Fox is paying more than $400M, which is four times the amount ESPN paid for the 2010 and 2014 World Cups.
The World Cup has experienced significant growth both within the US and internationally, recently propelling soccer to the second most watched sport event in America (during 2014, after American football).
What does this mean for Fox?
This year's 2014 World Cup has averaged 4.1M viewers per match (through group play) on ESPN and ABC, up more than 20% from 2010's World Cup. If the ratings remain on the same trajectory, this would mean an average of 5.62M viewers per group play match on Fox for the 2018 and 2022 World Cups. There is a lot of room for optimism in this number, as continued success by the US team could bring the average to over 6M viewers a match.
Once more, the growing support of soccer in the US, as shown by the recent MLS deal, could mean a major ratings and revenue boost for Fox. However, soccer isn't on the same level as American football for Fox, for which they are paying $1B a year (for not even half of the games).
Fox generated an average of 21.2M viewers per regular season game, setting a record and surpassing it even further when Fox aired the Super Bowl. However, college football is close to the World Cup in terms of both viewers and advertisements, and could serve as a good comparison.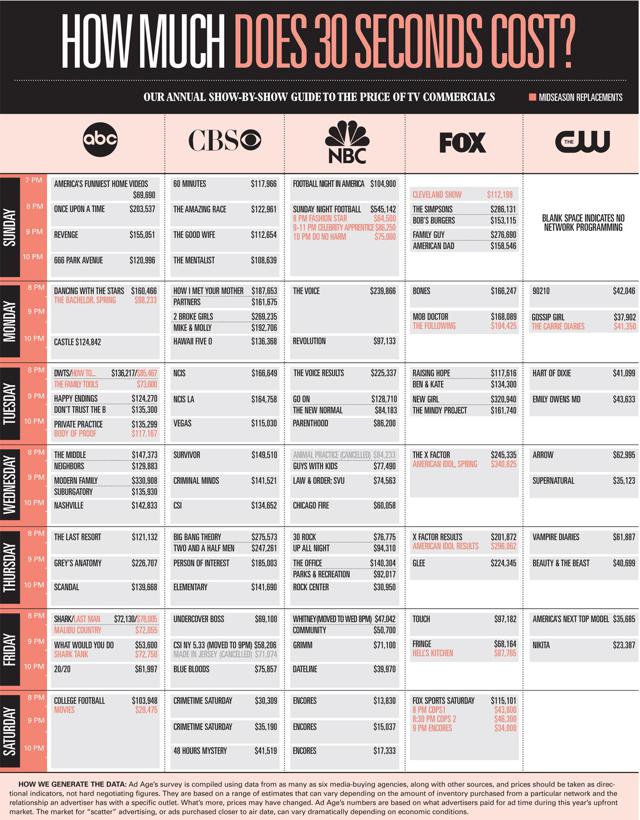 Using ABC's 2013 ratings for college football, the average program was watched by 4.8M viewers, similar to that of the World Cup group round in America. The problem with soccer is that it is very difficult to monetize, as there are no breaks in the 45 minute halves, and just a 15 minute half time.
It would be most likely to have 5 minutes of advertisements at the half time break, meaning it could generate $1M a game in advertising. As for the remaining 16 (non-group) games, I will assume 10M viewers each, and will use a $200,000 average cost per advertisement (current World Cup finals advertisements are costing $250,000).
This would generate approximately $80M in revenue per World Cup, and approximately $160M through both. Even if the advertisements were tripled to 15 minutes, Fox would make $480M in revenue, and lose money after other expenses and taxes. While Fox also won the rights to the women's World Cups, it is very unlikely that in a best case scenario they would even break even on their $400M investment.
The World Cup Effect
As pointed out by ESPN, the World Cup is not only watched on television. It can also be streamed online and through apps. While these methods still have the advertising limitations, they will help Fox accomplish their goal.
The Atlantic (as seen below) explains how sports plays a major role in consumers' bills -- and they're willing to pay for it.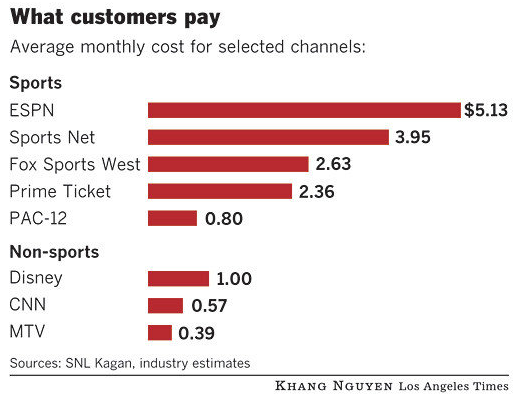 A simple timeline of Fox's recent program purchases will show that they're trying to catch up to the industry juggernaut ESPN. Their billions of dollars in aggressive purchases over the past few months shows their attempt to solidify Fox Sports into the homes of millions of Americans.
From what analysts and executives are seeing, their strategy seems to be working. Trends have been improving, though there is still a long way to go. Perhaps the World Cup is not something that Fox Sports will profit from through advertisements, but rather from viewers who come to the network through the event.
The Solidification of Sports in American Culture
The battle, or the battle to be, between ESPN and Fox shows that the American obsession is here to stay. With Fox's interest in both the Big Ten Network and the Yes Network, they are designing a portfolio to compete with ESPN.
Money is not an issue for a company with more than $5.5B in a cash and a positive cash flow. Their aggressive purchases are an attempt to overthrow the captain of the sports industry -- and it just might work.
The jury is out on the battle between Fox and Disney. This time, it's not in the "secondary entertainment" industry or news, but instead a battle at the deepest roots of America's interests. Fox is compiling programming for their battle against ESPN, with rights to Major League Baseball, Nascar, Soccer, UFC, College Football, College Basketball, Golf, and the NFL through more than 5000 hours of live sporting events annually.
If Fox Sports manages to win the NBA rights after they expire next year from ESPN/ABC and TNT (NYSE:TWX), which many see as esential, they could be compared to ESPN. They would have rights to three of the four major sports in America (except hockey), as well as the rights for many other niche markets. This is where their recent soccer purchases begin to look like a good move.
Fox Sports will establish themselves in the homes of millions of Americans, providing thousands of hours of live entertainment and feeding America's hunger for sports. While ESPN has a strong lineup and has secured itself a working business model to at least the end of the decade, Fox will be able to carve themselves a nice marketshare.
If soccer continues to grow at the same rate as it has in recent years, Fox Sports could be sitting on the program (the Word Cup) that will differentiates themselves from ESPN. This would draw viewers to Fox Sports, fulfilling the network's goal. With viewers, Fox Sports could profit from its analysis, talkshows, and website with the content it has secured.
While it is too soon to crown Fox Sports the future champion of the sports broadcasting industry, they have set themselves up a nice shot.
Disclosure: The author has no positions in any stocks mentioned, and no plans to initiate any positions within the next 72 hours. The author wrote this article themselves, and it expresses their own opinions. The author is not receiving compensation for it (other than from Seeking Alpha). The author has no business relationship with any company whose stock is mentioned in this article.