Hope is rising that BlackBerry (NASDAQ:BBRY) finally reached the end of its bear phase and is set to double from here. Negative sentiment reversed after BlackBerry reported much better results than anyone expected. Citron Research boosted positive sentiment when it issued a glowing report. The firm predicted the stock will hit $20. With shares peaking at $10 and drifting lower, how bullish should BlackBerry shareholders be? More importantly, is BlackBerry already at a tipping point, or close to it?
Bears trapped
Short sellers boosted their bearish bet on BlackBerry ahead of quarterly earnings. Short volume rose by around 4 million shares as at June 13, 2014:
| | | | |
| --- | --- | --- | --- |
| Settlement Date | Short Interest | Avg. Daily Share Volume | Days To Cover |
| 6/13/2014 | 97,399,783 | 8,739,938 | 11.14422 |
| 5/30/2014 | 93,434,467 | 7,515,099 | 12.4329 |
| 5/15/2014 | 93,882,666 | 8,774,952 | 10.69894 |
| 4/30/2014 | 101,358,204 | 8,632,551 | 11.7414 |
Source: Nasdaq
With no foreseeable negative catalyst in sight, bears might cover their position over the next few weeks.
Inflection point in device sales
By Fall, BlackBerry will have a refreshed Q10. This will mark an official return to BlackBerry embracing both physical keyboards and its iconic trackpad. Users of the Z10 (including this author) will appreciate the superiority of this inclusion over an all-touch device. To maximize the impact of its advertising, BlackBerry will refresh its BlackBerry server to BES 12 concurrently with the release of the BlackBerry Classic device.
The firm also surprised the market by announcing the Passport, an awkward but unique smartphone that will target business users. The design is clever, not because the keyboard will win previous fans, but because it will compete with Android-based phablets. The difference between Passport and a phablet is, of course, its size: Passport will be more portable, fitting in a suit jacket pocket. BlackBerry said in its quarterly conference call that it will release Passport in September, first in London. London remains a relatively strong market for BlackBerry, so investors should expect strong momentum with initial sales. The company infers that customers will greet both devices with strong interest:
The Passport and the Classic device which by the way the Classic devices are generally immense amount of interest in our BES.
In the emerging markets, sales for the Blackberry Z3 should increase steadily, concurrently with the measured rollout of the inexpensive device. In Indonesia, stores were met with long customer lines and insufficient inventory:
The BlackBerry Z3 was an overwhelming success in Indonesia, with long customer lines, sold-out stores and fans clamoring for more.
Healthy balance sheet
Thanks to tax credits and real estate sales, BlackBerry boosted its cash levels to $3.1 billion. Bears correctly point out this is a one-time event, and that cash burn was negative. The firm burned through $255 million in its Q1, an improvement of over two-third compared to the last quarter.
Inventory overhang is dwindling. Channel inventory fell by 22 percent.
Tipping point underway
BlackBerry's tipping point in device sales will ultimately happen in the enterprise space. Strong EZ Pass registrations illustrated ongoing demand for managing BlackBerry devices and securing non-BlackBerry ones. The program already attracted 1.2 million licensees by the end of last quarter. Even if BlackBerry device sales are slow, the firm will attract enterprises in registering Android- and Apple-based devices. BlackBerry is aggressively competing for Mobile Iron (NASDAQ:MOBL) customers. This is bad news for Mobile Iron, and might mean further downside for the firm, at least for 2014.
IoT, or Internet of Things, is another area for growth for BlackBerry. After Sierra Wireless (NASDAQ:SWIR) abandoned the wireless modem market, it, too embraced IoT. Since 2013, its shares soared: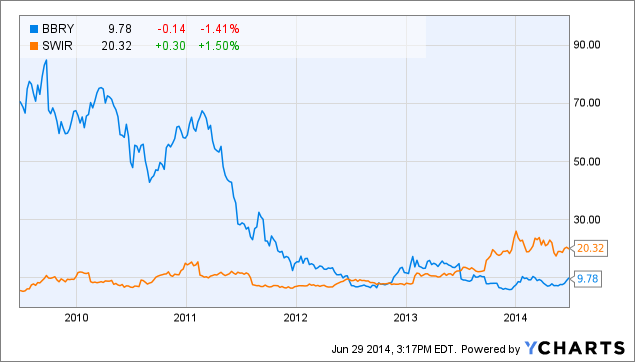 With BlackBerry moving steadily into IoT, the firm is at a tipping point in realizing substantial growth from delivering mobile data securely for everything beyond the smartphones space.
Distractions
Though Facebook (NASDAQ:FB) acquiring WhatsApp would imply BBM is worth billions, realizing full value in the instant messaging franchise will take some time. This author wrongly throught BBM would provide support for its shares. Instead, BlackBerry shares were range-bound for the last three years:

Source: TipRanks
The bottom line
BlackBerry is in the midst of a tipping point, but it won't stop shares from experiencing strong selling pressure in the near term. This might scare existing shareholders from adding to their position. In reality, BlackBerry is transforming its business in the right way, thanks to the leadership of its CEO, John Chen. The $20 price target is achievable, but probably not until next year. In the meantime, investors should take advantage of weaker hands by adding to their positions on the dip.
Disclosure: The author is long BBRY. The author wrote this article themselves, and it expresses their own opinions. The author is not receiving compensation for it (other than from Seeking Alpha). The author has no business relationship with any company whose stock is mentioned in this article.