Short sellers have enjoyed some notable successes in 2014, with many highly valued stocks tumbling steeply, as seen in a YCharts Stock Screener showing year-to-date price performance. Companies such as Groupon (NASDAQ:GRPN), Twitter (NYSE:TWTR) and lululemon (NASDAQ:LULU) are all down more than 30% so far in 2014.
Perhaps winnings on such short positions have been reinvested in bets against GameStop (NYSE:GME) the video game retailer that spent a good part of 2013 thumping short sellers. The shorts really loaded up on GameStop in 2012, with roughly half the outstanding stock shorted at one point, only to see the shares go on a tear. Short interest fell as shorts covered. But it's been on the rise against since late last year when some disappointing results sent GameStop stock tumbling. Now there are about 28% of shares shorted.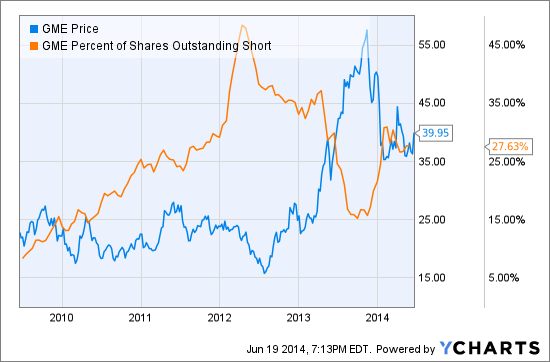 GME data by YCharts
It's helpful to keep track of what the shorts are doing - say, with a YCharts Stock Screener of short interest as a percentage of shares outstanding for all stocks with a market cap above $1 billion. But it's also a good idea to dig into the particular company's business and its valuation, and GameStop has already proven itself a good deal more resilient than the shorts had hoped.
Some like to call GameStop the next Blockbuster, that now defunct retailer of movie rentals. That same insult is also hurled at Outerwall (NASDAQ:OUTR), the operator of Red Box kiosks, and we recently wrote about its surprising resilience and cheap stock. Look who's almost as cheap based on forward PE ratio.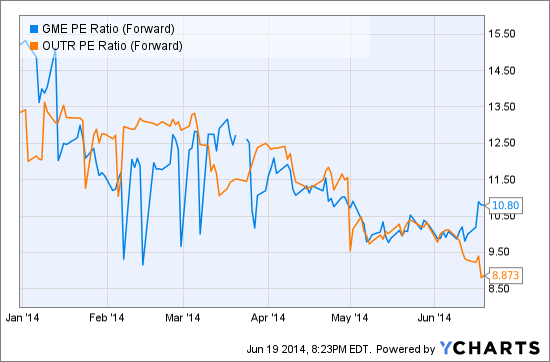 GME PE Ratio (Forward) data by YCharts
With GameStop, shorts see a shift to digital download of gaming content and other moves that could cut the retailer out of the business. But the video game industry is complex, and GameStop has effectively adjusted its business model in recent years. Revenue and profit have essentially been flat for five years (save for some big charges to write down goodwill).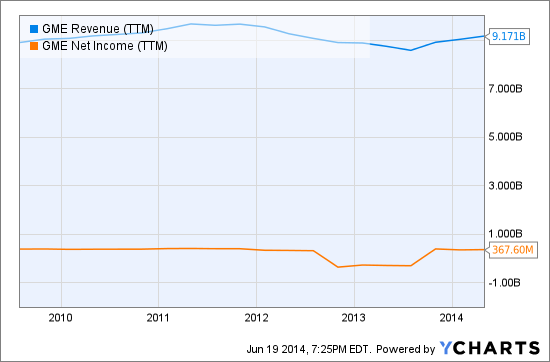 GME Revenue (TTM) data by YCharts
But EPS has risen nicely, as aggressive stock buybacks reduced shares outstanding significantly. The buybacks have been funded from operating cash flow, so debt is minimal.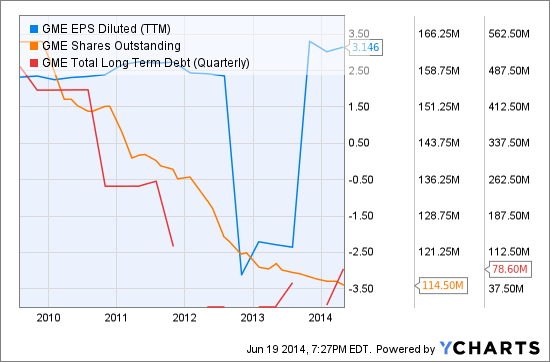 GME EPS Diluted (TTM) data by YCharts
No growth is a bummer. But maintaining its revenue in this environment has been impressive. GameStop sells new and used video gaming equipment and new and used games (or software), and it rides the cycles of the industry, involving the launching of new equipment and of big new games. New equipment platforms, like the Microsoft (NASDAQ:MSFT) Xbox One and the Sony (NYSE:SNE) PlayStation 4, in addition to generating new equipment sales, also lead GameStop customers to trade in old video games. And selling used stuff has a wider margin than new stuff.
Gross margin last year on new video game hardware (sales of $1.73 billion) was just 10.2%; on new video game software (sales of $3.48 billion) the gross margin was a healthier 23.1%; and on used and off-price video game products (sales of $2.33 billion) the gross margin was a lush 47%. Total sales for the year ended February 1, 2014 were $9.04 billion. Most of the used stuff GameStop sells it gets via trade-ins.
Used video game titles fetch an average of $21 vs. $44 for new titles.
There are signs of a devoted GameStop customer base. It has 7 million members in its loyalty program. Paid members can get the magazine Game Informer and also qualify for additional discounts on used merchandise and a better deal on trade-ins.
During the five years of flat sales, GameStop has very actively closed underperforming stores and opened new ones. The number of stores rose just slightly during that time.
GameStop's heft as the biggest retailer of games gives it buying power with its major suppliers. Sony, Microsoft, Nintendo (OTCPK:NTDOY), Take-Two Interactive (NASDAQ:TTWO), Electronic Arts (NASDAQ:EA) and Activision (NASDAQ:ATVI) combined account for 78% of new product purchases at GameStop.
In addition to buying in shares, GameStop is investing in a new business line - the retailing of AT&T (NYSE:T) mobile phones and Apple (NASDAQ:AAPL) products. It has a small number of retail outlets devoted to selling AT&T phones, and it has a chain, Simply Mac, which carries Apple products and is designed for markets too small to support a traditional Apple store. A corporate goal here is to boost its buy-sell-trade business in used smart phones, tablets and such.
GameStop isn't alone in chasing that business. Outerwall has a vending machine that will give you an estimate on your used phone, take it from you and issue you cash in exchange. And some original equipment sellers are taking trade-ins, too. It's a big potential market that hasn't been sorted out yet.
In addition to the buybacks, GameStop beginning in 2012 instituted a dividend and the dividend yield is now about 3.3%. It's not straining the company, as the payout ratio is below 40%.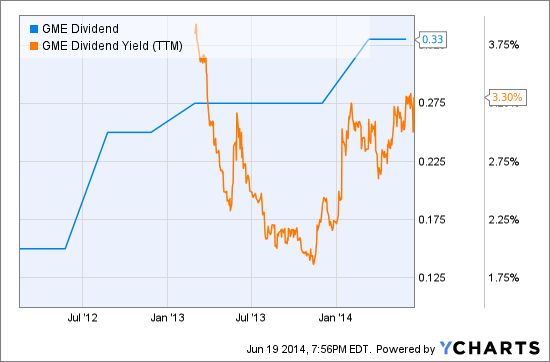 GME Dividend data by YCharts
GameStop's guidance for the fiscal year ending next February calls for comparable store sales growth of 6%-to-12% and EPS of $3.40-to-$3.70, vs. the prior year's $2.99. If the company makes good on those numbers, the shorts could find themselves regretting their return to GameStop shares and those who bought the stock at its current valuation might be nicely rewarded.
Jeff Bailey, The Editor of YCharts, is a former reporter, editor and columnist at the Wall Street Journal and New York Times.
Disclosure: None