As the OECD confirms today that the economic recovery is slowing in most advanced economies Oxford Analytica foresees a second round of monetary easing in this guest post.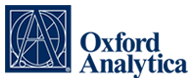 According to IMF forecasts published last week, almost all major economies are expected to post a poorer performance next year — although emerging markets are projected to fare much better than developed countries.
Easing again. The persistently high degree of uncertainty about economic conditions means that quantitative easing (QE) has resurfaced as a policy option after proving controversial in 2009. This is because it is virtually the only tool left in central banks' armouries — and most governments' options.
Amid concerns about a slowdown in the US economy during the summer, Federal Reserve chairman, Ben Bernanke, indicated possible recourse to QE.
While the United States is the key actor, there is increasing likelihood of a new round of quantitative easing ('QE2′) across advanced economies.
United States. The Fed indicated in early August that receipts from maturing mortgage loans could be used to purchase US Treasuries — a policy widely regarded as 'QE-lite', as it would simply recycle existing money, rather than allowing the central bank's balance sheet to shrink. The Fed announced that 1.7 trillion dollars of receipts have been used to launch this last week.
United Kingdom. Some members of the Bank of England (BoE) have talked about the need to start a new round of QE but the monetary authority has made no firm commitment yet.
Euro-area. The region seems to be standing aloof at present. However, after expressing reservations towards the policy in 2009, the European Central Bank (ECB) has actually been active in using QE this year as a tool for addressing problems in European bond markets impacted by the Greek crisis.
Impact. For the United States, the 'QE-lite' policy will maintain a flatter yield curve, as the Fed benchmark rate will be kept at 0.25%. Everything else being equal, and depending on maturities purchased, the Fed's policy of purchasing almost 2 trillion dollars worth of US Treasuries could trim some 10-20 basis points off yields. This should feed into the banking and mortgage markets, helping stimulate recovery in credit and domestic demand.
Currencies. As talk of QE has grown in recent weeks, the dollar, and to some extent sterling, have weakened, especially against the euro. With or without QE, such changes in market sentiment could persist as news on the United States and Europe will shift backwards and forwards in terms of which economies are growing most strongly and which are posing problem.
Outlook. QE2, if finally implemented in advanced economies, will be far more modest than the first round, but even so could provide modest stimulus and help sustain recovery. If the recovery starts to look less fragile and more durable, investment should start to pick up strongly, making use of the cheap money offered by easy central bank policy. However, the risk is that this might also encourage yet more speculative capital flows into emerging markets, increasing the threat of asset bubbles in worst affected countries.