The market fell back into its winning ways last week, gaining between 1% and 2% (depending on the index)...the fifth winning week in the last six. Too good to be true for option trading? On borrowed time? At first glance that might be the initial assumption. Last week, however, we saw something happen that we hadn't seen in a while which may well be the green light for more bullishness ahead. We'll look at that with the SPX chart; first we need to slice and dice the economy.
Economic Calendar
If it were a student, we'd have to give the economy a 'C' for last week's results.
On the upside, pending homes sales rolled in much higher than expected for August, up 4.3%. Initial unemployment claims - as well as ongoing claims - were both lower as well; each is close to reaching new multi-year lows. In fact, the unemployment rate managed to sink back to 9.6% last month, though that shouldn't be a total shock. While total nonfarm payrolls fell, if you remove state-government layoffs from the equation, private payrolls actually advanced 64K. Wholesale inventories gained 0.08%, while the ISM Services index jumped to 53.2 (from 51.5).
On the downside, factory orders were off by 0.5% in August, and consumer credit was contracted by $3.3 billion... the seventh consecutive monthly contraction. Mortgage applications sank by 0.2%. Given how bad things could have been though, those 'downsides' are really pretty minimal.
Economic Calendar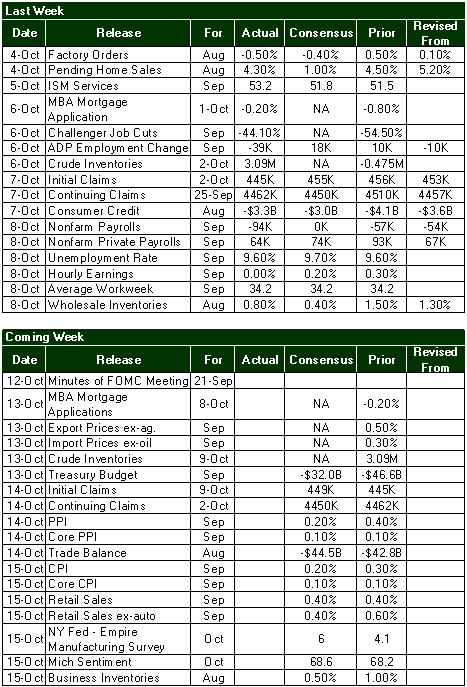 As for the coming week, just as much is in store, though the bulk of the fireworks don't start until Thursday. Unemployment claims (new as well as continuing) are expected to be flat when reported that day. And, producer prices ('input' inflation) is forecasted to roll in at 0.2%... more tame than last month's 0.4%, but still showing no signs of the previously expected deflation.
On Friday, consumer inflation is likely to come in up by 0.2% as well. Same story as PPI... less inflation, but nothing close to deflationary yet. Also on Friday - and perhaps more importantly - retail sales are expected to roll in with another solid 0.4% increase. The New York Fed/Empire Manufacturing Index, the Michigan Sentiment Index, and business inventories, are also all expected to be up for the prior month.
S&P 500
Though caught between a rock and a hard place, it's still ultimately a win-win scenario for the bulls. Let's dissect both possibilities.
Bullish scenario #1 is, the market just keeps on rolling. As impossible as that seemed two weeks ago because the VIX wasn't moving lower accordingly, it's certainly possible now - the VIX finally pushed under that floor of 21.5 with Friday's close of 20.71. And, it's not like the S&P 500 has gotten itself dangerously overextended beyond the upper Bollinger band; this relatively modest pace may well be allowed to continue just because it doesn't spook anyone.
Bullish scenario #2 is, the market does actually end up pulling back, but then ends up quickly finding support at any or all of the key moving average lines floating around 1150 or so.
Frankly, scenario #2 is the healthier one at this point, as it will ultimately mean more longevity for the bigger-picture uptrend [the reason the April/May pullback hurt so much was that the March/April advance was so rapid and almost completely unchallenged.] But, 'should' and 'is' are two different things.
And speaking of the bigger picture for options trading, one of the chief criticisms of this rally since early July has been that its low volume meant it was doomed for failure. While it is true that the July salvo was made on tepid volume, the argument doesn't hold water any longer. Total volume has been picking up since early September, with buying volume in particular on the rise. While that won't stave off a near-term technical pullback, it does bode well for a strong finish to the year since participation is improving... something largely unexpected at this point.
For now, let's just wait and see how the week starts out before assuming anything.
S&P 500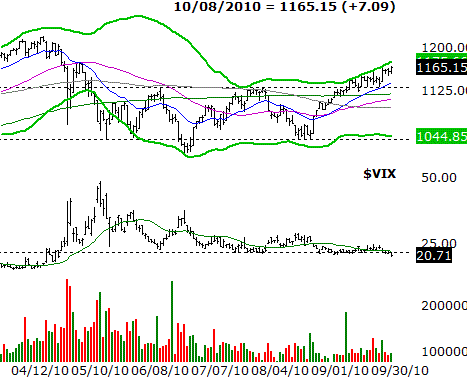 Sector Performance
If you look closely, you'll see a significant turnaround from the relative performances we saw last week. Utilities and telecom - the two safe havens that were at the top of the pile last week when stocks sank into the red - are now at the bottom of the heap, along with gold. Conversely, materials and transportation blazed the bullish trail last week after struggling in the prior week.
What's the underlying dynamic in play here? It's the obvious one.... the bulls have their favorite hot spots, and the bears have theirs. Whether the market is strong or weak from here, look for each environment to continue favoring certain groups; we've seen this dynamic at work for months now.
Sector Ranking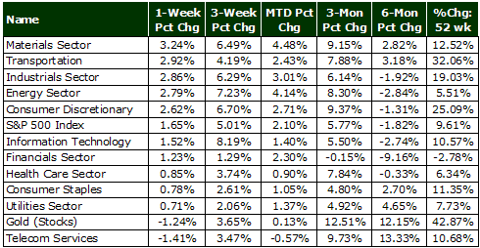 That being said - and as usual - looking at this performance in a more visual way can really shed some light on where the acceleration (which is where you want to be) is unfolding. From that perspective, energy along with basic materials are lapping their peers. And, we can also see that telecom has every reason to struggle from here.... it's overbought.
Everything else is still a bit of a question mark.
Sector Comparison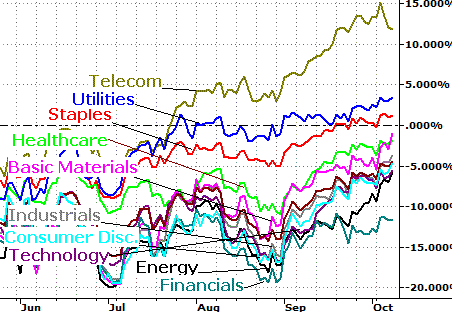 Earnings Calendar
And so it begins.... third-quarter earnings season. We'll keep tabs on how things proceed, but more importantly, we'll let you know of the major announcements on the way for the coming week. The overall schedule is still pretty light as we ease our way into the heart of all the announcements, but there are enough biggies on the way this week to keep things interesting for option trading.
Earnings Calendar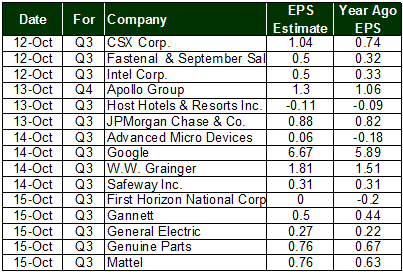 Disclosure: No positions