Linn Energy (LINE) has been on quite the roll recently. The stock has largely recovered from its losses earlier in year, thanks in large part to an asset swap with Exxon Mobil (NYSE:XOM), which has mostly resolved its DCF problems. As a result, shares of both Linn Energy and sister stock LinnCo (LNCO) have been on a tear, up nearly 15% over the past 3 months.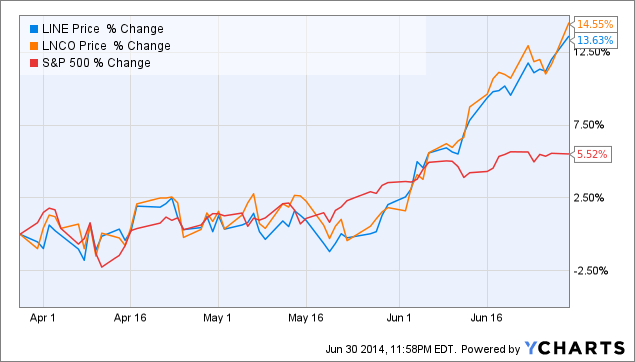 Linn Energy makes a deal with Devon
On June 30, Linn Energy announced one of its largest ever acquisitions. The company has agreed to buy from Devon Energy (NYSE:DVN) 275 MMcfe/d of mostly natural gas production for $2.3 billion.
Total reserves are estimated at 1,300 to 1,500 BCFE (75% proved developed producing) of which 80% is natural gas. This production consists of 4,500 wells, of which about 3,900 are operated, spread across 900K net acres in the Rockies, Mid-Continent, east Texas, north Louisiana and south Texas regions. In addition, the company has identified over 1,000 future drilling locations and over 600 recompletion opportunities.
As shown below in the map, Linn Energy will be acquiring assets in areas where it already has a large footprint. This should result in increased cost efficiencies and savings.
Much like the assets to be acquired from Exxon, the Devon production is a great fit for Linn Energy and is the typical fare for upstream MLPs (cash flow rich, low decline). The decline rate is low at about 14% average (12 to 16% depending on the location), reducing the overall capital intensity of the company. Furthermore, since these are mature producing assets, Linn Energy will not need to spend much into maintaining cash flows.
Best of all, Linn Energy has noted that this acquisition will be immediately accretive to its DCF per unit. The level of accretion is currently unknown but should be pretty large given the size of the acquisition (about 12% of EV). Do note that the company technically refers to DCF as "excess of net cash provided by operating activities after distributions to unitholders".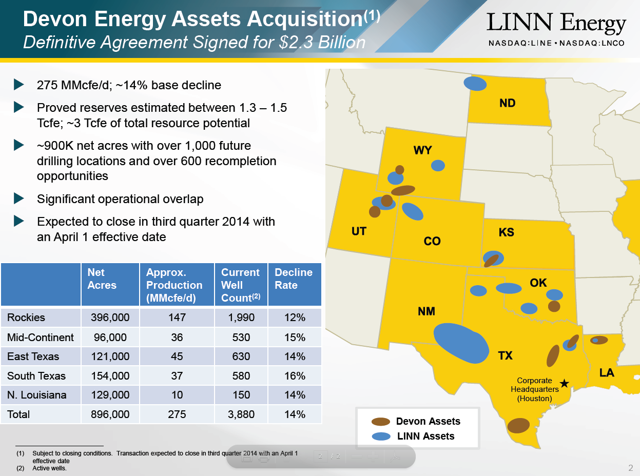 Click to enlarge
Linn Energy plans to sell its Granite Wash Holdings
Financing for the transaction is a tad tricky. Linn Energy has noted that it intends to finance it by selling its Granite Wash assets and other non-producing acreage in the portfolio. However, in the mean time, Linn Energy has secured $2.3 billion in interim funding from various lenders, led by Scotiabank.
Regarding the Granite Wash assets, it appears as if the company is looking at a 1031 like-kind exchange over an outright sale in order to benefit from the associated tax efficiencies.
The Granite Wash region has been one of Linn Energy's underperforming assets, with the company experiencing higher than expected decline rates in the area. This has resulted in a reduction of capital spending and rig allocation in recent quarters. The company currently has a 4 rig program in the area targeting oil-rich intervals.
Despite these problems, I believe Linn Energy will be able to find a buyer for these assets. These are one of the more liquids rich properties owned by the company. However, Linn Energy simply cannot afford to develop them properly and maintain its large distribution. Much like with the Exxon trade, I think a larger E&P can come in and scoop up these assets and at the same time, allocating the proper level of capex spending.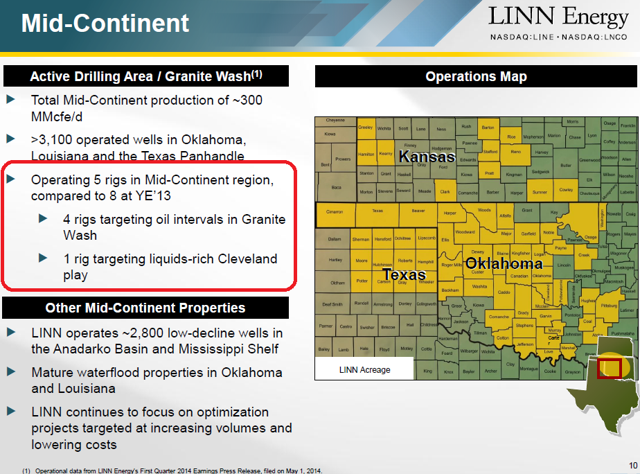 Click to enlarge
Who got the better deal?
I am sure the Linn Energy perma-bears will say that the company is getting fleeced and is overpaying for "old" natural gas wells. Indeed, even Devon thought these properties would only fetch between $1.2 to $1.4 billion.
However, natural gas prices are on the rise. With Linn Energy surely to hedge most of the future expected production, the company can essentially "lock-in" future margins and secure its distributions.
Furthermore, as noted by Wells Fargo in the above link, Devon sold these assets at only 5.1x 2013 EBITDA (6.6x pretax), which are hardly expensive multiples.
If I were to pick the biggest risk factor involved in the deal, it would have to be debt. Linn Energy is already highly leveraged and $2.3 billion in extra debt is not a small lump of change. Hopefully a Granite Wash asset sale/trade its announced soon so that this debt does not need long-term financing.
Conclusion
As I noted a few weeks ago, Linn Energy's fair value was likely around $33 per unit, implying 15% upside at that time. The stock has almost reached this target, now trading at above $32.
Linn Energy seems to be finally returning to normality. By engaging in two major transaction in under two months, the company clearly has returned to form.
Disclaimer: The opinions in this article are for informational purposes only and should not be construed as a recommendation to buy or sell the stocks mentioned. Please do your own due diligence before making any investment decision.
Disclosure: The author has no positions in any stocks mentioned, and no plans to initiate any positions within the next 72 hours. The author wrote this article themselves, and it expresses their own opinions. The author is not receiving compensation for it (other than from Seeking Alpha). The author has no business relationship with any company whose stock is mentioned in this article.