By Stuart McPhee
Gold for Tuesday, July 1, 2014
After several days of classic signs of indecision with its multiple doji candlestick patterns on the daily chart, gold has made an attempt to push higher and move away from around $1320. This has seen it move to another two month high above $1332. Its recent indecision all happened around and just below the recent resistance level around $1320. A couple of weeks ago gold enjoyed a stunning surge higher to break through some key levels along its way to reaching a two month high just above $1320 and immediately after it eased away ever so slightly and consolidated with its flow of doji patterns. It was also able to break through the $1300 level and this level is likely to play a role again should gold ease lower, which is likely. If sellers do take advantage of these relatively higher prices which will most likely bring the $1300 level back into play. The OANDA long position ratio has dropped to its lowest level in a couple of months around 53% showing a much more bearish sentiment than the long term average.
A couple of weeks ago gold did very well to repair some damage and return to the key $1275 level, then it has continued the momentum pushing a higher to its recent two month high. After moving so little for an extended period, gold dropped sharply several weeks ago from above the well established support level at $1275 as it completely shattered this level falling to a four month low around $1240. It remained around support at $1240 for several days before its recent rally higher. Prior to the strong fall a few weeks ago gold had remain fixated on the $1293 level and had done very little as volatility has dried up completely resulting in gold moving very little. It pushed down towards $1280 before sling shotting back and also had an excursion above $1300 for a short period before moving quickly back to the $1293 area again. Over the last few weeks gold has eased back from around $1315 to establish its recent narrow trading range below $1295 before its recent slump.
Over the last few months the $1275 level has established itself as a level of support and on several occasions has propped up the price of gold after reasonable falls. Throughout the second half of March gold fell heavily from resistance around $1400 back down to a several week low near support at $1275. Both these levels remain relevant as $1275 continues to offer support and the $1400 level is likely to play a role again should gold move up higher. Through the first couple of months of this year, gold moved very well from a longer term support level around $1200 up towards a six month higher near $1400 before returning to its present trading levels closer to $1300.
Gold steadied near a two-month high on Monday, as the dollar remained under pressure ahead of a week packed with economic data. The metal looked set for a second straight quarterly gain after world political tensions bolstered demand for the metal. Investors were awaiting U.S. jobs data and the European Central Bank (ECB) meeting later this week for clues on future monetary stimulus strategy before placing any big bets. This week's busy calendar of data in the United States includes the June non-farm payrolls report on Thursday, a day earlier than usual due to the July 4 Independence Day holiday. Spot gold was off 0.2 percent near $1,319 an ounce by mid-morning, having hit a two-month high of $1,325.90 last week. The metal has gained 2.4 percent in the second quarter of the year, after rising nearly 7 percent in the previous quarter. U.S. gold futures for August delivery were flat around $1,318 an ounce.
(Daily chart / 4 hourly chart below)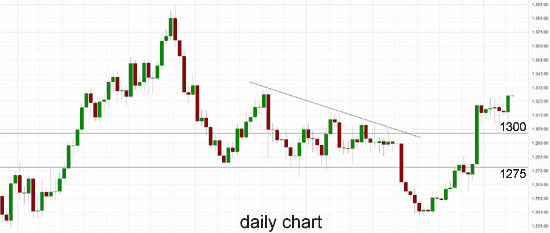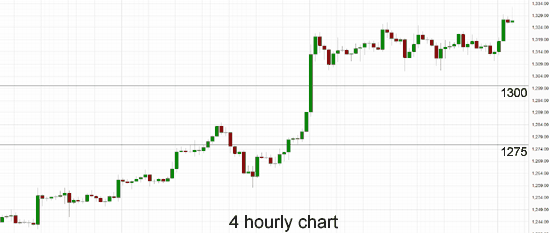 Gold July 1 at 03:15 GMT 1327.6 H: 1332.5 L: 1325.2
Gold Technical
| | | | | | |
| --- | --- | --- | --- | --- | --- |
| S3 | S2 | S1 | R1 | R2 | R3 |
| 1240 | - | - | 1330 | - | - |
During the early hours of the Asian trading session on Tuesday, Gold is doing next to nothing as it trades in a small range just below $1330 after surging higher in the last 12 hours or so. This limited activity has occurred after it ran into resistance around $1330 in recent hours. Current range: trading just below $1330 around $1327.
Further levels in both directions:
• Below: 1240.
• Above: 1330.
OANDA's Open Position Ratios
(Shows the ratio of long vs. short positions held for Gold among all OANDA clients. The left percentage (blue) shows long positions; the right percentage (orange) shows short positions.)
The long position ratio for Gold has moved back below 60% for the first time in a while as gold has surged higher to a two month high above $1320. The trader sentiment remains in favour of long positions.
Economic Releases
04:30 AU RBA - Overnight Rate (Jul)
05:00 JP Vehicle Sales (Jun)
07:00 UK Halifax House Price Index (1st-8th) (Jun)
08:00 EU Manufacturing PMI (Jun)
08:30 UK CIPS/Markit Manufacturing PMI (Jun)
09:00 EU Unemployment (May)
13:45 US Manufacturing PMI (Jun)
14:00 US Construction Spending (May)
14:00 US IBD Consumer Optimism (Jul)
14:00 US ISM Manufacturing (Jun)
US Vehicle Sales (Jun)
*All release times are GMT