Shareholders in Dreams, Inc (NYSEMKT:DRJ) are sleeping well this autumn, after watching shares in the company rally from $1.30 per share at the end of August to $1.90 just one month later – a gain of nearly 50%. The big run in the stock has continued into October too, with shares in the licensed sports merchandise company currently sitting at $2.00 per share after the company announced a deal with Sears (NASDAQ:SHLD).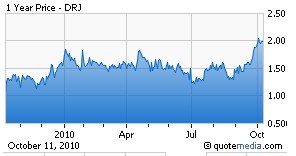 Dreams, Inc is a multi-faceted business built up through a combination of organic growth and acquisition over the company`s thirty year history. The company is essentially involved in every part of the sports memorabilia industry, from manufacturing and distribution to retailing and selling. The company is also active in corporate marketing and representation of individual athletes. Among the company`s many brands are Pro Sports Memorabilia, a online retailer of autographed sports memorabilia, and Field of Dreams – a franchise store business with 29 operating stores selling a wide range of memorabilia.
What Dream, Inc has excelled at is building up its e-commerce business. From 2004 to 2009 e-commerce revenues climbed from $4 million to $60 million, and Vista Partners, a research and consultancy firm in California is expecting 30% revenue growth this year. The strong revenue growth is partially down to Dreams, Inc ability to sell its vast array of memorabilia products through a syndication network, which now includes, and as of last week, Sears. Before the announcement with Sears, Vista Partners had a 12 month price target of $3.74 per share based on strong growth in revenues at the e-commerce division.
For the six months ended June 30, 2010 the company reported a 14.8% increase in total revenues to $31 million, but revenues on the e-commerce side climbed a more robust 37.3% to $20.3 million. It is also worth noting that Dreams, Inc revenue`s are weighted towards the October-December quarter as various sports kick off new seasons (American Football, Basketball, Ice Hockey).
The NYSE AMEX listed company is also set to benefit from several new web syndication sites expected to go live that were signed earlier in the year, including the San Diego Charger, University of Texas, LA Times and Chicago Tribune.
The company`s announcement of an agreement with Sears was certainly good news, and further underlines the company`s good momentum in tying up many big online portals to syndicate its strong expertise in the memorabilia market.
Sweet dreams.
Disclosure: No positions