When I wrote my recent story, Rare Earth Investment Potential Is Great... If You Are Patient, a reader emailed asking why I did not write about Rare Element Resources Ltd. (NYSEMKT:REE). After all, they are a junior with solid leadership in Donald E. Ranta, PhD, PGeo, who understands geology and has experience in exploration -- especially of gold. They have a great rare earth play at Bear Lodge with copious amounts of cerium, lanthanum, and neodymium. The play also contains minable quantities of several other rare earths with possible commercial grade quantities of europium.
click to enlarge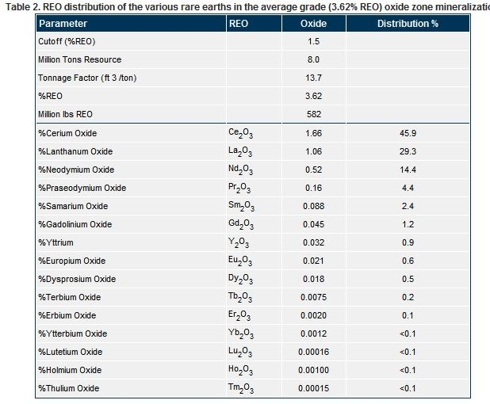 Click to enlarge
Source: Rare Element Resources
Rare Earth Value
Cerium is used in polishing glass, stones, and electronics, as well as a UVA barrier in glass and clothing, as a replacement for platinum in catalytic converters. Cerium Oxide can make biodiesel more combustible. It is also used to reduce nitrous oxide from diesel engine emissions.
When it's combined with Cu-ZSM-5, the resulting catalyst works at normal exhaust temperatures and is actually more effective with water vapor than without it. With a lean fuel-air mixture, it removes as much as 95% to 100% of NOx emissions.
Lanthanum's main uses are in refraction technology, carbon-lighting applications, antiseptic for water treatment, and uses are being explored in cancer treatments.
Neodymium's most famous use is for red glass coloring; but it is also used in magnets for hybrid engines and windmills, and also for laser technology.
Europium's served as a red phosphor in television tubes for the baby boomers, and as a doping agent for glass and lasers. It is being tested for used in nuclear reactors.
Recently, Rare Element Resources
reported that the Bear Lodge deposit
would yield 11,400 tons annually of rare earths. The estimated after tax value, at current rare earth prices, of Bear Lodge would be $598 million; and $978 million taking into account expected increases in rare earth prices. Initial costs would be repaid in 3.1 years at today's prices, making the project viable. Rare Element Resources has the financing it needs and announced drilling began on rare earths this year.
Rare Element Resources also announced this year that advances in extraction technology produced recovery rates from 85 – 90% using an HCL regeneration processes.
In addition to Bear Lodge, Rare Element Resources has a joint venture with Medallion Resources on the Lake Eden project in Manitoba, Canada. This deposit has potential for a larger concentration in heavier rare earths as well as yttrium and neodymium.
Rare Element Resources acquired the Nuiklavik rare-earth-element (REE) prospect from Altius Resources Inc in Labrador, Canada. Zirconium (oxygen cells, fuel cells), yttrium (optical refraction, ceramics, glass), and niobium (capacitors and solar cells) are the chief rare earths at Nuiklavik.
Gold
Rare Element Resources also owns Sundance Gold Project, and announced drilling in July 2010. The Smith gold zone has the highest concentrations of gold on the property, but several mineable areas exist.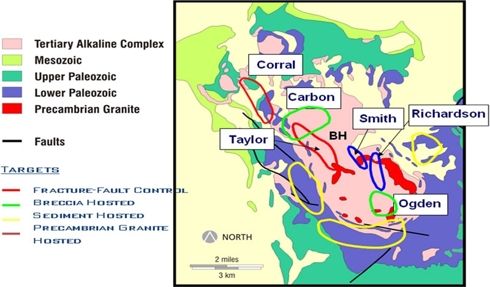 Click to enlarge
Donald Ranta notes:
The Bear Lodge property has a well-documented, hydrothermally altered and mineralized intrusive system with rock types, minerals, and structures that closely match major features of the alkaline-igneous gold-exploration model as it is expressed at Cripple Creek. Past exploration efforts paid little attention to the Bear Lodge potential for deeper-seated, high-grade gold deposits targeted by this model. In addition the escalating rise in gold price allows re-evaluation of the potential for the shallow low-grade, large tonnage deposits that had not been thoroughly explored. We now have an excellent gold-exploration venture, which is based on this model and operated by Newmont (NYSE:NEM), one of the best gold-exploration teams in the mining industry.
Gold is soaring due to currency debasement wars and increasing demand from Asia and Europe. Gold's bullish future bodes well for the Sundance mine project for Rare Element Resources. The fact that one site holds both valuable rare earths and substantial amounts of gold makes Rare Element Resources a substantive commodity double play.
Price
Rare Element Resources stock has surged on the positive Bear Lodge assessment and metallurgical advancements being reported from the company.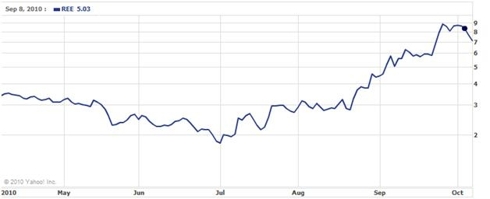 Click to enlarge
Source: Yahoo Finance
I don't believe the stock is undervalued or overvalued at this level, but fairly valued. The market understands the value of the Bear Lodge site. As the Canadian sites with heavier rare earths are developed, I expect the share price of Rare Element Resources to move forward again.
Rare Element Resources have the perfect size areas to develop.
The most valuable rare earth in terms of total demand and total revenue, is the metal neodymium, the basis of 90% of the world's rare-earth permanent magnets. Its price as a high-purity metal has been climbing lately, and almost all of the projected balance sheets and income statements of the rare-earth mining ventures are based on neodymium's current high price. But common economic sense and the basic law of supply and demand tell us that if neodymium is overproduced, then its price at every point in the value chain will fall. If this happens, many of the business models of the members of the "billion-dollar cost club" will fail to show a profit, no matter where in the value chain they are calculated.

I have come to the conclusion that in rare-earth mining, outside of China, small is beautiful and the higher the proportion of heavy rare earths to total rare earths, the better for any venture.
Chinese low cost production makes larger projects outside China less financially feasible. I believe this is why Rare Element Resources Ltd. will prosper as they have three good sized, but not overly expensive, rare earth projects to work from with substantial quantities of heavier rare earths. It is vitally important that Rare Element Resources also brings the heavier rare earth elements to the table.
Byron King perhaps put it best when he said:
Another U.S.-based rare earth play that I'm looking at is Rare Element Resources Ltd. Its management team understands rare earths, and its Bear Lodge deposit in Wyoming is a nice deposit. Good mineralogy. Good future. It's a development play—nothing preordained or predestined about it. But in terms of the management team and the deposit, I think Rare Element has a good future.
Disclosure: No positions