By Sumit Roy
Gold, platinum and silver were winners this week, while oil and gas were losers.
Energy underperformed, while precious metals outperformed in a mixed week for commodity performance. At the same time, stocks-as measured by the S&P 500-fell by less than 1 percent. The index is now up 5.7 percent since the start of the year.
Macroeconomic Highlights
The most surprising economic release of the week was the Bureau of Economic Analysis' third and final reading on U.S. first-quarter GDP. The BEA reported that Q1 GDP contracted at a 2.9 annualized rate, much more than the previous estimate of a 1 percent decline and worse than the 1.8 percent decrease analysts had predicted.
However, most market participants continue to believe that the first quarter was a weather-related anomaly and that growth has picked up in the second quarter and will continue to do so through the year. Two Fed officials, Philadelphia Fed President Charles Plosser and St. Louis President James Bullard, went as far as to say that the central bank may need to raise interest rates faster than expected next year due to robust economic growth.
On the housing front, the data were mixed. The S&P/Case-Shiller home price index for the U.S. grew by 0.19 percent in April, below the 0.8 percent increase that was expected. On a year-over-year basis, prices were up by 10.82 percent.
But while the S&P/Case-Shiller home price index data painted a dour picture of the housing market, new home sales data from the Department of Commerce did just the opposite. The DoC said that new home sales surged 18.6 percent in May, the largest monthly increase since 1992. Sales in the month totaled 504,000 units annualized, the highest level in six years.
Elsewhere, HSBC reported that its China manufacturing PMI rose from 49.4 to 50.8 in June, better than the 49.7 that was expected and the first reading above 50 in six months. That signals that Chinese manufacturing sector is expanding again after slowly contracting for the past several months.
Commodity Wrap
| | | |
| --- | --- | --- |
| Commodity | Weekly Return | YTD Return |
| Palladium | 2.48% | 17.57% |
| Platinum | 1.54% | 8.03% |
| Silver | 1.10% | 8.42% |
| Soybeans | 1.06% | 8.99% |
| Copper | 0.96% | -7.35% |
| Wheat | 0.68% | -2.64% |
| Gold | 0.33% | 9.42% |
| Brent | -1.30% | 2.27% |
| WTI | -1.45% | 7.40% |
| Corn | -2.21% | 4.98% |
| Natural Gas | -3.09% | 3.78% |
Gold was essentially flat this week, while silver edged slightly higher as prices consolidated following the big gains of last week. The fact that prices are holding firm at these highs is encouraging for bulls, and a test of the important $1,330 resistance for gold is likely in the coming days.

In our view, inflation concerns have been the primary driver of gold in recent weeks. Sprott's Charles Oliver agrees. He believes gold could reach as high as $2,000 this year as the velocity of money increases, potentially stoking inflation (see Sprott's Charles Oliver: Gold Could Hit $2,000 By Year End).
GOLD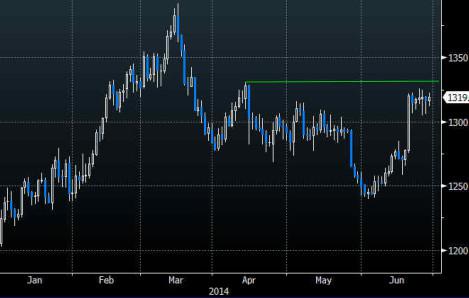 SILVER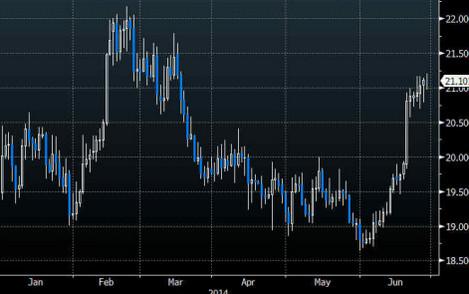 PLATINUM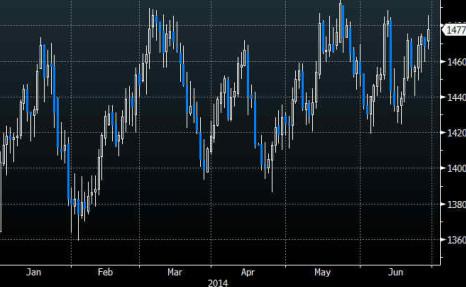 PALLADIUM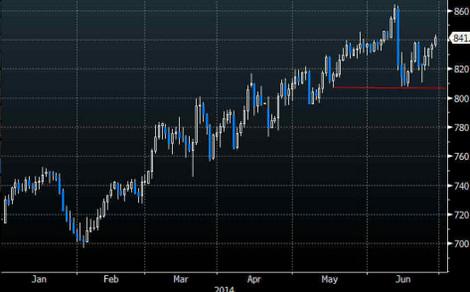 Crude oil retreated this week as traders used a lack of new developments in Iraq as an excuse to take profits. Barring a deterioration of the situation in Iraq, it will be difficult for Brent and WTI to advance above their recent highs of $115 and $107, respectively.

At the same time, oil only ran up about $5 on Iraq in the first place; thus, downside is limited even if the Iraq premium comes completely out of prices.
BRENT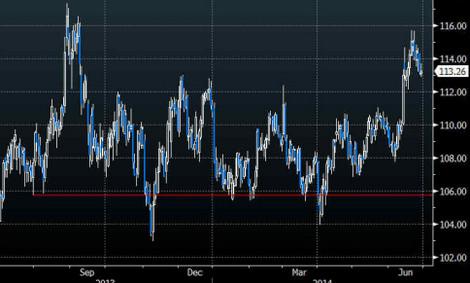 WTI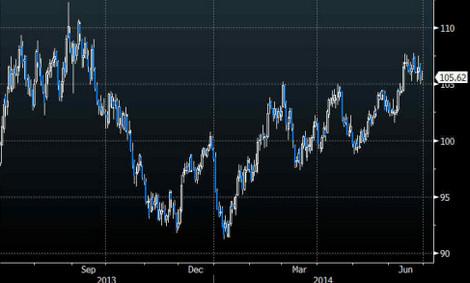 Grains fluctuated near recent lows this week as favorable weather conditions in the U.S. continued to keep upside in check. We do not see much room for the sector to rally despite the pullback over the past two months. The fast-approaching U.S. harvest-which is expected to be the best ever-will keep sentiment negative.
CORN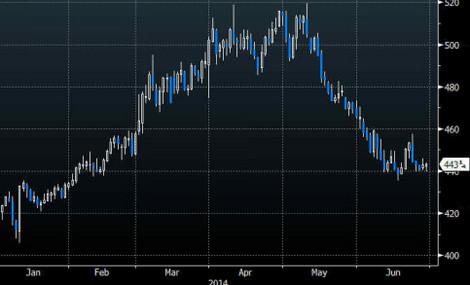 SOYBEANS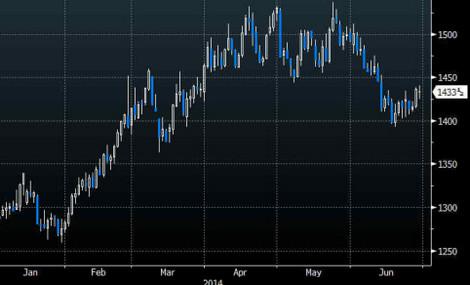 WHEAT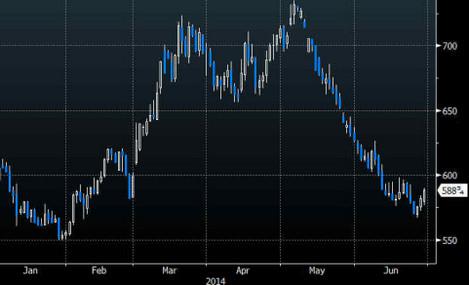 Copper edged up 1 percent over the past several sessions. Prices may test the $3.20/lb resistance level next week.
COPPER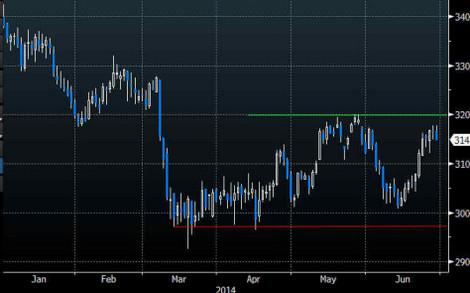 Natural gas was weighed down by yet another big inventory build reported on Thursday. In our view, prices are poised to test the $4.25 support level as traders wait to see whether summer heat in July and August materially reduces the pace of injections.
NATURAL GAS