"Price is what you pay. Value is what you get" - Warren Buffett
Whole Foods Market (NASDAQ:WFM) is undervalued. Now at $38.70, it's below $40 a share for the first time in well over 2 years and is down about 70% from its peak of $65 reached only a few earnings announcements ago in Q4 of last year. Its price is down 33% this year alone, which includes a 20% drop on May 7th, when the company announced a continued decline in same store sales and lowered guidance for the balance of the year.
Their latest guidance has had plenty of time to settle into the market, and everyone's working off the same information to generate conclusions on their growth projections from here. The market is efficient and the price is fairly set, and therefore $38.70 is the fair value of WFM at current. So, on what basis are we identifying this stock as undervalued? It's simply how investors have reacted to these similar environments historically. More specifically, when a Consumer Defensive stock has traded like this historically (chart below), investors have felt it was undervalued and bid it up over the next 6 months.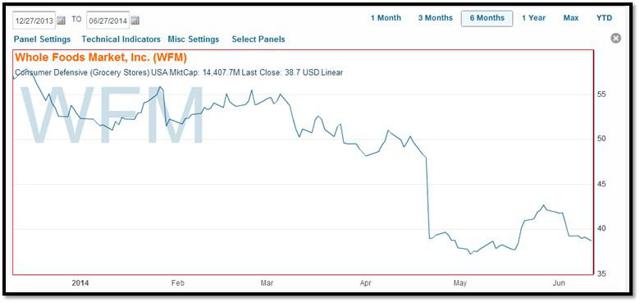 (SOURCE: EidoSearch data dated 6/30/14)
Most fundamental investors we speak with are looking to invest in companies that are undervalued (or overvalued for Hedge Funds), "that's what we do". Fund managers want to find undervalued situations, or stocks that are "mispriced", based on their fundamental research. Part of the trick in making money from these situations is building a position before the stock gains or regains favor.
What's the basis for Whole Foods being undervalued? I found 54 similar historical instances of the current price trend for Whole Foods in Consumer Defensive stocks, and almost 80% of the time the stock is up in the next 6 months and the average return is 16.8%.
The chart below shows the 6-month forward projection of 16.8%. One Standard Deviation down from the mean projected return is at $34, leaving us with 85% probability the stock will be above $34 a share in 6 months.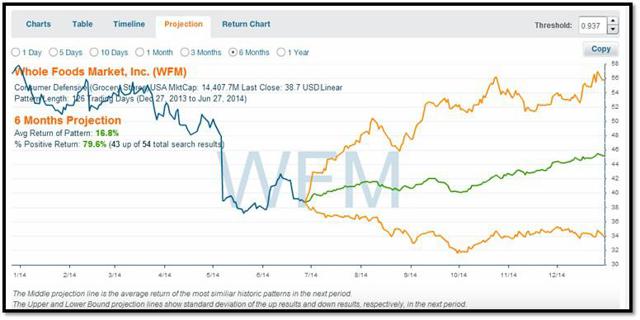 (SOURCE: EidoSearch data dated 6/30/14)
Overall, Whole Foods is off 70% from its peak 8 months ago. Forward guidance on same-store sales and revenues for the year was once again revised down by the company on May 7th. The stock is now undervalued, based on investors consistent reaction to similar environments in Consumer Defensive stocks historically.
Disclosure: The author has no positions in any stocks mentioned, and no plans to initiate any positions within the next 72 hours. The author wrote this article themselves, and it expresses their own opinions. The author is not receiving compensation for it. The author has no business relationship with any company whose stock is mentioned in this article.