Consumers will spend an estimated $58.11 billion on their pets in 2014, according to the American Pet Products Association, including $13.72 billion on supplies and over-the-counter medicine and $15.25 billion on vet care. Despite the industry's ongoing growth, PetMed Express (NASDAQ: PETS) shares have fallen more than 20% so far this year amid concerns over revenue growth and margins.
In this article, I'll take a look at whether PetMed Express' fall represents an opportunity for value investors or a value trap to avoid.
Attractive Valuation
PetMed Express appears very attractive on the surface to value investors, as a growing and profitable entity with a strong financial position. With very little debt on its balance sheet, the company has realized a ~25% five-year return on equity and ~20% return on assets. Management has also realized a strong ~7% earnings yield and ~7% adjusted cash earnings yield for shareholders.

Figure 1 - Morningstar Valuation Comparison - Source: Morningstar
For income investors, the company has increased its dividend at a ~14% compounded annual rate to $0.68 per share per year. These dividend hikes have been steadily occurring since August of 2009, shortly after the global financial crisis. While there's no guarantee that the dividend will continue growing ad-infinitum, the company's robust balance sheet suggests it's on solid footing.
Growth has been slow over the past few years (see below), but has remained positive for the most part. Last year, the company reported a 2.4% increase in revenue and a 4.7% increase in earnings per share. Reorder sales increased by 3.5% for the year, but new order sales decreased by 1.9%, which suggests that existing customers remain happy but attracting new ones has been difficult.
Lack of Growth Catalysts
PetMed Express was a fast-growing company through 2008, but growth seems to have tapered off over the last five years. Big box retailers, like Wal-Mart Stores Inc. (NYSE: WMT) and Target Stores Inc. (NYSE: TGT), have encroached on its territory along with online retailers like Amazon.com Inc. (NASDAQ: AMZN). These competitors have eroded much of its top-line growth rates.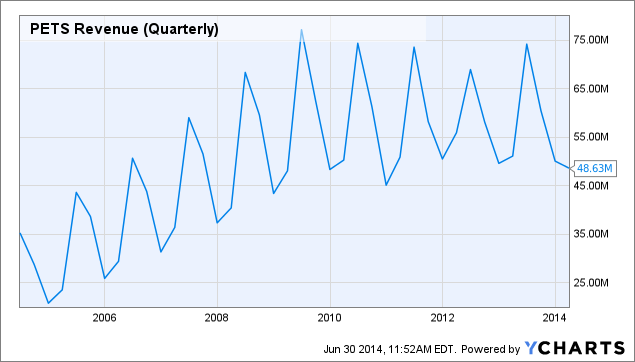 PETS Revenue (Quarterly) data by YCharts
On the bottom line, many of the company's markets have become increasingly competitive resulting in a simultaneous drop in gross margins and net income over the past five years. The flea, ticker, and heartworm prevention brands in particular account for a significant percentage of the firm's sales and have been subject to a significant amount of competition over the past few years.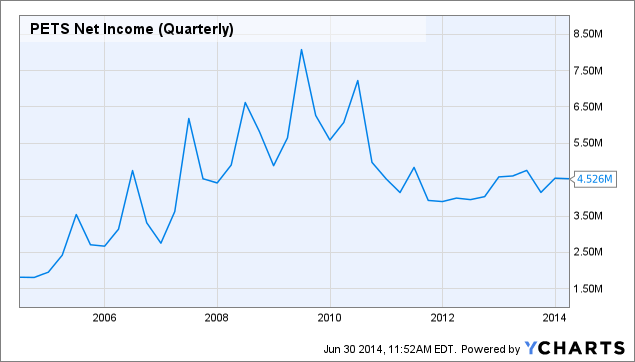 PETS Net Income (Quarterly) data by YCharts
Looking Ahead for Value
The key question for investors is whether gross margins will stabilize and new marketing initiatives will grow new order sales. While the rough Q4 2014 performance was largely due to weather-related issues, PetMed Express faces a number of competitive headwinds and pricing pressures that could keep shares depressed for a prolonged period of time unless changes materialize.
The industry's secular growth, which has been driving stocks like PetSmart Inc. (NASDAQ: PETM) to outperform the company by ~13% over the past 52 weeks, could help keep slow growth on track, but new initiatives are likely needed to resume the growth that it was seeing prior to 2008. Unfortunately, management has failed to provide much guidance in terms of where the growth will materialize.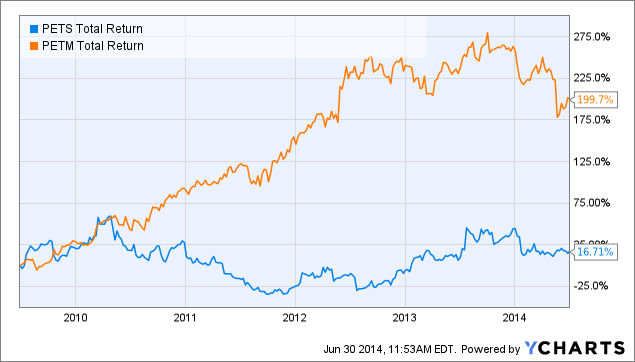 PETS Total Return Price data by YCharts
That said, value investors may still want to take a closer look at the stock given that it's trading below even its historical multiples. The recent fall has put it deep into value territory and expectations are very low after a weak Q4 2014, while the company's strong 5% dividend yield pays investors to wait. If management succeeds in restarting new orders, the stock could move significantly higher.
Disclosure: The author has no positions in any stocks mentioned, and no plans to initiate any positions within the next 72 hours. The author wrote this article themselves, and it expresses their own opinions. The author is not receiving compensation for it (other than from Seeking Alpha). The author has no business relationship with any company whose stock is mentioned in this article.