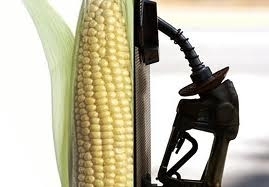 In a surprise move, government forecasters at the USDA slashed their estimates for the U.S. corn harvest with the prospect of tighter supplies triggering a surge in futures prices and a rally in shares across the agribusiness sector especially in the corn and Ethanol segment. While Chicago corn jumped 8.5 percent on Monday to its highest price in more than two years, Ethanol futures witnessed a monumental surge, the most in more than five years.
USDA Corn Estimates:
Futures climbed after the U.S. Agriculture Department estimated the domestic corn crop will fall 3.4 percent from a year earlier, the second reduction to its forecast in as many months. The grain is the primary ingredient used to make ethanol in the U.S. The USDA was projecting a record corn crop as recently as August, but farmers have been disappointed as the harvest progressed. The plants suffered from excessive early-season rains that washed away nitrogen, a crucial nutrient. Crops also were stressed by unusually hot overnight temperatures during the summer as USDA shaved a record 6.7 bushels per acre from last month's corn-yield estimate, and now projects 155.8 bushels an acre from the national harvest. The consensus among analysts was for 159.9 bushels an acre.
Corn - Ethanol Futures Surge:
The USDA report not only touched off a rally in ethanol prices to $2.184 per gallon on the CBOT for November deliveries (and reaching $2.31 in the New York cash market) but Chicago corn jumped 8.5 percent to its highest in more than two years, marking its sharpest gain since 1972, after the U.S. government forecast supplies in the world's top exporter to shrink to their lowest in 14 years. The corn market closed the up limit on USDA's shockingly lower US corn yield estimate of 155.8 bushels per acre, which is likely put the market into a price rationing situation.
Luke Matthews, commodity strategist at Commonwealth Bank of Australia, said:
Any period of time where you get two consecutive limit-up days, it's likely to spur a little bit of panic buying as some people try to get in before they perceive it being a little too late.
According to Bloomberg data, Volatile corn prices and bad bets on the grain contributed to the bankruptcy of at least a dozen ethanol producers over an 18-month stretch that started in October 2008, which included VeraSun Energy Corp., once the largest American distiller. But with ethanol at these prices, producers should buy corn right now to lock in margins and hedge against corn prices going higher over the next several days.
Publicly Traded American Ethanol Stocks
Some investors have certainly made money with ethanol stocks. Investors once made money on dot-com's as well. Making money is no indication that the underlying fundamentals are good. Although investment performance returns from these alternative energy companies may not yet be as competitive as the established companies that are currently in the business of the popular fossil fuels, the technology for these alternative fuel companies may still be a long way of waiting as the issue of having the necessary infrastructure to produce and distribute alternative sources of fuel like ethanol will take quite some time. Stocks listed below are publicly traded securities for companies involved in the growing ethanol industry. Not all of these companies have operational ethanol plants. Some have announced their plans to do so, and a few are in overlapping businesses such as oil extraction, etc.
1: Pacific Ethanol (Nasdaq: PEIX) is the biggest pure play on ethanol production.
2: The giant agriculture company Archer-Daniels-Midland (NYSE: ADM) obtains about 25% of its operating profits from ethanol and related byproducts
3: Andersons Inc.(NASDAQ:ANDE): The Andersons, Inc. is an entrepreneurial, customer-focused company with interests in the agriculture and transportation markets
4: Aventine Renewable Energy, Inc. (AVR)
5: BioFuel Energy Corp (Nasdaq: BIOF): BioFuel Energy Corp. produces and sells ethanol and its co-products (primarily distillers grain), through its two ethanol production facilities located in Wood River, Nebraska and Fairmont, Minnesota.
6: BlueFire Ethanol, Inc. (OTCPK:BFRE): Bluefire Ethanol Fuels, Inc. (Bluefire) is a development-stage company. The Company focuses on developing, owning and operating high-value carbohydrate-based transportation fuel plants, or biorefineries, to produce ethanol.
7: Chevron Corp. (NYSE:CVX): Chevron Corporation (Chevron) manages its investments in subsidiaries and affiliates, and provides administrative, financial, management and technology support to United States and international subsidiaries that engage in fully integrated petroleum operations.
8: Earth Biofuels Inc
9: Green Plains Renewable Energy, Inc. (NASDAQ:GPRE): Green Plains Renewable Energy, Inc. (Green Plains) is organised to construct and operate dry mill, fuel-grade ethanol production facilities.
10: Green Energy Resources
11: GS CleanTech Corporation
12: Green Star Products, Inc.
13: Intrepid Technology & Resource Inc.
14: MGP Ingredients Inc. (NASDAQ:MGPI): MGP Ingredients, Inc. is an integrated producer of certain ingredients and distillery products, which are derived from wheat flour and corn.
15: Syngas International
16: VeraSun Energy Corp.: VeraSun Energy Corporation is an ethanol producer in the United States. The Company focuses primarily on the production and sale of ethanol and its co-products.
17: Xethanol Corporation/Global Energy Holdings Group, Inc.: Global Energy Holdings Group, Inc., formerly Xethanol Corporation, is a renewable energy company based in Atlanta, Georgia. The Company's principal operating division is Global Energy Systems, Inc., which is developing renewable energy projects, including biomass projects.
Ethanol Related ETFs
There is an exchange-traded fund that specializes in ethanol and other alternative energy sources: PowerShares WilderHill Clean Energy (AMEX: PBW). PBW came out at around $15 in March 2005, climbed to $24 in May 2006, and is now at $9.35 a share.
PBW's Top Holdings:
Expense Ratio: 0.60%
Teucrium Corn Fund (NYSEARCA:CORN), a product that offers exposure to exchange-traded corn futures.
CORN's Top Holdings:
C U0 Pit Comdty Sep10 Corn Future: 37.53%
C Z1 Pit Comdty Dec11 Corn Future: 37.38%
C Z0 Pit Comdty Dec10 Corn Future: 32.46%
Expense Ratio: 1.00%
Ethanol Market Trends:
For two decades from the early 1980s to the early 2000s the ethanol industry was largely stagnant. Ethanol production in the U.S. and Canada was growing, but only gradually. Brazil's ethanol output was actually sliding. And worldwide output was stagnating. Then, at the turn of the new millennium, the U.S. government and industry began to push ethanol more forcefully and sales and demand in Brazil, the world's leading producer of Ethanol rose exponentially. The result was a worldwide ethanol production boom that has nearly doubled in five years while the surge in volume has triggered the development of new, more efficient technologies. Right now, the only country with cars running on pure ethanol is Brazil. But a mix of ethanol and gasoline is used in the U.S., the European Union, Mexico, India, Argentina and Japan.
Ethanol Outlook:
The Corn Growers Association says that by 2015 a third of all the corn grown — or 5.5 billion bushels — likely will be for ethanol. The Energy Department says it has a goal of 30% of the fuel used by motorists to be ethanol — both corn-based and cellulosic — by 2030.
Brazil: Brazil has thousands of gas stations using the same tanks, pumps, tankers for transportation, some with minor modifications and Brazil is building new pipelines to transport ethanol. Brazil is undergoing an ethanol revolution far more drastic than that in the U.S. Flex-fuel cars that can run solely on ethanol are widely available and the ethanol supply is short enough that the government recently reduced the mandatory ethanol content in gasoline from 25% to 20%.
Disclosure: No positions