Last week, Oracle (NASDAQ:ORCL) announced that it was acquiring MICROS Systems (NASDAQ:MCRS) for a sum of $5.3 billion ($4.6 billion in net cash), giving the company a premium of 25% compared to its valuation before the acquisition information was leaked in mid-June. In valuing acquisitions, there are two things to keep in mind. First, it is important to look at how the acquired company fits with the acquiring company's overall business model, and second, it is crucial to see the valuation from a financial standpoint.
How does MICROS Systems fit in the overall picture?
Oracle has spent the last few years troubled by an increased competition from companies such as SAP (NYSE:SAP), Salesforce.com (NYSE:CRM) and Workday (NYSE:WDAY). The company has been criticized for not moving aggressively enough to capture more market share and its large size has created many layers of bureaucracy, slowing things down for the company. MICROS Systems is a smaller company that has been able to move faster and adapt quicker to changing customer demands and business constraints. MICROS Systems focuses on retail, entertainment and hospitality sectors and the company tailors many of its products and services for the unique needs of the clients in these sectors. Prior to the acquisition, MICROS Systems was a customer of Oracle and the two companies worked hard at integrating their solutions together. Currently, the two companies have many clients in common.
Oracle's industry portfolio can definitely benefit from addition of new products and services tailored for hospitality and retail industries. These two industries are seen as important globally and Oracle's current solutions in this particular industry could definitely use some additions. Many of MICROS Systems' solutions are cloud-oriented and this fits well with Oracle's overall theme of increasing usage of cloud-oriented solutions in the recent years.
Since MICROS Systems' solutions are being used in 180 countries worldwide, it is safe to say that this company has clients in every country where Oracle has clients. After closing the transaction, Oracle will not have to do much work to implement MICROS Systems' products and services in different countries since they are already set up pretty much everywhere in the world.
Utilizing Oracle's massive size and existing technology, MICROS Systems will be able to grow faster and contribute more Oracle's overall strategy and growth. The graph below shows how MICROS Systems' current solutions line up with Oracle's current solutions for the hotel industry. The products and services written in red ink represent Oracle's existing product line and the products and services written in black ink represent MICROS Systems' existing product line. For instance, Oracle's Marketing & Social Cloud, Commerce Cloud and Loyalty solutions will integrate with MICROS Systems' Distribution Services, Revenue Management and Reservations solutions to help hotels attract customers.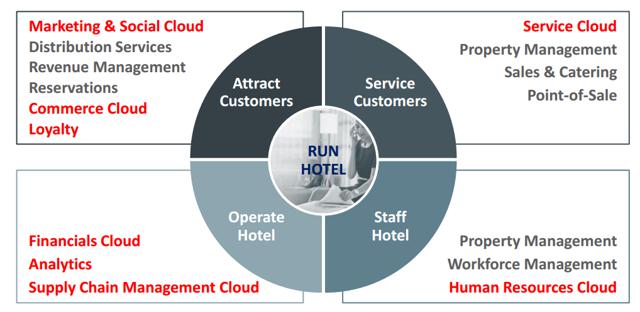 The same thing can also be said for Food and Beverages (Restaurant) industry. Oracle products and services complement MICROS' existing products and services for the restaurant industry. MICROS is particularly strong in Online Ordering, Reservations, Inventory Management and Workforce Management. The company's products also cover a wide range of solutions such as Kitchen Management, Table Management, Enterprise Operations and Point-of-Sale where Oracle's current solutions do not have much coverage.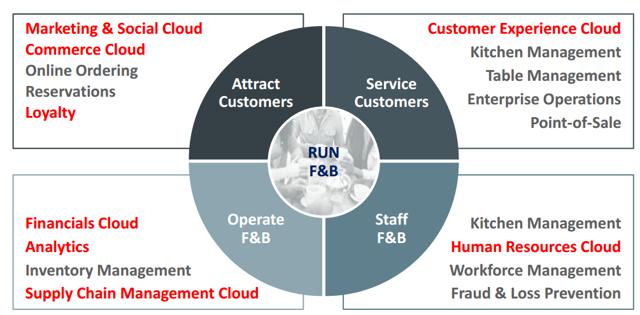 Finally, in the retail sector, Oracle's existing solutions will be supplemented with MICROS' Point-of-Sale, Workforce Management and Fraud & Loss Prevention solutions. Oracle's current product line is stronger in the retail industry compared to hospitality and restaurant industries, but this does not mean that Oracle can't utilize MICROS' solutions in this particular sector.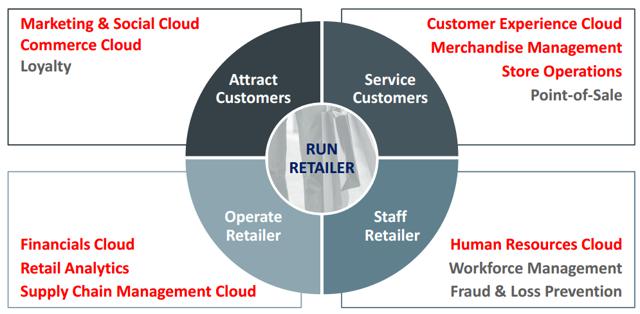 How about the valuation?
Even though the price tag of the purchase is $5.3 billion, MICROS Systems has about $660 million of cash in its balance sheet and this money will transfer to Oracle, making the net sale price $4.6 billion. Last year, MICROS Systems generated $1.27 billion in revenues, $663 million in gross profits, $227 million in operating income and $171 million in net income. Oracle bought MICROS for 3.62 times its annual revenues and 20 times its trailing operating income. MICROS is a growth company and it has been able to grow its annual revenues and net income in double-digits for the last few years. For example, since 2010, MICROS grew its revenues by 38% and its net income by 39% as of last year.
Spending 20 times operating earnings for a company that will continue to grow in double-digits and integrate a company's existing products is pretty reasonable. Oracle will now be able to offer much more integrated solutions for hospitality, retail and restaurant businesses and this synergy should help growth of both MICROS Systems and Oracle's main business.
If acquiring MICROS Systems can eventually add about $300-400 million to Oracle's operating income, the company has got a good deal out of this acquisition. MICROS is not there yet but it can easily get there if the merger works out smoothly.
Oracle is currently able to grow its revenues in single-digits and the company desperately needs a new idea to fuel its growth further. Currently the company trades for only 17 times its trailing income and 15 times its forward income, and the company has about $38 billion in cash and short-term investments, which accounts for about one fifth of its market valuation. Investors currently price Oracle with some discount but this could change quickly if the company can go back to the growth mode it used to have.
Disclosure: The author has no positions in any stocks mentioned, and no plans to initiate any positions within the next 72 hours. The author wrote this article themselves, and it expresses their own opinions. The author is not receiving compensation for it (other than from Seeking Alpha). The author has no business relationship with any company whose stock is mentioned in this article.