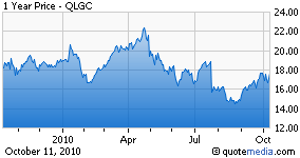 A leading supplier of high performance network infrastructure solutions, QLogic Corp. (NASDAQ:QLGC) reported preliminary results for its second quarter 2011. QLogic raised its revenue and earnings per share outlook for the second quarter 2011 and expects the results to beat the Zacks Consensus Estimate.
For the second quarter 2011, management raised its low end of the total net revenue expectation. QLogic expects revenues in the range of $146 million to $147 million. This compares with the previous expectation of $143 million to 147 million in revenues. The Zacks Consensus Estimate is of $150 million in revenues.
Second quarter revenue expectation are a sequential increase of approximately 2% to 3% from the net revenues of $142.6 million reported in the first quarter of fiscal 2011. Demand for its hosting and networking products remains strong. The sequential increase is primarily attributable to a sequential growth in each of its Host Products, Network Products and Silicon Products.
Management also anticipates that gross margin will be higher and operating expenses will be lower than the previously provided guidance. During the first quarter conference call, management estimated gross margin to be in the range of 65.5% to 66%, operating expenses of $55 million and a tax rate of 18% and diluted share count of approximately 112 million shares.
The company expects GAAP net income per share for the second quarter of fiscal 2011 in the range of 26 cents to 27 cents. On a non-GAAP basis, excluding stock option expenses, acquisition-related charges and other items, QLogic expects to report net income of 32 cents to 33 cents per share, up from the previously projected range of 29 cents to 32 cents. This is up from the Zacks Consensus Estimate of 27 cents in EPS.
QLogic is set to release its second quarter 2011 results after the close of the market on October 21, 2010.
First Quarter 2011 Highlights
First quarter revenues of $142.6 million were below the Zacks Consensus Estimate of $144.0 million and earnings per share of 21 cents (including stock-based compensation but excluding one-time charges) missed the Zacks Consensus Estimate of 24 cents.
Operating expenses of $54.0 million were up 4% from $52.2 million recorded in the year-ago quarter and were slightly below Qlogic's expectations. The increase in operating expenses was primarily due to higher engineering expenses, which upped 2% from the year-ago quarter, but decreased, as a percentage of revenues, from 23.7% to 20.8%. QLogic expects engineering expenses, as a percentage of revenues, to be in the range of 18% to 21% going forward.
QLogic ended the quarter with cash and short-term investment balance of $348.6 million, down $27.1 million from the previous quarter. QLogic generated $30.6 million cash from operations, down from $69.3 million generated in the previous quarter.
The company also spent $52.5 million on the repurchase of shares at an average price of $18.81 per share. Since 2003, QLogic has used $1.5 billion to repurchase 95.4 million shares.
Recommendation
We continue to maintain a Neutral rating on a long-term basis (6-12 months). We believe that QLogic will benefit from major OEM customer wins and increased focus on its key strategic initiatives over the long term.
However, demand trends remain weak and a slower-than-expected growth in enterprise IT spending remains an area of concern. Moreover, tough competition from Emulex Corp. (NYSE:ELX), Broadcom Corp. (BRCM) and Brocade Communications Systems Inc. (NASDAQ:BRCD) will act as a headwind for the stock.
Currently, QLogic has a Zacks #3 Rank, which implies a Hold rating on a short-term basis.
Disclosure: No positions