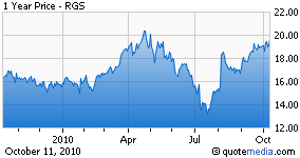 In a pre-earnings announcement, Regis Corporation (NYSE:RGS) based in Edina, reported its first quarter 2011 revenues of $578 million, down 4.5% over the year, and also below the Zacks Consensus Estimate of $583 million.
Consumer behavior has altered in this difficult economic environment. People are cutting back on expenditures, resulting in a slowdown in spending and prolonging the duration between salon visits.
The comparable-store sales for the first quarter fell 1.5% overthe year. However, this rate of decline was lower than the year-ago quarter's drop of 4.5%, implying a gradual improvement in the quarter's same-store sales. Retail same-store sales improved 1.7%, implying that the company is experiencing a rise in traffic.
Domestic same-store sales were down 1.7% year over year while International same-store sales plunged 1.9%. However, Hair restoration same-store sales upped 1.5% in the quarter.
Results remained weak in the company's relatively higher-priced, mall-based Regis Salon division but relatively stronger in the value salon concepts due to changed consumer behavior in this volatile economic scenario. Supercuts (located in strip centers; around $17 average ticket) posted a decrease of 0.2% in comparable-store sales while higher-end Regis (87% located in malls; around $41 average ticket) posted the largest decline of 3.1%.
In February 2009, Regis divested its Trade Secret retail product division to Premier Salons Beauty Inc. Under the agreement, Regis had agreed to provide certain administrative and support services, such as the supply of some retail products, to Premier during the period of transition. Consequently, first quarter 2010 product revenues from North America included $20 million of sales to Premier at Regis' cost. Excluding these sales first quarter 2011 total revenue dropped by 1.3%.
Outlook
For fiscal 2011, Regis expects same-store sales to be in a range of negative -1% to +3%. Regis remains optimistic about its performance build-up in fiscal 2011 with positive comparable-store sales and top-line growth estimated for the second half of the year.
The company is slated to release its first quarter 2011 earnings on October 28, 2010. The Zacks Consensus Estimate for first quarter 2011 earnings of 30 cents, representing an annualized growth of 3.88%.
Regis owns franchises or has stakes in more than 12,700 salons, hair restoration centers and cosmetology education services. Its more popular brands include Supercuts, Cost Hutters, Cool Cuts 4 Kids and Hair Club for Men and Women.
We have a Zacks #5 Rank (short-term Strong Sell recommendation) on the shares. Our long-term recommendation for the stock also remains Underperform.
Disclosure: No position