We saw some nice price action again yesterday in BlackBerry (NASDAQ:BBRY), as the stock had a monstrous battle at $10.25 that lasted for most of the afternoon trading yesterday. Ultimately, the supply at $10.25 didn't give way, but the stock did close the day at its highs of the day, looking extremely strong.
Yesterday's trading was being touted as a product of leaked Passport photos and a couple of good headlines. I believe yesterday's trading was simply the result of shorts covering and (potentially) institutional buying.
Although the short interest has come down significantly, you can see where levels continue to be now as compared to 2010-2012, before Thorsten Heins came in and helped drive the company straight into the ground. While the company routinely had 5-7% of its outstanding held short in 2010-2012, we still sit at an astounding 18.75% of shares held short.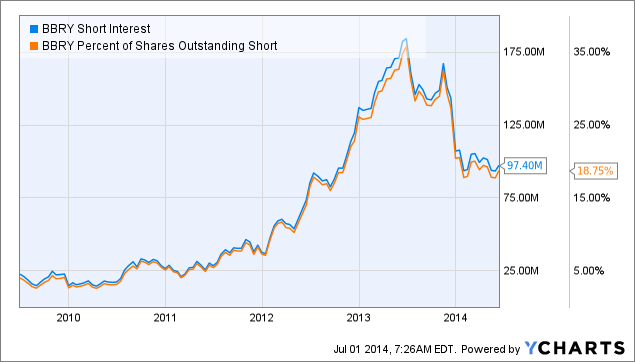 BBRY Short Interest data by YCharts
Even the most heavily shorted names in all of the market have somewhere between 20-40% of their shares held short. BlackBerry remains on the bottom cusp of that list - even with the progress they've done well to show in their last earnings report.
It's really rather amazing to sit back and look at the changes that have occurred since Mr. Heins parted ways with the company. Those that still doubt that Mr. Chen was the correct man for the job are still likely in for a rude awakening.
The point of showing the short interest is to point out that there's definitely still enough fuel in BlackBerry's solid rocket boosters to get this thing over $12.50, on its way to $15-$20.
One headline that was not pointed out by news outlets yesterday was a nice piece in the BlackBerry blogs about German Chancellor Angela Merkel, and her continued use of the BlackBerry Q10.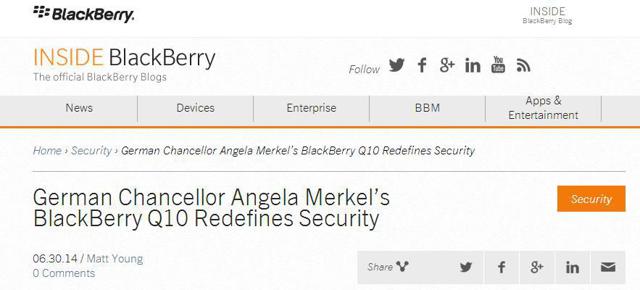 Here in the states, BlackBerry's handset business sure is dwindling. However, the remaining groups that continue to use BlackBerry are business types and government related. This nice fresh headline continues to reaffirm the place that BlackBerry has in the secure business world. Also, it should do well to give confidence to those who continue to use BlackBerry - after all, our president still uses one, as well. BlackBerry blogs reported:
Nobody needs stronger mobile security than heads of state. It's well-known that Barack Obama is only allowed to carry a customized BlackBerry. And so now does German Chancellor Angela Merkel, reports the German publication, Bild (or read the BBC version here).

After revelations that the Chancellor's phone was being hacked, the Merkel administration began systematically dumping its iPhones for BlackBerry devices, with a purchase order for 5,000 Z10s in 2013.

For strong native security and a foundation for even tighter security, BlackBerry boasts the best credentials among all mobile device makers, as CEO John Chen recently pointed out. With the BB10 operating system comes a bevy of security features which are more than enough for the average business user. Security can be further hardened for BlackBerry phone users, as well as iPhone and Android device users, by using our fast-rising EMM solution,BES10, or our secure mobile messaging solution, BBM Protected.

BlackBerry devices come standard with 256-bit encryption, secure message routing through our NOCs (Network Operation Centers), and other features. That's why we have won 45 security certifications, more than any other vendor, including the only coveted "Full Operational Capability" certificate to run on U.S. Department of Defense networks ever granted to a mobile vendor. These Z10s are also loaded with specialized Secusmart micro-SD cards outfitted with additional anti-eavesdropping security.
In my last article, I focused on what a game changer I thought the coming BlackBerry Passport could be. Lucky for me, the event that supposedly catalyzed yesterday's run was new leaked photos of BlackBerry's Passport. Don't I look smart?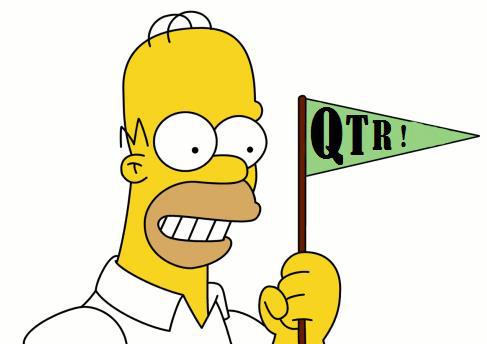 Except, I don't really think yesterday's trading had anything to do with the leaked Passport photos. As I pointed out last week, these photos and specs had been available for days already. As a matter of fact, I used those photos and specs to draw the conclusion that BlackBerry could have its new business world game changer:
In essence, what I'm suggesting is that if the Passport gets a warm reception from those who make the decisions in the business world, there's a chance that it could become the standard - and more importantly, the device that keep contracts with BlackBerry and helps businesses renew their loyalty to the brand. We should have some grip on this as early as the end of this year.
So, for whatever reason, it is nice to see the stock getting this upward momentum, and it's really helping out the bullish looking chart. What's even nicer is the technical picture setting up for a golden cross, which could also help BlackBerry stock slingshot upward.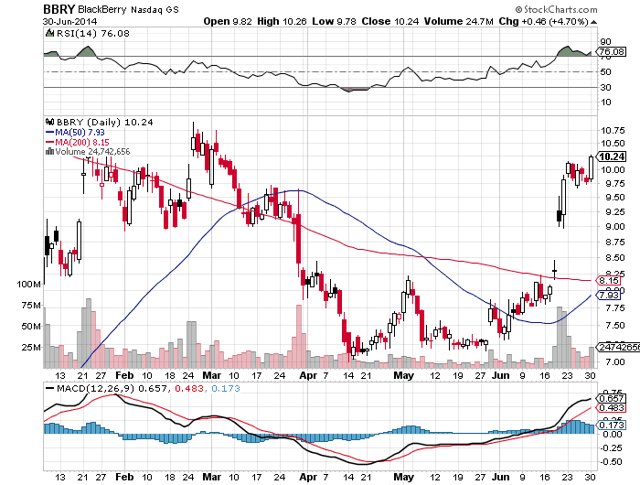 $10.90 looks to be the next "breakout" level for BlackBerry - by then, we should be in an all out uptrend. Again, the technical picture is shaping up to be very attractive to chartists/technical traders.
I continue to hold BlackBerry here, with my initial price target of $15 still in play. What I'll likely do at that point is take half off the table and let half see if it can make it to the coveted $20 number, which I think is a distinct possibility with BlackBerry getting into the "internet of things". With a busy second half of the year coming up and plenty of shares still held short, there's going to be a lot to look forward to in the second half of 2014.
At 6:45CST today, BlackBerry was poking around pre-market trading at $10.30 x $10.34 with about 35,000 shares traded.
Best of luck to all investors here.
Disclosure: The author is long BBRY. The author wrote this article themselves, and it expresses their own opinions. The author is not receiving compensation for it (other than from Seeking Alpha). The author has no business relationship with any company whose stock is mentioned in this article.