As investors it is important for us all to evaluate company fundamentals before making long-term investment decisions. Traders are less interested in the long-term prospects of course, but investors must understand the long-term prospects for the stocks they are considering before making a decision.
With respect to Netflix (NASDAQ:NFLX), there are a few concerning issues, but the technicals tell us that the stock is breaking out beyond longer-term resistance and so long as that continues it does appear to be headed higher. That will also act as our risk control, however.
First, Netflix has experienced serious undulations in earnings with corresponding undulations in its trailing 12-month growth rates (quarterly basis) as shown in the charts below. One of the most important takeaways, in addition to the observation of the declines in 2012, which were due to a flawed business decision that was subsequently corrected, is a realization that the 12-month trailing growth rates from Netflix have been declining after the subsequent recovery.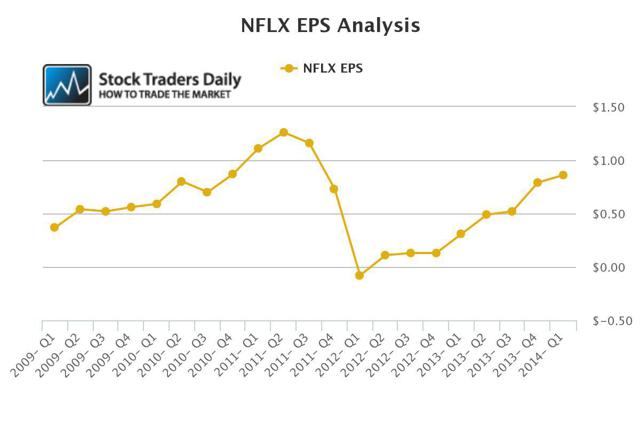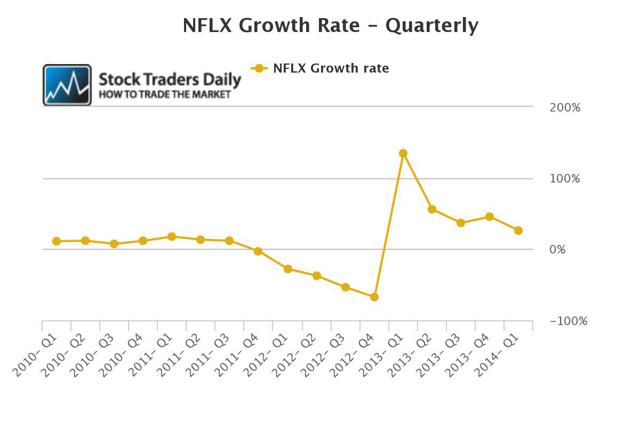 Revenue has never been an issue for Netflix, and the company has managed to steadily increase revenue even in the face of earnings shortfalls over the years, but that comes with a price. Almost directly in line with the revenue growth is an increase in debt for Netflix.
Although we cannot be absolutely sure about the allocation of those monies generated by debt issuance, we can see that Netflix is growing its catalog of video content proportionally, and therefore surmise that the company is required to borrow to maintain fresh content for its users. In our opinion, this is unlikely to change unless the margins accelerate meaningfully.
Immediately, though, earnings growth rates have actually been declining, and if earnings growth declines, we would continue to question future margins.
Our observation of Netflix continues with a simple consumer related fact and that is we all want to see fresh content, and eventually, although the current Netflix catalog is sizable, we will all become disinterested with the current catalog unless new content is added all the time.
Therefore, new content is the backbone for subscriber growth, but it is also the reason debt levels are increasing in line with revenues. We expect earnings growth to feel the pressure as well, and as a result, we believe the company, on a fundamental basis, is trading at extremely rich values. With a trailing PE multiple of 165 times earnings and an earnings growth rate that is deteriorating, risks look quite high to us on a fundamental basis.
With that said, the buy rating issued by Goldman Sachs today solidified the breakout beyond the longer term resistance lines that we have identified in our real time trading report for NFLX. If the stock remains above this level, we will expect higher levels, but if the stock reverses below the former levels of longer-term resistance that are now converted into support in our real time trading report, the stock will have plenty of room to decline as it makes its way back down towards our longer term support level again. Be cautious, understand the fundamentals, appreciate Netflix as a trading vehicle, but as a longer term investor pay very close attention to the increasing debt levels, the deteriorating earnings growth, and high P/E levels, because the company is somewhat handcuffed to the industry and demands of the consumer in this constant driven marketplace.
Disclosure: The author has no positions in any stocks mentioned, and no plans to initiate any positions within the next 72 hours.
Business relationship disclosure: By Thomas Kee for Stock Traders Daily and neither receives compensation for writing this article from the publicly traded companies listed herein.