Activision Blizzard (NASDAQ:ATVI), according to their website, "is the world's largest and most profitable independent interactive entertainment publishing company. It develops and publishes some of the most successful and beloved entertainment franchises in any medium, including Call of Duty, World of Warcraft, Skylanders, and Diablo."
Activision is screaming buy us for the following reasons:
- ATVI currently passes one of our best performing strategies which suggests that the stock is primed to continue its run. The strategy is called Free Cash Flow Leaders Top 10 and has been rigorously validated to significantly outperform the market in the past.
- Our value indicators suggest ATVI is likely underpriced.
The Strategy
- Free Cash Flow Growth Leaders Top 10
This strategy is built to locate stocks with strong growth in free cash flow as well as ones that are undervalued based on their free cash flow. The conditions the stock must meet are: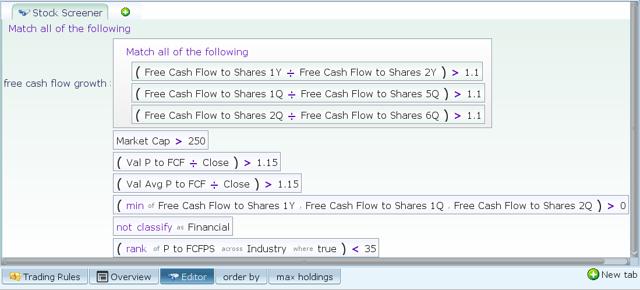 Free Cash Flow to Shares from the most recent reported year must be at least 10% greater than the previous reported year.
Free Cash Flow to Shares from the most recent reported quarter must be at least 10% greater than the same quarter the previous year.
Free Cash Flow to Shares from 2 quarters must be at least 10% greater than the same quarter the previous year.
Market cap greater than $250 million.
The stock's valuation based on Price to Free Cash Flow must be at least 15% greater than the most recent closing price.
Free cash flow for the most recent reported year, most recent reported quarter, and the previous quarter must all be greater than 0.
Cannot be a financial stock.
Price to Free Cash Flow per Share must rank in the bottom 35% of the Industry.
The result of the conditions above is usually around 15-20 stocks, but notice the 2 tabs in the screenshot above labeled "max_holdings" and "order_by". In the order_by tab, you will find cash_to_shares_1Q and in the max_holdings tab you will find 10. So of the 15-20 passing stocks, only 10 are allowed to show up and the 10 we choose have the highest cash to shares.
Backtest Performance of the Strategy: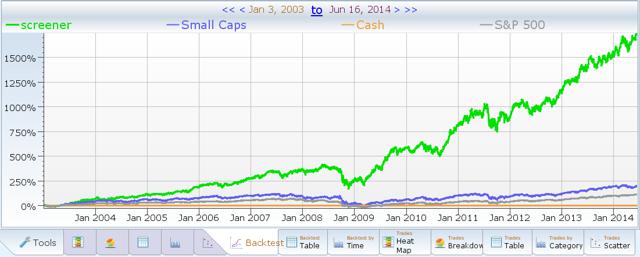 The total return of the strategy from January 3, 2003 to June 16, 2014 is 1717%, or a 28.61% annualized return. 1,878 trades were made during the back test representing about 14 per month. The image below displays the year by year breakdown of the performance: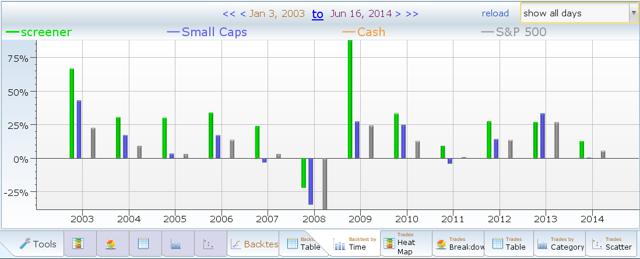 The strategy outperforms the S&P 500 in all 12 years the backtest covers. In 2014, the strategy has already returned 12.7% while the S&P 500 is up around 6%, and in 2008 the strategy only lost 22% while the S&P 500 lost over 35%. The pie graphs below will give you an idea of the sector and size of the companies included in the backtest.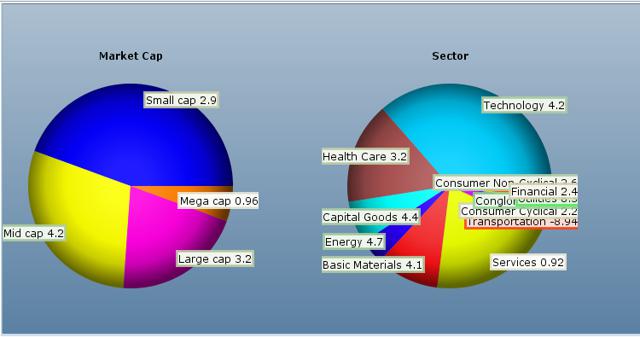 ATVI is a large cap technology stock. On average, the large cap positions held in the backtest returned 3.2% while the Technology positions returned an average of 4.2%.
Value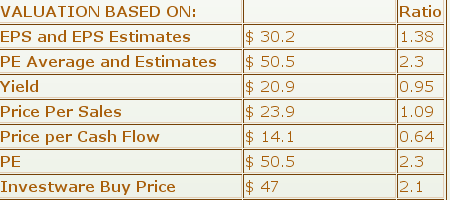 Included in our data from AAII are valuations based on various aspects of ATVI's fundamentals. We have validated these valuations to predict performance in the past via our back test. The average of all of the valuations listed above is $33.9 while ATVI's current closing price is $21.92.
Below you will find a chart that compares some of ATVI's valuations with similar stocks. In order for a stock to be included, it must be located in the United States, have a market cap greater than $1 billion, and be in the software and programming industry.
| | | | | | |
| --- | --- | --- | --- | --- | --- |
|   | Price to Sales (<10) | PE (<100) | 1 Yr. Forward PE (<100) | Price to Book (<10) | Price to FCF (<150) |
| ATVI | 3.6 | 23.1 | 16.8 | 2.2 | 19.7 |
| Industry | 4.2 | 36.5 | 29.2 | 4.7 | 36.1 |
The table above once again confirms that ATVI could be underpriced. Taking everything into consideration, we believe that ATVI could easily be undervalued by 25%.
Red Flags
- Negative Sales Growth: ATVI has seen sales drop 5.6% from 2012 to 2013 and trailing 12-month sales growth sits at -12.8%. Guidance for 2014 is currently $4.675 billion and analysts have an estimate 5-year growth rate of 15.7% which is up from 15.3% as of 2 months ago. ATVI needs to have a strong Q2, Q3, and Q4 or investors may start looking to put their money elsewhere.
- Debt: Up until Q2 of 2013, ATVI had zero long-term debt. Long-term debt to equity is currently 62.4 which is concerning for a company with negative sales growth. The long-term debt has been used so far to buy back shares and over the past quarter, long-term debt has decreased 7.4%. This isn't much of a concern considering ATVI is generating healthy free cash flow.
Green Flags
- Margins: ATVI has very health margins. The graph below plots trailing 12-month gross, net, and operating margins.

Click to enlarge
As you can see, margins are not only high, but they are consistently improving since January of 2009. ATVI currently has a trailing 12-month gross margin ((sales - cogs)/sales) of 66.7%. Its Operating Margin is 28.3% which is significantly above the industry average of 16.5%.
Summary
Taking everything into consideration, we think ATVI is a great long term buy. That is assuming the company meets or exceeds its guidance and starts to generate positive sales growth again. Based on our analysis, we think ATVI is underpriced by 25%.
Disclosure: The author has no positions in any stocks mentioned, and no plans to initiate any positions within the next 72 hours. The author wrote this article themselves, and it expresses their own opinions. The author is not receiving compensation for it (other than from Seeking Alpha). The author has no business relationship with any company whose stock is mentioned in this article.