Nowhere will you find more opportunities in the equity markets than in equity-based high-yielding Closed-End funds (CEFs). It sometimes boggles my mind what investors are willing to buy and sell CEFs for, all in the name of getting a high yield. I'm going to go over a few such opportunities, and I'm going to start with a couple Rights offerings.
What Are Rights Offerings?
Rights offerings are simply a right given to existing shareholders (or investors who purchase shares by a certain date) to purchase additional shares of a stock or fund they own, typically at a discount to its current price. It's a way to give long-term shareholders an opportunity to keep their proportional interest in the stock or fund, while the fund is able to raise assets. Rights can trade freely as a separate security until the date they are converted, and can present opportunities distinct from the stock or fund itself.
Rights Offerings And The Gabelli Funds
Gabelli or GAMCO (NYSE:GBL) has used rights offerings in the past to raise additional assets for its funds, and currently has two rights offerings pending. I've written often on the Gabelli family of CEFs, and I don't think there are more opportunities to buy and sell equity CEFs than with the Gabelli funds. A big reason is that most of their equity funds are leveraged, meaning their funds can generally have more volatile Net Asset Values (NAVs) and the funds' market prices can often gyrate between hefty premiums and discounts.
Another reason why the Gabelli funds are opportunistic is because many of their CEFs are sector-focused, such as the Gabelli Healthcare & Wellness RX Trust Fund (NYSE:GRX), the Gabelli Global Multimedia Trust Fund (NYSE:GGT) and their two gold and natural resource funds, the GAMCO Global Gold, Natural Resources & Income Trust (NYSEMKT:GGN) and the GAMCO Natural Resources, Gold & Income Trust (NYSE:GNT). The latter two funds, GGN and GNT, are the only two Gabelli funds that use an option income strategy instead of relying on leverage, though GGN uses a nominal amount of leverage.
Over the last few years, you would be hard pressed to find any fund family; whether it be CEFs, ETFs or even mutual funds, to show the range of performances that the Gabelli equity CEFs have shown. For purposes of this article, I will be discussing four of the more popular Gabelli equity CEFs shown below, two of which have rights offerings, and one, the Gabelli Dividend & Income Trust (NYSE:GDV), which has just completed a spin-off. Some of the more pertinent information on the four funds is shown below, and include their Total Net Assets, Premium/Discount, Market Yield and 1-year & 3-Year Market and NAV total return performances.

As you can see, the Gabelli Equity Trust Fund (NYSE:GAB) and GDV are two very large CEFs, at well over $1 billion in net assets (i.e. not including leveraged assets). On the other hand, GGT and GRX are quite small, and in fact, are the two Gabelli funds currently undertaking rights offerings to help raise their total assets. So let's start with GRX.
The Best Equity CEF Of All
Would you be surprised to learn that the best-performing equity CEF at the NAV level prior to the financial crisis of 2008 also trades at one of the largest discounts of any CEF? GRX is a leveraged equity, the only CEF that I have written about and endorsed many times before. And why not? Despite GRX's low relative yield of 4.7% and large discount of -13.6%, GRX is, in fact, the best-performing CEF at the NAV level since it went public as a spin-off from GAB back in June of 2007. Two other healthcare CEFs, the H&Q Healthcare Fund (NYSE:HQH) and the H&Q Life Sciences Investors Fund (NYSE:HQL) are very close and have seen even better total returns more recently, but over time and including up and down market periods, no equity CEF comes even close to GRX's NAV total return performance. Want to compare GRX's NAV performance since inception with the SPDR S&P 500 Index Trust (NYSEARCA:SPY), which includes dividends? Take a look.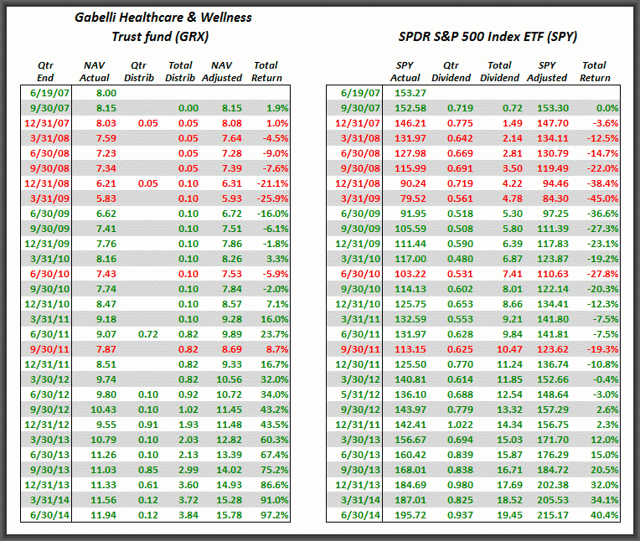 Since its inception on June 19th, 2007, not long before the financial crisis hit later that year, GRX has dramatically outperformed the popular S&P 500 index ETF, up 97.2% vs. 40.4%, which, unlike the actual S&P 500, includes dividends. Then consider how well GRX's NAV has held up even as a leveraged fund during difficult market periods, and you realize what an incredible fund this has been.
Despite GRX's perpetually large discount over the years, GRX's total return market price has been no slouch either, returning 72.5% over the last 3 years, compared to 55.6% for SPY. NOTE: Total return means all dividends and distributions are added back, though not on a re-invested basis. Most S&P 500 quoted returns, however, do not even include dividends.
Why GRX Has Been Such A Winner
Though GRX focuses in the healthcare and consumer staples sectors, two sectors which have also been great performers over the years, GRX has even outperformed them primarily because GRX is much more than just focusing on large cap stocks that generally make up these sector indices. GRX also focuses on smaller and mid cap companies, many of which are at the forefront of the trend towards better nutrition and healthier lifestyles. These two sectors are seeing an unprecedented amount of mergers and acquisitions, and in fact, I don't think I have ever seen a fund have more of its holdings bought out over the last few years than GRX. Just last month, for example, there was a bidding war for Hillshire Brands (NYSE:HSH), one of GRX's top 10 holdings.
GRX and GRX-RI
This is the second rights offering for GRX, which raised over $33 million for the fund this time last year. Like last year, the rights offering (GRX-RI) allows current shareholders to buy 1 new share of GRX for every 3 rights they received (1 right for each GRX share they owned), with an exercise price of $9 share. Considering GRX's current market price of $10.32 and an NAV of $11.94, this is obviously a very good deal for GRX shareholders, and for shareholders like myself, who own tens of thousands of shares of GRX before the offering was announced on May 20th, there is an over-allotment privilege as well.
However, because the offering of $9 is so far below GRX's current NAV of $11.94 and market price of $10.32, there will be dilution, which will reduce the NAV by about $0.72/share, not including any over-allotments. If you're an old GRX shareholder, this is still a fantastic deal, but with GRX already trading ex-rights, you would have to buy the actual rights themselves, ticker GRX-RI, to entitle you to buy GRX at $9/share. GRX-RI closed at $0.386/share yesterday, 6/30/14, which means you would have the right to buy GRX at an equivalent of about $10.16/share ((3 rights X $0.386) + $9.00), or about -1.6% below GRX's closing market price of $10.32. That's not enough of a discount to interest me, but you will have until July 8th, 2014, when the rights expire, and anything can happen up to then. NOTE: The symbol for the GRX rights may be different than GRX-RI, depending on which quote source you are using.
GGT and GGT-RI
GGT is also doing a rights offering with similar characteristics as GRX, in which 3 rights at $9 gives you 1 new share of GGT. First, let me give you a little background on GGT. Like GRX, GGT is a leveraged equity CEF that leverages up its global portfolio of multimedia stocks for added appreciation potential. Unlike GRX, however, GGT offers an extremely high 9.3% current market yield paid quarterly as a result of a 10% NAV distribution policy each year. Here is a snapshot of GGT's portfolio breakdown and top 10 holdings as of 3/31/2014.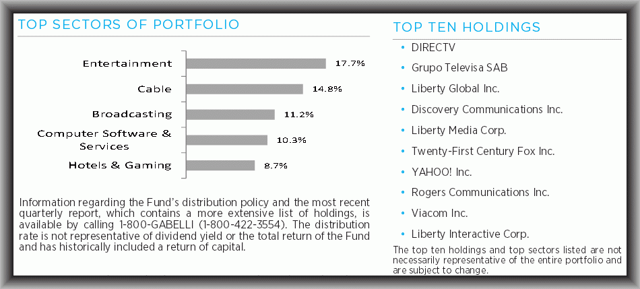 GGT, over the last few years, had been one of the best-performing equity CEFs around, and had risen to about a 15% premium late last year, but all of that has changed more recently. In fact, since I wrote this article, Funds To Buy And Sell - Part IV, back on December 18, 2013, warning investors about GGT's overvaluation at the time, the fund has seen the WORST performance of any equity CEF I follow, down -16.8% YTD on its market price, including distributions.
This is reflected in GGT's 1-year Premium/Discount chart showing where the fund rose to a 15% premium at the end of 2013, only to drop to a current -7.1% discount.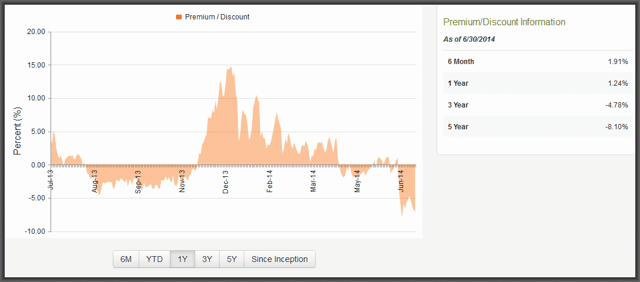 But as is often the case with CEFs, opportunities to sell can turn into opportunities to buy relatively quickly. Though GGT's NAV performance so far this year has not been particularly good, up only 1.7% YTD, historically, the fund has outperformed at both the NAV and market price levels when its investment strategy in multimedia stocks has been popular. For example, in 2013, GGT's NAV was up a whopping 43.8%, while its market price was up 69.8%, one of the best of any CEF that year. Obviously, GGT is a fund that can turn on the appreciation potential when its leveraged stock portfolio is hitting on all cylinders.
Though GGT is a difficult fund to categorize or assign benchmark sectors for comparison, here is Gabelli's investment objective description taken from GGT's Fact Sheet:
The Fund seeks opportunities for long term growth within the context of two main investment universes: companies involved in creativity, as it relates to the development of intellectual property rights (copyrights); and companies involved in distribution as it relates to the delivery of these copyrights. Additionally, the Fund will invest in companies participating in emerging technological advances in interactive services and products.
Buying GGT-RI
So is this an opportunity to buy a fund currently out of favor that focuses on companies involved in cutting-edge technology in the creation and distribution of media and entertainment around the world? I think so. And what better way to play GGT than to buy the rights, ticker GGT-RI, which closed at just $0.159/share yesterday, 6/30/14. That would value GGT at about $9.48 ((3 rights X $0.159) + $9) when the fund closed at $9.89 yesterday. So, not only could you buy GGT at a -7.1% current discount from its NAV, but add in another -4.3% on top of that.
Then consider that you could lock in a market yield of 9.3%, even higher than GGT's current market yield of 8.9%. I should mention, however, that GGT's 10% NAV distribution policy means that if the fund's NAV has not risen enough to cover its 10% distribution by the end of the year, then the 4th-qtr. distribution will be reduced accordingly. So far this year, with the NAV up only 1.7% YTD, that would be the case.
The other risk is that GGT drops even more by the time the rights offering expires on July 18th, and makes the rights even less valuable than 16 cents or perhaps even worthless if GGT drops below $9. I think there is a very small chance of that happening, with the fund already down to $9.89, which represents a -25.5% loss YTD on an absolute basis (i.e. actual share loss), but nonetheless, that risk is there.
If you were interested in owning GGT by converting rights, you would need to buy 3 shares of GGT-RI, which, at about $0.16, would equal 48 cents a share. So, for about the price of a stamp, you could own the rights to a share of a CEF trading at one of its widest discounts in years, while picking up a 9.3% current yield. Not a bad risk, even if the distribution has to be reduced in the 4th quarter (GGT raised its distribution in the 4th-qtr. 2013) and even if the NAV is reduced when the rights convert. Of course, you would also need to have $9 available per share for the actual conversion. The rights offering for GGT expires on July 18th.
Conclusion
Due to the length of this article, I will come back with a couple more opportunities in equity-based CEFs that I believe are currently being overlooked by investors.
Finally, don't think that all rights offerings in equity CEFs are great deals. In fact, some of the worst investments I have ever seen are when funds try to raise assets because they have lost so much of their NAVs along the way, usually due to overpaying their distributions. I'm not going to name names, but there are equity CEFs that lure investors in with uber-high yields, and then, when the NAVs have eroded too much, announce Rights offerings priced ABOVE the current NAV to try and prop it up. The amazing thing is that investors fall for this money losing proposition, and in fact, many of these funds even trade at premium valuations!
Obviously, the Gabelli funds do not fall into this category and Gabelli uses Rights offerings and spin-offs to create value for their shareholders. Raising assets for their funds allows Gabelli to do what they do best... pick stocks. And based on the historical performances of their equity CEFs, I don't know any asset manager that does it better.
Disclosure: The author is long GRX, GGT, GAB, GGN, GNT, GDV, HQH, HQL. The author wrote this article themselves, and it expresses their own opinions. The author is not receiving compensation for it (other than from Seeking Alpha). The author has no business relationship with any company whose stock is mentioned in this article.