I think Microsoft's (NASDAQ:MSFT) momentum can definitely continue through 2014.
I've been bullish on Microsoft since the back end of their search for a new CEO. Since then, Ballmer has been out and preoccupied with the LA Clippers - meanwhile, Satya Nadella has come in and gotten the ball moving big time at Microsoft.
Since coming on as CEO, he's generally been regarded by analysts and investors to have done a great job so far - and his vision for the company to come - with focus on cloud and mobile, is being heralded as the right move.
Following his initial move of porting Office to the iPad, Nadella has already seen success behind his name in the short term that he's been in the CEO office. Additionally, he's seen Microsoft's share price move up correspondingly. The market definitely seems to like Mr. Nadella, as well.
Microsoft stock has been up 21.4% over the last 12 months.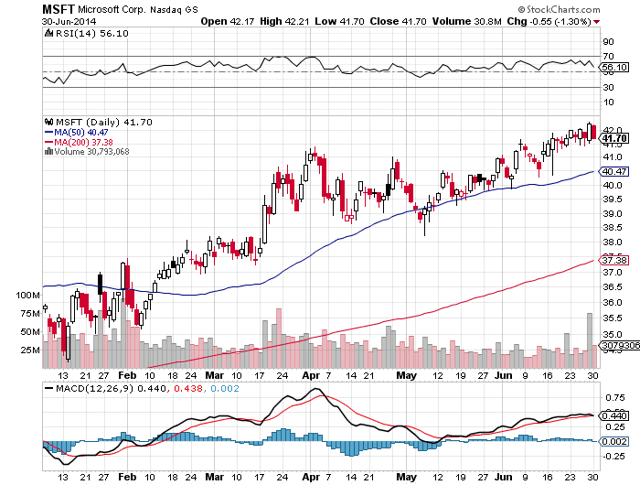 Microsoft seems to be doing things right one after the other now that Mr. Nadella is in office. They're finally using their Xbox One as a jumping off point for a home media platform - as I suggested over and over and over again throughout 2013.
Additionally, the new Surface Pro 3 has gotten rave reviews and looks to be setting up for monetary success, as well as potentially taking a run at laptop market share. Microsoft seems to have designed the Surface Pro 3 to compete directly with Apple's MacBook Air. Though I'm sure the Surface 3 will be a success, I'm not sure that the company is going to have a ton of luck changing Apple's laptop market share. Apple's Mac and laptop market share is one of the strongest in the business and has consistently outperformed the market, even during the PC market decline.
In addition to this, Microsoft has also now used Nokia to tap into the Android phone market - although what they're offering is a part Android/part Microsoft based OS on their new phones. So, continued progress on the mobile front, an area where we know Mr. Nadella wants to focus.
There's not too much to have beef with at Microsoft right now - the only thing I would change, if I could, would be the Windows 8 experience on tablets vs on PCs. I don't mind the metro look on my Surface 2, but I hate it on my new Asus laptop that I use for my second computer. My first computer still runs Windows 7, and I love it. I keep my Windows 8 computer in desktop mode about 99% of the time, barring restarts. So, imagine my surprise when Seeking Alpha provided its users with a massive Microsoft roundup yesterday evening, and that included news on Windows 9:
It's no surprise to me that Windows phone continues to struggle a bit in the U.S. I am, however, seeing more and more Windows phones as the days pass, and I have no doubt that Microsoft will eventually establish somewhat of a foothold here in the coming year.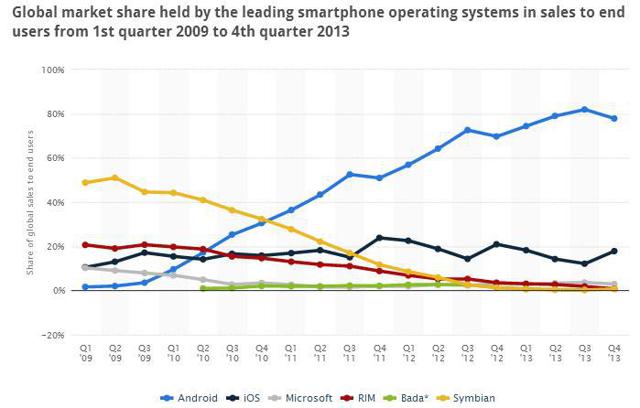 They're down, but not out. Not unlike Audi, Volkswagen and Volvo in the auto industry - I think Windows (and BlackBerry) have a place in the smartphone market, even if it is a smaller one.
I'm really excited about Mary-Jo Foley's comments regarding Windows 9, and it operating like a traditional UI on desktop/laptop PCs. If Microsoft had kept Windows 8 as is, and the time came around for me to purchase a new computer, I would have built a Linux box custom or just bought a Mac. I understand that it's tough, because they see Apple making iOS merge with the desktop operating system - but, Windows 8 metro on all devices is not the answer. Tablets and phones - yes. But, what kind of hard working accountant wants to come to his home computer, and have to look at tiles in order to simply get into an Excel spreadsheet that he/she uses everyday? I sure don't.
This is a good headline, if you ask me: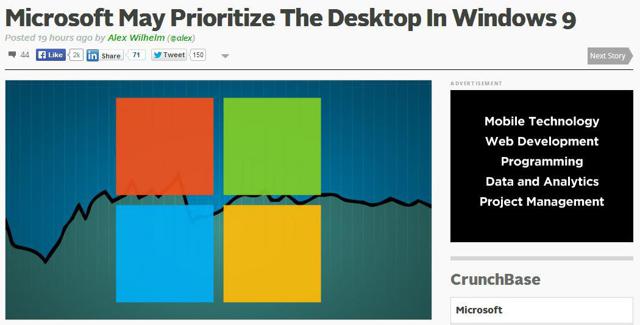 So, Windows looks like they can keep my business for the time being, as I won't need a new PC until Windows 9 is likely out and the de facto OS. I'm anxious to see the public release coming out this fall, and it'll be nice to have the Start menu back, among other things.
Additionally, it's looking like Microsoft is going to be set up to compete directly with Apple in wearables, as well. The speculation around Microsoft's smartwatch continues to pile up over at Mashable, and it's another step for Microsoft in turning itself from an all software company to a company that can also produce hardware.
Price-wise, Microsoft trades at a modest forward P/E of 15.44.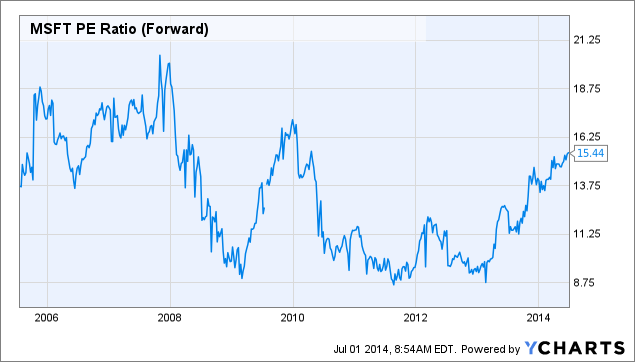 MSFT PE Ratio (Forward) data by YCharts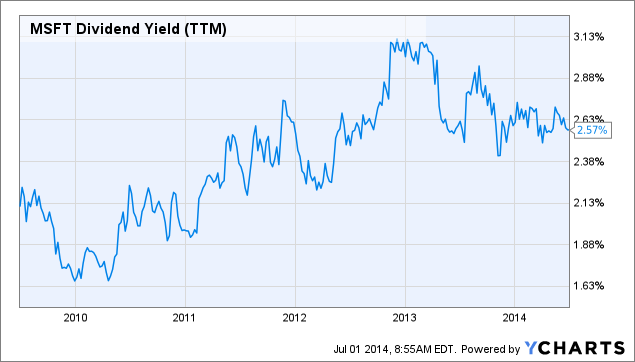 MSFT Dividend Yield (TTM) data by YCharts
All in all, things are lining up well for Microsoft heading into the second half of this year. Like the market, I remain confident in the job that Mr. Nadella has been doing, and expect to see the modestly priced Microsoft continue to provide good returns for shareholders on top of the 2.57% annual yield that its dividend has been paying.
If you're looking for a stable equity to allocate money to in the market for the remainder of the year, Microsoft would be on my list of top candidates heading into 2015.
Best of luck to all investors.
Disclosure: The author has no positions in any stocks mentioned, and no plans to initiate any positions within the next 72 hours. The author wrote this article themselves, and it expresses their own opinions. The author is not receiving compensation for it (other than from Seeking Alpha). The author has no business relationship with any company whose stock is mentioned in this article.