Margin debt at the New York Stock Exchange and the share price of the SPDR S&P 500 ETF (NYSEARCA:SPY) both moved in the same direction in May, the first time in three months they have done so. On monthly bases, the former advanced to $438.55 billion from $437.16 billion, a gain of $1.39 billion, or 0.32 percent, while the latter climbed to a record $191.76 from $187.41, a hike of $4.35, or 2.32 percent.
There has been a strong positive correlation between NYSE margin debt and SPY historically, so it is unsurprising excellent coincident or leading indicators of long-term movements in the exchange-traded fund based on the S&P 500 have been built employing NYSE data on securities market credit in general and margin debt in particular.
NYSE has reported monthly data on securities market credit in three discrete series (Margin Debt, Free Credit Cash Accounts and Credit Balances in Margin Accounts) since 2003 and on margin debt itself since 1959. NYSE margin debt is the aggregated dollar value of issues bought on margin (i.e., borrowed money) across the exchange. Many equity-market participants consider it a gauge of speculation in the stock market.
My own analyses of the relevant NYSE data series center on two main metrics, the Margin Debt Directional Indicator, or MDDI, and the Securities Market Credit Risk Rank, or SMC Risk Rank, as described in "NYSE Margin Debt As An Indicator Of Long-Term Movements In S&P 500." And I actually do look at them in the given order in an attempt to avoid making egregious errors in the stock market.
Figure 1: MDDI, June 2013-May 2014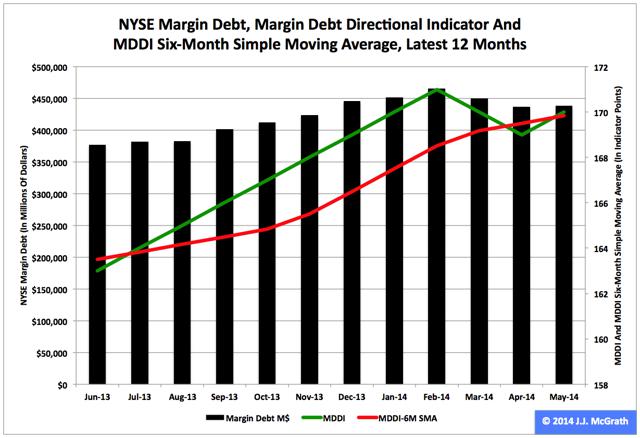 Source: This chart is based on a proprietary analysis of monthly margin-debt data at NYSE's online site.
The MDDI centers on a comparative assessment of NYSE margin debt in the two most recent months of the data series that began in January 1959. If the latest value of the MDDI (MDDI in Figure 1) is higher than its six-month simple moving average (MDDI 6M SMA in the same figure), then I believe the equity market is in bullish mode. If the latest value of the MDDI is lower than its six-month SMA, then I think the stock market is in bearish mode.
The MDDI's May value is 170, which is higher than both its April value of 169 and its six-month SMA of 169.83, so I consider the market to have been in bullish mode as of May 31. However, the 0.32 percent increase in margin debt between the two months was small, especially given the large decreases in it during the previous two comparable periods.
Figure 2: Highest-, Lowest-Risk Months, Per SMC Risk Rank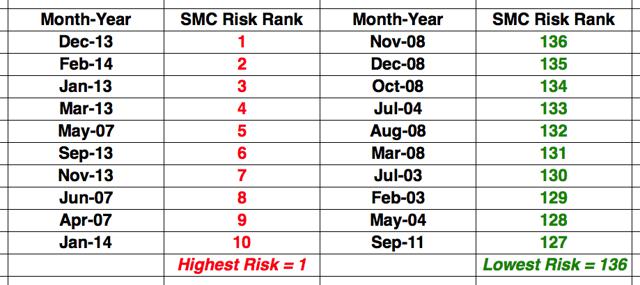 Source: This table is based on proprietary analyses of monthly securities-market-credit data at NYSE's online site.
May is No. 21 among all 136 months evaluated since the January 2003 baseline by my SMC Risk Rank methodology, which carries out a comparative assessment of the data NYSE has reported in three discrete series: Margin Debt, Free Credit Cash Accounts and Credit Balances in Margin Accounts.
The dynamic SMC Risk Rank is designed as a measure of equity-market risk associated with speculation, ranking each month in the data set on an ongoing basis. Despite a certain amount of derisking in recent months, December 2013 is No. 1 and February 2014 is No. 2 among all the months ranked (Figure 2).
May's SMC Risk Rank of No. 21 basically means I consider the stock-market risk associated with speculation in that month when compared with all previous months put through the methodology's wringer was higher than it was in 84.56 percent of them and lower than it was in only 14.71 percent of them.
A high SMC Risk Rank for a given month suggests the equity market may be close to a significant peak, and a low SMC Risk Rank for a given month suggests the stock market may be close to a significant trough. In my interpretation, the term close in this context typically has meant within three to six months.
Figure 3: NYSE Margin Debt And SPY, February 1993-May 2014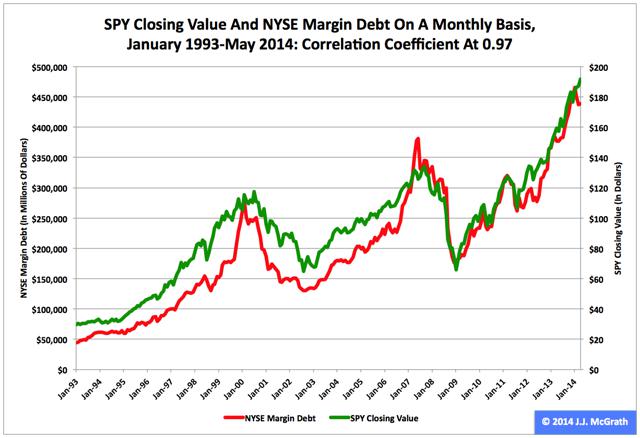 Source: This chart is based on monthly margin-debt data at NYSE's online site and adjusted monthly SPY data at Yahoo Finance.
The behavioral divergence in recent months between the falling NYSE margin debt and the rising SPY appears unsustainable in the historical context of their relationship (Figure 3). Along this line, I calculate the correlation coefficient between them as 0.97 from January 1993 to May 2014. As a result, either margin debt has to begin moving up or SPY has to start moving down for their relationship to return to so-called normal parameters.
Concerning this anticipated return to normalcy, I note the ETF's share price has come close to the level of $197.36 mentioned in "SPY, MDY And IJR At The Fed's QE3+ Market Top" a while ago. Therefore, I believe the U.S. Federal Reserve's bias switch to tighter from looser monetary policies may become a bigger drag on SPY's performance.
I also point out the Bank for International Settlements 84th Annual Report released Sunday was unusually clear, unusually coherent and unusually comprehensible in its warning about the policies pursued by the Fed and its peers during the period since the Great Financial Crisis commenced almost seven years ago:
"[L]ooking forward, the issue of how best to calibrate the timing and pace of policy normalization looms large. Navigating the transition is likely to be complex and bumpy, regardless of communication efforts. And the risk of normalizing too late and too gradually should not be underestimated." [Emphasis added.]
Disclaimer: The opinions expressed herein by the author do not constitute an investment recommendation, and they are unsuitable for employment in the making of investment decisions. The opinions expressed herein address only certain aspects of potential investment in any securities and cannot substitute for comprehensive investment analysis. The opinions expressed herein are based on an incomplete set of information, illustrative in nature, and limited in scope. In addition, the opinions expressed herein reflect the author's best judgment as of the date of publication, and they are subject to change without notice.
Disclosure: The author is long SDS. The author wrote this article themselves, and it expresses their own opinions. The author is not receiving compensation for it (other than from Seeking Alpha). The author has no business relationship with any company whose stock is mentioned in this article.