To date, 2014 has been a terrific total return year for the majority of MLPs, but a below benchmark average year for the Kinder Morgan companies including Kinder Morgan Energy Partners (NYSE:KMP), Kinder Morgan Inc (NYSE:KMI) and El Paso Pipeline Partners (NYSE:EPB). Over 60% of the universe of MLP's are up +15% YTD, along with the S&P 500 and Alerian MLP index - AMZ - posting strong gains year-to-date and for the trailing 12 months, the Kinder companies have lagged significantly behind the broader results. Kinder has performed very well relative to the peer group in the past but likely will underperform the sector going forward, with a target total return of 12%. This is not meant to suggest an exit for those long term Kinder Morgan holders, but rather a time for total return and income growth investors to assess where new capital is deployed across the potential MLP alternatives.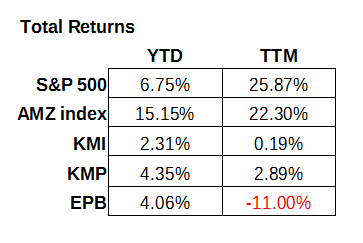 Despite tremendous operating assets and exposure to natural gas trends, Kinder faces obstacles to delivering double digit distribution growth. As the general partner, much of the KMI revenue growth comes from increasing IDR payments from the two LP companies. The distributions by El Paso Pipeline Partners have not increased in 2014 and are not forecast to grow through at least 2016. Prior to this year, EPD distributions had increased at mid teens annual rates. Kinder Morgan Energy Partner has gone from 7%+ distribution growth rates 5% forecast for the next three years.
Lower growth expectations lead to falling unit prices and higher distribution yields. Higher distribution yields due to lower unit prices increase a MLP's cost of equity capital. KMP is especially susceptible to this problem because the current distribution rate is so deep into the 50% IDR splits. As we outlined in a previous article, KMP has a cost of equity capital of 9.63%, while in comparison Access Midstream Partners LP (NYSE:ACMP), with its lower yield and just barely into the 50% IDR split has a 4.3% cost of equity capital.
Investors looking for attractive midstream MLP or GP holding companies can find better growth potential with similar current yields away from the Kinder Morgan group. For reference here are the current yields and forecast 3-year CAGR distribution growth.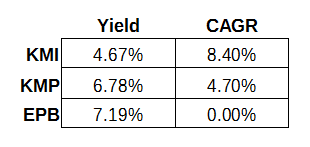 GP Holding Company Alternatives to Kinder Morgan Inc.
The investment thesis for MLP general partner holding companies is to generate a growth multiple of the controlled MLP distribution growth through a combination of IDRs and LP unit ownership. KMI's projected 8.4% per year growth rate is more in line with what a midstream MLP can produce and well short of what you should expect from a GP holding corporation. Here are two alternatives with much more attractive growth profiles.
Williams Companies (NYSE:WMB) is the $40 billion market cap owner of the GP interests in Williams Partners LP (NYSE:WPZ) and Access Midstream Partners. With the recent agreement to purchase the 50% of the ACMP GP interests it did not own, Williams increased its planned Q3 dividend to provide a 3.8% current yield. From there, the company projects at least 15% annual dividend growth through 2017. Below is a total return profile assuming yields do not change due to increasing rates: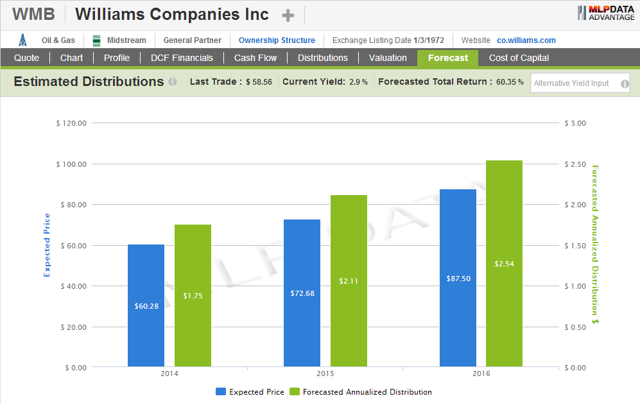 Oneok Inc. (NYSE:OKE) is the $14 billion general partner for Oneok Partners LP (NYSE:OKS) a natural gas focused midstream MLP. In 2013, Oneok spun-off the company's nat gas utility to become a pure play GP holding company. OKE currently yields 3.31% with a 3-year projected dividend CAGR of 22%. Below is a total return profile assuming yields do not change due to increasing rates: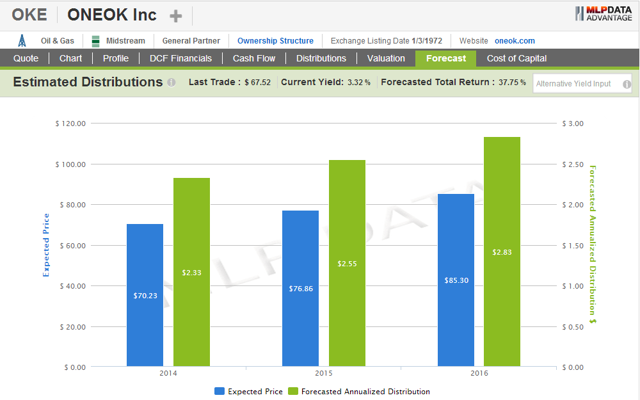 Growth Focused Midstream MLPs Alternatives to Kinder Morgan Energy Partners
Midstream MLPs provide the investment potential to combine an attractive yield with double digit annual distribution growth. Here are three midstream units that offer higher distribution growth and total return potential:
Plains All American Pipeline (NYSE:PAA) is a $20 billion midstream MLP that generates 75% of its revenue from crude oil gathering and transport. PAA manages its growth projects to generate 10% annual distribution increases and excess DCF above projections goes to fund capex rather than into higher distributions. PAA currently yields 4.25% with a 1.29 times TTM DCF coverage ratio.
Williams Partners currently looks similar to KMP, with a $24 billion market cap, 6.74% yield and projected 5.5% CAGR. However, with the recent acquisition, Williams Companies also announced that it plans to merge WPZ with ACMP, which should significantly boost Williams Partners growth prospects. WPZ has a 0.94x TTM coverage ratio and ACMP covered its distributions 1.60 times.
Magellan Midstream Partners LP (NYSE:MMP) is another large cap - $19 billion - midstream company with a more aggressive growth outlook. MMP has a current yield matched with a projected 3-year CAGR of 16%. MMP does not pay incentive distributions rights - IDRs - to a general partner.
Blueknight Energy Partners LP (NASDAQ:BKEP) offers a more aggressive, small-cap alternative to KMP. With a $500 million market cap, BKEP is involved in gathering, transportation, storage, and terminaling for crude oil and asphalt. The units currently yield 5.58% with a projected 3-year distribution CAGR of 17.7%.
High Yield Alternatives to El Paso Pipeline Partners
With the prospect of zero distribution growth in the next several years, an investment in El Paso Pipeline Partners would be just for the 7.4% yield. That yield is near the top of midstream MLPs, which is to be expected for units with no distribution growth expectations. In the midstream space there are a few MLPs with similar yields and positive projected CAGR:
USA Compression Partners LP (NYSE:USAC) currently yields 7.71% with a 9.8% projected 3-year CAGR. TTM distribution coverage was 0.93x.
Crestwood Midstream Partners LP (NYSE:CMLP) yields 7.54% with a 4.1% CAGR. TTM distribution coverage was just 0.71x. However, in Q1 the coverage climbed to 0.91x.
Exterran Partners LP (EXLP) carries a 7.48% yield with a 3% projected CAGR. TTM coverage was 1.30x.
The Kinder Morgan companies rightfully get a lot of press - both positive and negative - and dominate the MLP information space due to their wide base of unitholders. Total return and income Investors with new money to put into MLP investments should consider the options available from some of the lesser covered MLP names.
Disclosure: The author has no positions in any stocks mentioned, and no plans to initiate any positions within the next 72 hours. The author wrote this article themselves, and it expresses their own opinions. The author is not receiving compensation for it (other than from Seeking Alpha). The author has no business relationship with any company whose stock is mentioned in this article.