Company Overview:
Eros International (NYSE: EROS) is one of the largest producers and distributors of movies in the Indian Film Industry, affectionately known as "Bollywood". Eros distributes movies primarily through theatres, television syndication, and digital platforms, including the recently-launched Eros Now on-demand portal and mobile app. Eros distributes and markets globally, with 50% of revenues coming from India, 9% from Europe, 6% from North America, and 35% from the Rest Of The World (including Asia ex-India and the Middle East). In terms of medium, theatrical represents 46% of total revenues, followed by television at 34%, and digital at 20%. Eros International PLC recently listed on the NYSE in November 2013.
It is both a value investment, as a great company with competitive advantages, trading at a discount to its intrinsic value; as well as a macro play on the growth of the Indian economy, after the election of a more pro-business and pro-Foreign Direct Investment Prime Minister, and the global expansion of Bollywood beyond India's borders. Eros should realize 45% upside in the next twelve months
Indian Film Industry and Competition:
Though Hindi films, dubbed "Bollywood" after their production in Bombay, are the most well-known, the Indian Film Industry includes several other regional industries, most notably the Tamil film industry. The Indian Film Industry is the largest in the world, producing over 1,600 feature films per year and commanding revenues of $15BB, which is expected to hit $27.6BB by 2017, representing a 15% CAGR (FICCI). Indian films are popular not just in South Asia, but also in Southeast Asia, the Middle East, Western and Eastern Europe, and the US and Canada.
There are a few key differences between Indian films and their Hollywood counterparts, which make Indian entertainment a more attractive investment currently:
1) Fewer Indian films lose their money on investment due to lower production costs and cheaper marketing budgets. Films are often profitable in the first weekend alone, based on hype and advance ticket sales.
2) Almost all Indian movies are musicals, with movie soundtracks being the best-selling albums across all genres. Positive reception to film soundtracks can help build hype for a movie, expanding its opening weekend.
3) Viewership of high profile movies are typically driven by name brands of the actors and actresses, as opposed to the directors or critical consensus, which can make it easier to predict revenues. In recent years, this is shifting towards word of mouth and critical consensus as a positive tailwind for quality movies.
Investment Thesis:
Eros trades around $15 per share currently, but is worth closer to $22 per share based on several factors, both company-specific and macro:
Looking at Eros, the main factors working in its favor are:
1)A competitive advantage ahead of other Bollywood companies in a few key areas:
i. A strong slate of 12+ high-profile movies in 2014, which includes South Indian films in Tamil and Telugu, which is brand new territory for Eros.
ii. Recurring revenue from Eros' catalogue of 2,300+ films, the largest in the industry.
iii. Strong positioning in digital, with the newly-launched Eros Now - essentially a Netflix for Bollywood, with great potential based on the 2.7 Million active subscribers for Eros' main Youtube channel. Eros Now operates on a freemium model, offering an opportunity to monetize on its customer base with its industry-leading catalog of films.
2)Margin expansion as a result of higher ticket prices (which have increased 15% Year-over-Year) and a shift from single screens to multiplexes, as well as higher revenues from other segments, including an upcoming joint-venture with HBO, treading new territory in India with premium pay channels.
From a macro-perspective:
3)Global growth of Bollywood both India and elsewhere, especially in Europe (which has grown at a 23% CAGR over the past five years), the US, and the Middle East. Much of the revenue has come the Indian diaspora in these regions, but the past several years has seen greater interest from non-Indians in those regions. The US is even more ripe for potential of the growth of Indian entertainment, with Slumdog Millionaire having grossed $141MM and the recent Million Dollar Arm generating significant media attention and interest. Dhoom 3 generated $8MM in US revenues from 239 theatres (an average of $14K per theater, comparable to a Hollywood blockbuster).
4)Strong economic growth in India, as a result of more favorable, pro-business policies under Narendra Modi, and a growing middle class, resulting in more tickets sold at higher-margin multiplexes. Additionally, the digitization of Indian entertainment (expected to hit 100% by 2014) lowers costs and increases ease of distribution.
Competition:
There are very few publicly-traded, pure play Bollywood companies other than Eros. Most of the largest distributors are either private, which includes Dharma Studios and Yash Raj Films, or are subsidiaries of larger studios, including Viacom 18 (Viacom), UTV (Disney), Fox Star Studios (Twenty-First Century Fox). Eros has the largest film library and the largest market share. Eros also has a competitive advantage ahead of its Indian peers by focusing solely on films, as opposed to television, music, radio, and print. Eros benefits from solely focusing on Indian films as a whole, as opposed to foreign-owned subsidiaries, which are only part of a much larger conglomerate.
Relative to both its Indian entertainment peers and its global peers, Eros trades at a discount on forward-looking P/E and EV/EBITDA (adjusted) multiples.
Comparable Companies Analysis: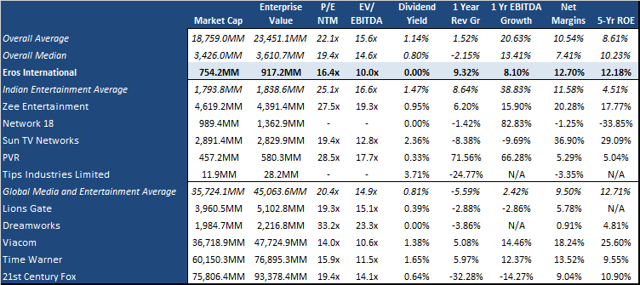 Click to enlarge
(Source: Factset; Date June 24th, 2014)
Valuation:
Eros' fair value is best determined by using both a DCF model, as well as multiples analysis. Running a DCF with a WACC of 9.27% (inclusive of a 3.3% country risk premium) and a terminal growth rate of 3% provides a price target of $22. The key assumption is that Eros becomes Free Cash Flow positive (inclusive of advances of film rights) at the end of this fiscal year. Applying an 12x multiplier, a discount to the American media peer group, as well as Indian Entertainment peers, to expected 2015 EBITDA of $101MM (vs $92MM consensus) provides a price target of $22 as well.
DCF Sensitivity Analysis:

Catalysts:
The main anticipated catalysts in the next twelve months are fourfold:
1) Higher GDP growth and FDI in India, as a result of macro trends and favorable economic policies
2) Monetization from web and mobile users through the recent launch of Eros Now, contributing to growth in the digital segment, which is only 20% currently
3) Strong performance of Eros' slate of high-profile films, including South Indian movies, leading to margin expansion
4) Increased revenues from outside of India, both in currently popular regions, as well as non-core countries
Risks:
In terms of risks to the investment thesis, there are four key risks to consider:
1) The biggest immediate risk may be foreign currency risk, as the Indian rupee has been highly unstable and India has suffered from high inflation. Expectations are that the rupee will strengthen against other currencies with a stronger economy
2) Any unexpected delays in the launch of Eros pipeline films. Delays can increase cost of the films with a longer advertising timeframe and hype can simmer down with a delay
3) Underwhelming performance of newly-launched films. Not all films can succeed, but if the successes don't at least make up for the failures, then revenues will be lower than projected
4) If Eros fails to monetize properly on Eros Now, either due to competition (which could come from Netflix or from other studios), or lack of demand from Indian consumers.
Notes and Significant Accounting Differences:
Adjusted EBITDA accounts for the impact of amortization of film content, a cash-like expense. Diluted Shares Outstanding does not account for any potential share repurchase program, as Eros has not announced any future plans for one, but does include any announced share offerings.
Free Cash Flow calculations are NOPAT + D&A - Increase in Net Working Capital - CapEx - Investments in Future Films
Cost of Equity is based on a risk-free rate of 3.44%, an adjusted Beta of 0.997, a market risk premium of 5.15%, and a country risk premium of 3.30%
Disclosure: The author is long EROS. The author wrote this article themselves, and it expresses their own opinions. The author is not receiving compensation for it. The author has no business relationship with any company whose stock is mentioned in this article.